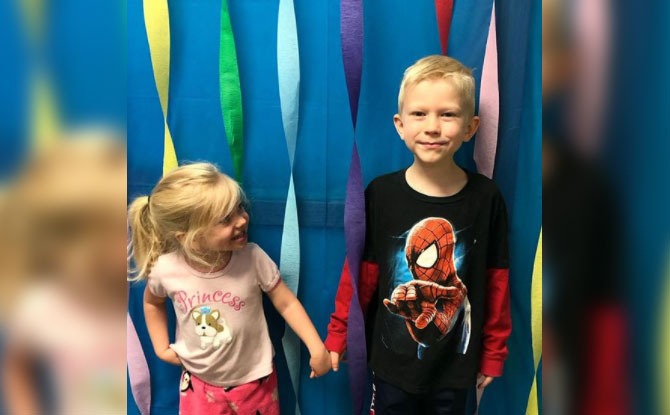 "If someone had to die, I thought it should be me," 6-year-old Bridger Walker told to his dad after he had defended his 3-year-old sister from a dog attack.
On 9 July 2020, Bridger and his sister, from Wyoming, US, were visiting a friend's place. They were at the backyard and just as their friend was describing one of the dogs to them, the canine, a 1-year-old German Shepherd mix charged at them.
At that point, he described to his parents, "I stepped to the side, in front of my sister so that the dog wouldn't get her. I kept moving, so it couldn't get past."
Tragically, the dog bit Bridger on the face. He had to be rushed to the hospital.
Selflessness & Character
At the hospital, Bridger continued to show bravery and selflessness, even expressing that he did not want to the dog that attacked him to be put down. Before entering for surgery, the supervising surgeon told Bridger's father, "I want you to know he is the bravest patient I've ever had … I really mean it."
Bridger ended up requiring over 90 stitches to his face.
He has since been discharged from hospital and reunited with his sister.
---
Messages of Support for Bridger Walker
View this post on Instagram
His aunt Nicole first shared his story on Instagram. Since then, Bridger has received messages of support from celebrities like Hugh Jackman, Tom Holland and Mark Ruffalo.
View this post on Instagram
Chris Evans even sent a message saying that he would be sending Bridger an authentic Captain America shield.
---
A Message for the World
Ironically, before the incident, the family had been discussing what would be one positive message they would share with others all around the world, especially in light of the current COVID-19 pandemic.
As a result of this incident, the Walkers have decided that the key message is "may we each actively strive to bear one another's burdens; stand up for and protect those who are weak, oppressed, or those whom the world might forsake; mourn with those that mourn, comfort those that need comfort, and love one another."
According the Walkers, the "whole family now appreciates all those little moments a little more now, understanding with a new realization of fast life can turn."
We wish Bridger a speedy and complete recovery.