If you have taken a stroll along the Sentosa Boardwalk recently, you would have noticed the Boardwalk AdVENDture, clusters of vending machines where you can purchase items such as food and gifts.
More Than 50 Brands at the Vending Machines along Sentosa Boardwalk
Launched by Royal Vending earlier this month, the Boardwalk AdVENDture makes more than 50 brands available with the click of a button and tap of a card. Going beyond snacks and refreshments, the vending machine retailing concept features almost 70% first-time vending machine vendors.
Starting from the VivoCity end, the first cluster has refreshments and essentials that visitors heading to Sentosa can grab as they embark on their day out. At the mid-way point, there is a Gift Street where tourists can pick up a quirky souvenir of Singapore.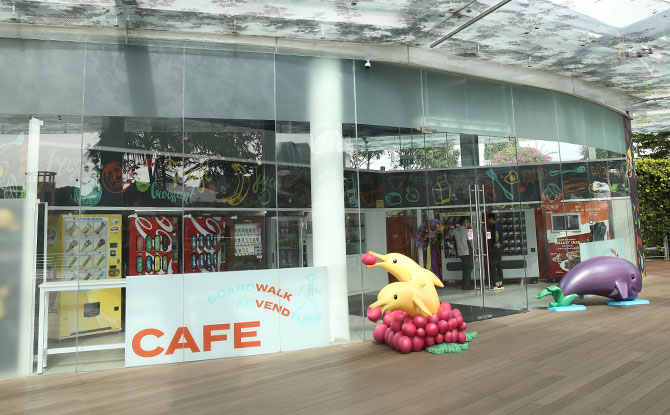 The other Boardwalk AdVENDture clusters include a Fun Alley with game machines and an air-conditioned Foodie Zone.
Unique Items from a Vending Machine
Vending machines at Boardwalk AdVENDture to keep an eye out for include a social enterprise vending machine featuring crafts and souvenirs by Art Faculty by Pathlight, hand-sketched scenes of Singapore by Just Sketch and bak kwa and salted egg yolk snacks by Fragrance Bak Kwa.
Bookworms in need of a book to read while lazing about Sentosa's beaches can select one from the book vending machine.
Other vendors at Boardwalk AdVENDture include su:m37°, LOVE SG, Banana Boat and House of Seafood.
Boardwalk AdVENDture Experience
"At Sentosa, we are constantly looking at ways to elevate the experience of our guests. For visitors strolling in, the Boardwalk is not only a means to get to Sentosa, but also a scenic route where one can appreciate the sunset spectaculars each evening brings. Royal Vending's Boardwalk AdVENDture will serve to further enrich the experience with 24-hour amenities like food and beverage (F&B) takeaways and other fun experiences while going to and from Sentosa," said Jacqueline Tan, Assistant Chief Executive, Sentosa Development Corporation.