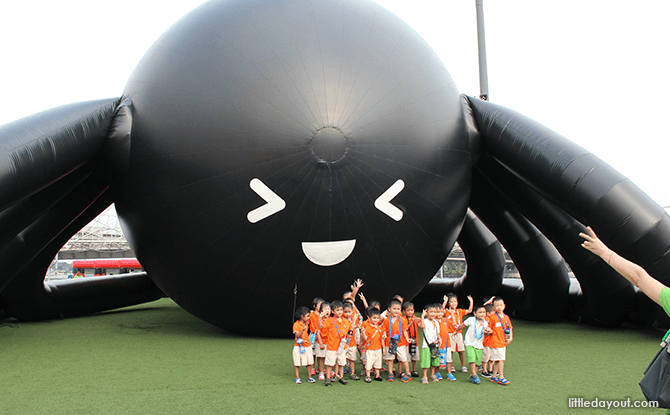 The colourful characters from Art-Zoo are back from 30 June to 31 July at Resorts World Sentosa. Last seen during i Light Marina Bay in March 2017, this time around, they will be at RWS' The Bull Ring in front of the entrance to Universal Studios Singapore.
Bounce Along with Art-Zoo
The Art-Zoo Inflatable Park is a larger-than-life, pop-up playground. It is a cross between an art installation and a mega bouncy castle, but most of all, it is loads of fun. Featuring a menagerie of inflatable animals and plants, the playground is a reminder that art is meant to be enjoyed – in this case both visually and by jumping all over it.
Art-Zoo at Resorts World Sentosa will feature six of the habitats originally found at the Floating Platform during i Light Marina Bay. The habitats making their return are Grasslands, Honey Hives, Savannah, Spider, Swamps and Underwater.
Grasslands consists of rows of red and white kangaroos that kids can bounce along with on a tiered circular base. Honey Hives has two massive teddy bears sitting back to back, welcoming kids to join them.
---
-- Story continues below --
Elephants, a monkey and a bird live together peaceful in the Savannah habitat, much like the  green frogs and grey hippos in the Swamp habitat.
You are sure to be able to spot the massive black-and-red spider, along with the bright red Underwater habitat with its wonderful marine creatures such as crabs, narwhals and an octopus.
Art-Zoo at Resorts World Sentosa will be open from 11 am to 9 pm daily. Last admission is at 8.30 pm. Tickets will be sold on site. Take note that re-entry is not permitted.
Child tickets are priced at $20 each and adult tickets are priced at $10 each.
Children under 24 months can enter Art-Zoo at Resorts World Sentosa for free if accompanied by one paying adult. Each paying adult can bring in a maximum of two children under 24 months.
Art-Zoo at Resorts World Sentosa
Location: The Bull Ring, Resorts World Sentosa
When: 30 June to 31 July 2017, 11 am to 9 pm daily
Ticketed admission: $20 per child and $10 per adult
Website