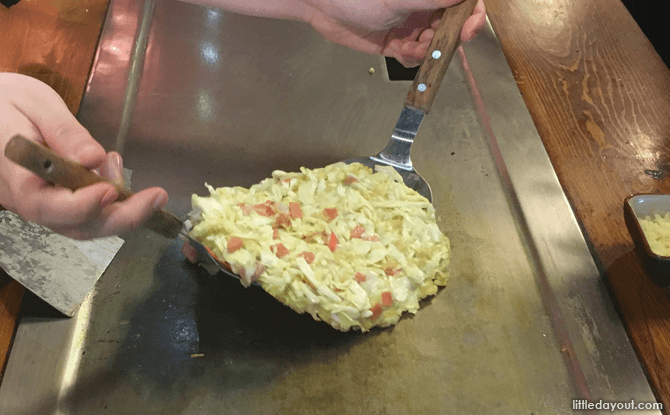 Armed with our recent DIY okonomiyaki experience in Japan, we were happy to discover Ajiya Okonomiyaki Restaurant where you can make your own okonomiyaki in Singapore.
Ajiya Okonomiyaki Restaurant is located along Jalan Jurong Kechil, a short walk from the Beauty World / Cheong Chin Nam Road stretch of eateries.
Stepping inside, the restaurant had a cosy and welcoming ambience. There is a choice of booth seating or counter seating in front of a teppan that stretches along the table top.
Since we were there to try our hand at making okonomiyaki, we settled down along the counter.
Make Your Own Okonomiyaki in Singapore
Okonomiyaki, sometimes known as Japanese pancake, is a savoury dish made with cabbage as a base and additional ingredients. In fact, the word okonomiyaki is derived from "okonomi" which means "as you like it" and "yaki", meaning "grill".
At Ajiya, you get to choose how you'd like your okonomiyaki to be "filled" with ingredients from three categories – seafood, meats and vegetables. Depending on the categories you pick the ingredients from, each okonomiyaki costs between $12 to $15.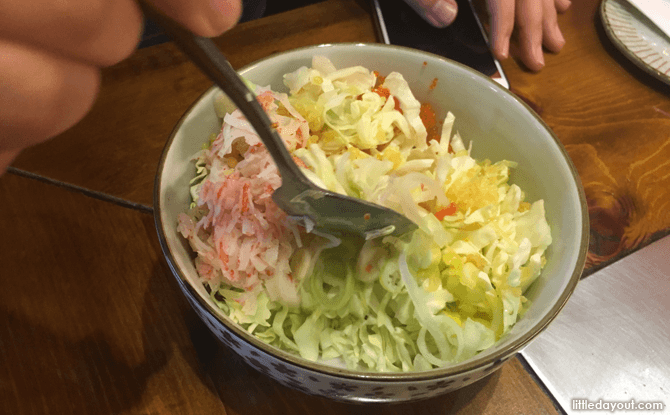 The ingredients arrive in a bowl. The first order of business is to give the ingredients a good mix.
The mixture then gets rolled out on to the hot iron griddle. Use spatulas to form it into a round shape and leave it to cook.
An hourglass helps keep track of time as you wait for one side of the okonomiyaki to cook.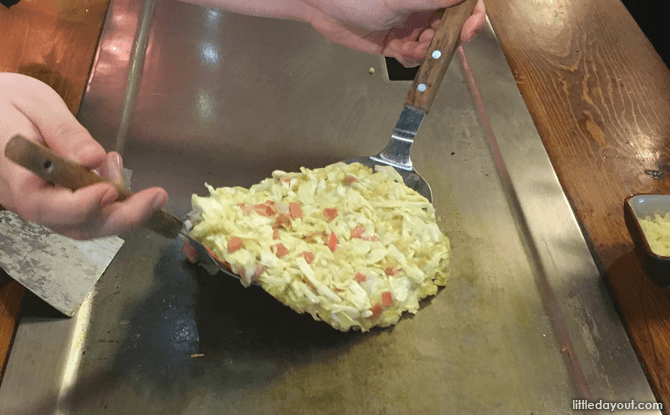 Once five minutes have passed, use the two spatulas to flip the okonomiyaki over to cook the other side.
Another five minutes later, it is time to dress the okonomiyaki with mayonnaise, seaweed, bonita flakes and, of course, the special okonomiyaki sauce, before eating.
The okonomiyaki at Ajiya had thicker shreds of cabbage than what we remembered from our last experience in Japan, but nonetheless, it was still savoury and nice to eat.
Other Dishes at Ajiya
Ajiya also has other appetisers and dishes available. Appetisers include Century Egg Kani Tofu ($7) while there are sides such as Aburi Shimesaba (torched vinegared mackerel) ($14) and homemade gyoza ($7 for 5 pieces). There is also teppanyaki meats such as US short prime rib ($35) and Kurobuta Pork ($22) on the menu too.
Ajiya Okonomiyaki Restaurant
104 Jalan Jurong Kechil, Singapore 598603