Santa Run for Wishes 2021 is returning in a virtual format for a second time to raise funds for children with critical illnesses. The run will be held from 1 to 19 December 2021 and there are exciting activities lined up for all participants.
Participants can kickstart the festive season with this meaningful run and spread joy and hope to the community of children with critical illnesses.
[Update, 24 Nov: This year, the registration fee of $20 has been waived so that more people can participate. Registered participants who have paid the registration fee will receive a full refund credited via their used payment method by 10 December 2021.]
---
Bring Santa Back At The Santa Run for Wishes 2021
Organised by Make-A-Wish Singapore, this Christmas-themed run to "bring Santa back to Singapore from the North Pole" invites runners to collaboratively clock the distance of 21,517km, which represents the distance from Singapore to the North Pole.
The virtual run drew as many as 1,035 participants last year, clocking an impressive distance of 22,687km to bring Santa back – well over the targeted 21,517km.
Santa Run for Wishes 2021
For Santa Run for Wishes 2021, participants in the virtual run can clock in as much distance as they want and unlock e-badges along the way at the 3 km, 5 km, 10 km, 20 km and 50 km (accumulative) milestones.
Participants will submit their distance through the 42Race application. The app is available for download on App Store and Google Play.
---
Prizes at Santa Run for Wishes 2021
There is also a line-up of activities for runners to participate in, some of which offer attractive prizes.
Runners are invited to flaunt their run costumes and be the Best Dressed Runner, clock the longest distance and be crowned the Longest Distance Runner, or embark on unique, artistic running routes and submit them on the 42Race application for a chance to win an award for the best creative route and be crowned the On-The-Run-Art Winner.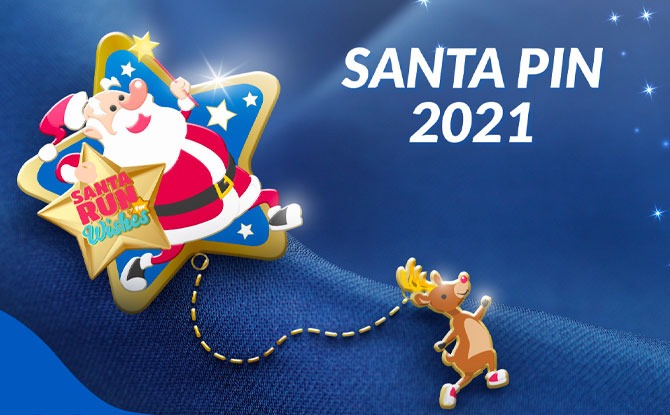 There are also competitions on social media and events such as a monthly lucky draw and grand draw. Supporters can also purchase and receive a Santa pin, accompanied by a reindeer pin at $9.80 to help make wishes come true.
---
How to enter Santa Run for Wishes 2021
Registration for the run is now open with sign ups till 19 December 2021. All proceeds going towards granting the wishes of children with critical illnesses.
Read more about this event at the link here.