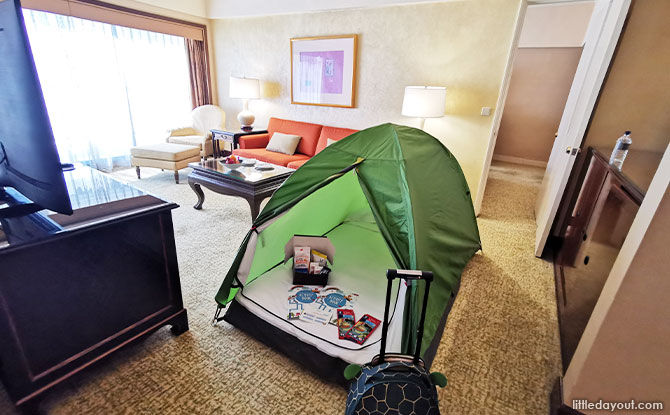 Family staycations are still an easy way to go on a quick and easy holiday without the hassle of travel. How about a family staycation at Regent Singapore? Regent's premium rooms and suites underwent a brighter, neutral palette of colours as well as universal power outlets, Smart TV and booking of in-room dining, service requests with just a few clicks.
---
6 Reasons To Stay at Regent Hotel Singapore
Complimentary Connecting Room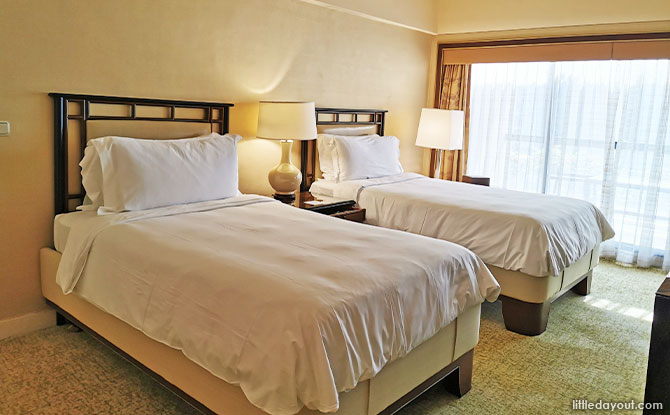 We all know how precious space is. Instead of having everyone in the same bedroom, children will be delighted to have their own Classic room (and screen, and bathtub) right next to Mum and Dad. This is a luxury made possible by Regent's Family Getaway package.
To enjoy even more space or host gatherings and parties, book the Premium Suite with a living room and balcony. Your guests will be wow-ed by the hospitality and comfort the suite provides!
---
-- Story continues below --
---
Luxurious Space for Parents & Children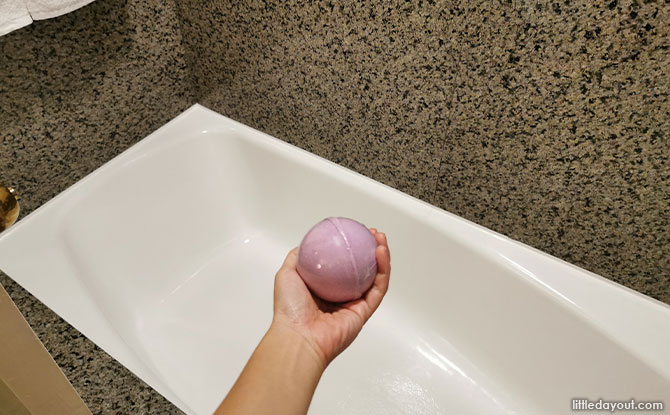 Can we emphasize how much we enjoyed having our own bathtub AND bathbomb? Yes, parents get their own bathbomb! In addition, bathtime will certainly be a pleasure with L'occitane bath amenities.
Protip: Add soap while filling the tub to get plenty of bubbles and foam!
In addition, there was no need to wait for a turn in the bathroom nor arguments over the right channel on the high definition TV screen.
---
Myriad of Dining Options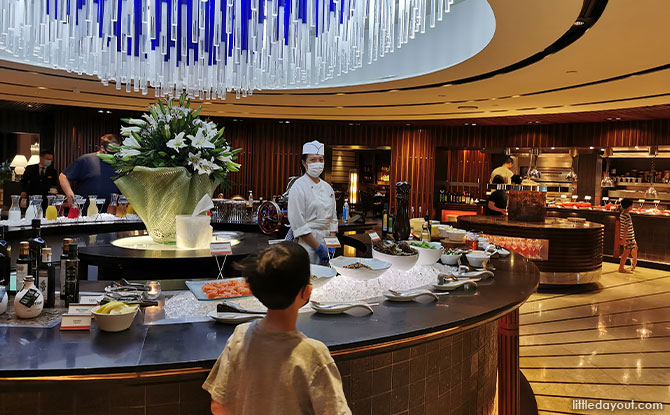 A Five Star hotel comes with plenty of food & beverage options – Basilico, Summer Palace, Tenshin and of course Manhattan for a nightcap (for parents).
Guests can also enjoy breakfast, inclusive in the package, at Basilico for its international spread of cuisine.
Since Regent is located at the gateway of Orchard Road, other dining options are just a quick stroll away without getting caught in traffic.
---
Treats for Kids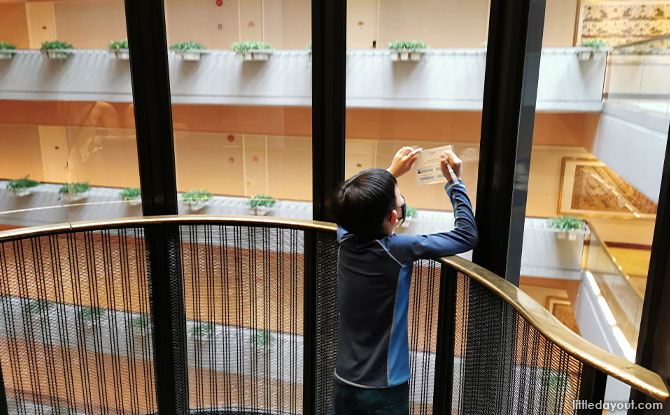 As usual, kids will be treated to goodies at Regent. This time, they may have to work a little by filling in a card consisting of fun facts about Regent Hotel before redeeming their cup of Gelato. I thought this was a great exercise for them speaking to the hotel staff, finding out information and expending some energy.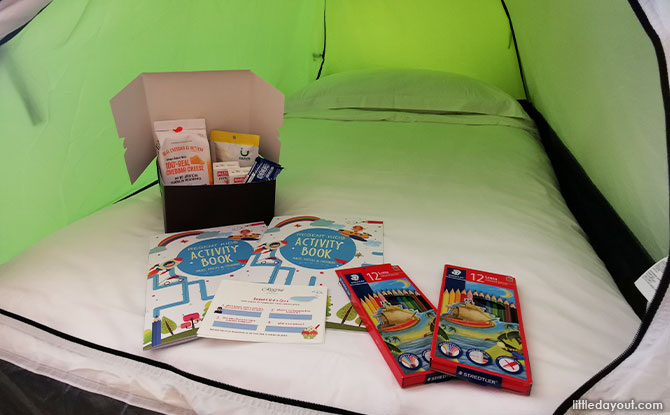 There was also popcorn, milkshake and other treats just for the kids who can enjoy them while watching the nightly family-friendly movie.
If your kids are game for glamping, a full tent is setup with a mattress in it for a good time of play-pretend or even a surreal experience sleeping in a tent with comfort, of course.
---
Luxe Hotel with Gorgeous Interiors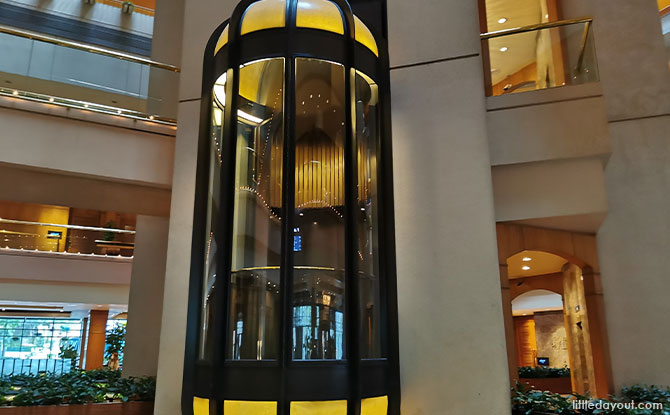 Stepping into Regent Hotel and entering its grand lobby is a sensational feeling. While familiar, it also took us away from our world for a while with its art-deco themed interiors and bubble lifts. Designed by neofuturistic architect John Portman, Regent Hotel pays tribute to the classic styles pre-war. Be mesmerised by the hotel's structure, shaped like an internal pyramid and the shimmering sculpture suspended on level 9 titled "Singapore Shower" by Japanese Sculptor Michio Ihara.
---
Close to Botanic Gardens
One of the best benefits staying at Regent Hotel is its proximity to UNESCO Heritage Site – Singapore Botanic Gardens. Whether it's a jog or a leisurely stroll, Singapore's iconic gardens are worth a visit with the children. Head to Jacob Ballas Children's Garden, Learning Forest or COMO Adventure Grove for their child-friendly play spaces!
---
The Regent Staycay Perfect for Making Memories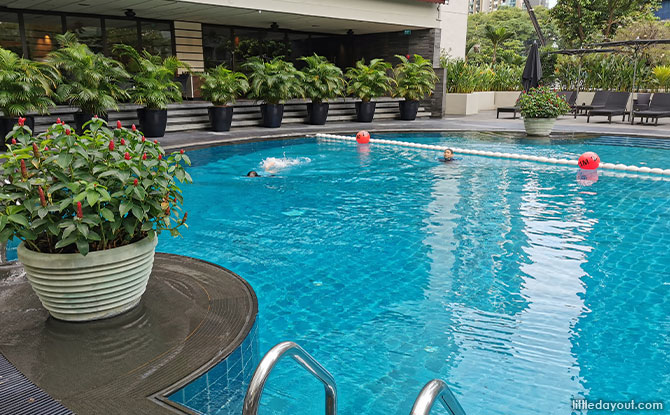 With Regent's recent re-opening for all guests, it is in tip-top condition to receive families looking to have a quick getaway. Rates start from $390++ for the Family Getaway package inclusive of a second classic room, in-room movie screening and snacks, bath bombs and breakfast for 4 at Basilico.
Click here for more details.
Media Invite