When was the last time you visited Jurong Bird Park? Compared to the other wildlife parks in Singapore, Jurong Bird Park is sometimes overlooked. However, it has been busy introducing new exhibits and experiences for visitors. We recently visited the park for a day out and rediscovered for ourselves its many attractions.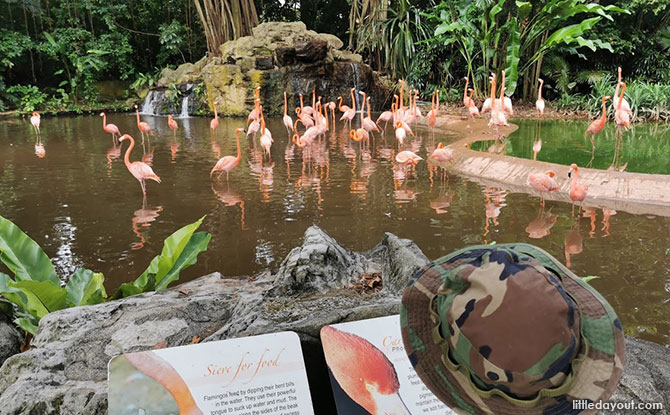 With fashionable flamingos, impressive birds of prey, feisty lorries and lovable penguins – there is plenty to see and do at Jurong Bird Park.
To help you get the most from your visit, here are our top tips on how to hang out with the birds at Jurong Bird Park!
---
-- Story continues below --
Colourful Ways To Rediscover Jurong Bird Park
1. Step into Immersive Exhibits: African Treetops, Lory Loft and Wings of Asia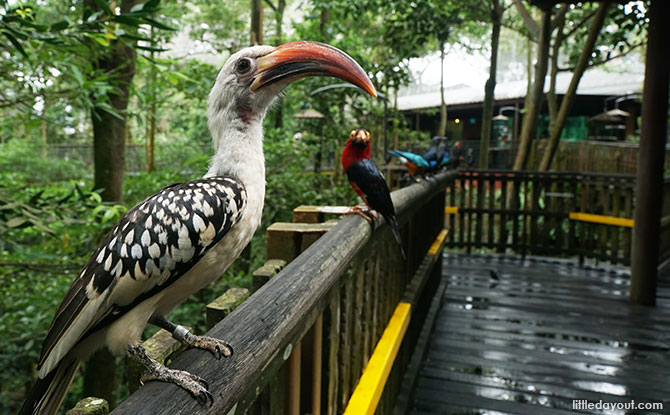 One of the highlights of our recent visit to Jurong Bird Park was the African Treetops. It is home to 300 African birds from over 37 species; birds at African Treetops include starlings, turacos, crowned hornbills and more.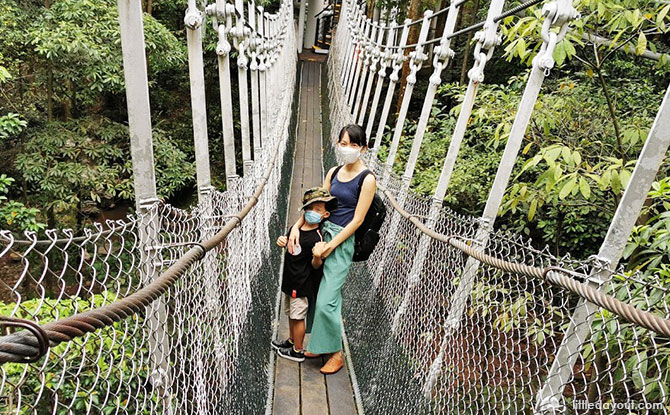 Whilst there, don't forget to step out on to African Treetops' suspension bridges. If you dare, take a look below to see if you can spot any ground-dwelling birds below too.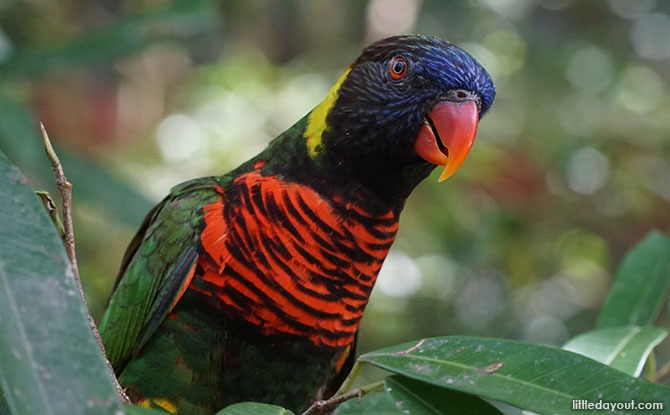 At the bottom of the hill from African Treetops is the newly revamped Lory Loft. This walk-in aviary houses more than lories – it is also home to other Australasian birds such as the black palm cockatoo, kookaburra and crowned pigeons.
Lory Loft's many residents create a beautiful spectrum of colour and have rather loud personalities that complement their plumage. See if your child can spot the dusky lories, red-vested lories and marigold lories like we did.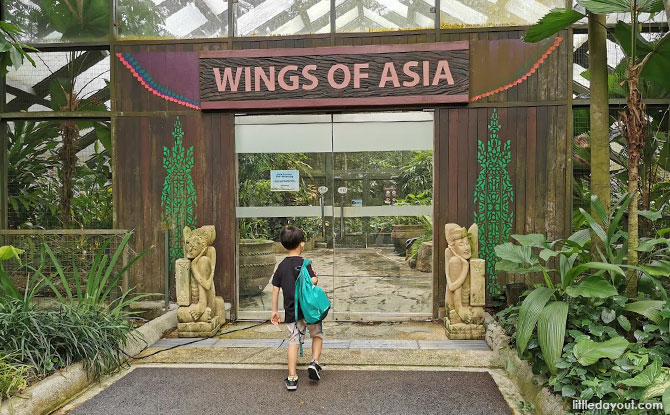 Wings of Asia focuses your attention on threatened birds of Asia. We were amazed by the diversity of birds in this aviary. There are over 400 birds from 100 species. Step into the aviary for a chance to view the rare Santa Cruz ground-dove, Bali myna and black-winged myna, all of which are critically endangered.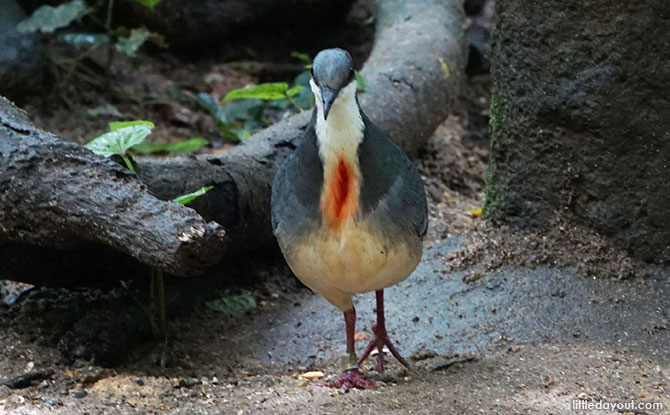 In Wings of Asia, you can also cross paths with free-ranging birds such as the Mindanao bleeding heart dove, the spotted dove, peahens and masked lapwings. You will feel as if you have stepped into an exotic, tropical paradise.
---
2. Watch the Riveting King of the Skies and High Flyers Shows
Animals shows are always entertaining for everyone, especially kids. Jurong Bird Park has two world-class presentations which showcase the natural behaviour of birds.
King of the Skies (10 am & 4 pm) displays the prowess of majestic hunters. The birds soared right above our heads. We could feel the "wind" beneath their wings as the buffy fish owl and Brahminy kites flew by!
One of the stars of the show is a Himalayan Vulture who was found injured along Orchard Road! Thankfully, it was nursed back to health by the keepers at Jurong Bird Park.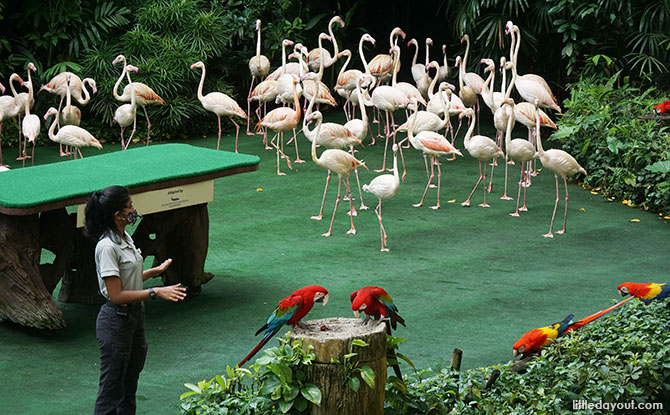 Be sure to make the High Flyers Show (11 am & 3 pm) at the Pools Amphitheatre part of your itinerary.
Listen to Amigo the trilingual yellow-naped Amazon parrot belt out a song. Cheer for hyacinth macaws recycling trash and the great pied hornbills flying to their nests. The show's ensemble of parrots, macaws, hornbills, flamingos, storks both tickle and entertain, drawing the audience into the action.
Little ones will definitely enjoy this show. We do recommend queuing up early for the show as there is limited seating available.
---
3. Four Different Bird-feeding Experiences
A great way of interacting with the flocks at Jurong Bird Park is to participate in a feeding session. This must-do experience will place you at the centre of attention for the birds – at least while you have food in hand.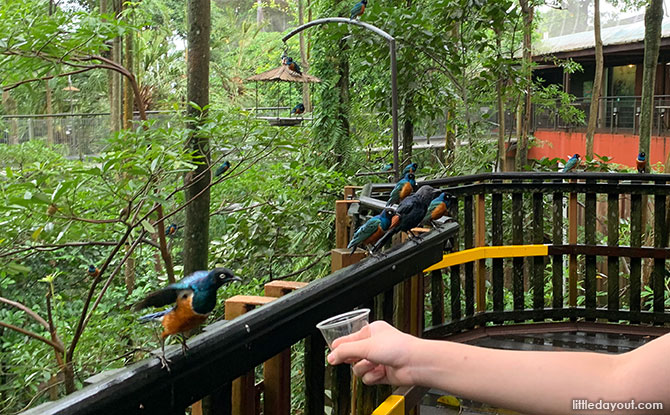 The African Treetops hosts a highly popular feeding sessions with the starlings and other African birds (9.30 am, 1 pm & 4.30 pm).
At the Lory Loft, if you have food, the colourful birds will enthusiastically perch on your shoulders and arms during feeding time (11.30 am & 1.30 pm).
We also fed the African Penguins (10.30 am & 3.30 pm). The swimming penguins were adorably "pleading" for fish as they gathered in anticipation of the delicious fish.
Another fun feeding time is with the pelicans (2 pm). These majestic birds are able to skilfully catch the fish in mid-air as it is thrown to them.
We recommend booking your slot to feed the birds online as only limited places are available. Another tip is to arrive early for each feeding session to minimise waiting time.
---
4. Explore Off-the-Beaten-Path Corners of Jurong Bird Park
There are some places around Jurong Bird Park which get overlooked by visitors but are definitely worth checking out.
A stone's throw away from the park entrance is the Breeding & Research Centre, located next to the Hawk Arena.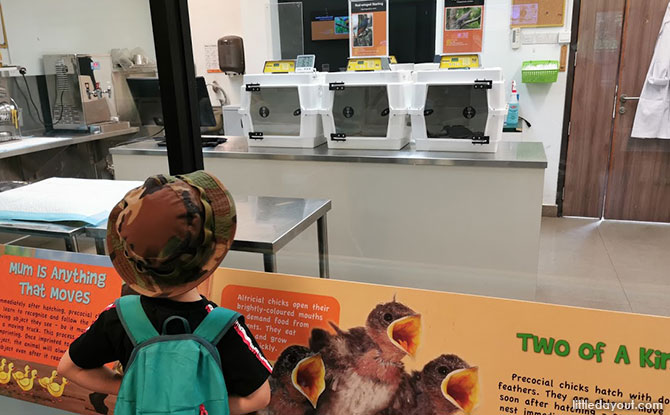 Inside the centre, take a precious peek behind-the-scenes at how Jurong Bird Park nurtures little hatchlings! Here, you will see eggs of different sizes and colours – even blue ones. Darkened incubation rooms simulate the natural environment where eggs are kept warm.
We saw the young chicks of parrots, macaws and lories – miniature versions of the adult birds that are hand reared by the park's bird nannies.
Do also stop by the Bird Discovery Centre, next to Lory Loft.
The gallery may be small but it is packed full of information about birds. Kids will leave with a better appreciation about the winged animals, their anatomy, habitats and characteristics.
We all know that Jurong Bird Park boasts one of the world's tallest manmade waterfalls. However, apart from taking selfies in front of the waterfall, you can also make the trek up to the far-less-visited observation pavilions on either side of the waterfall. You will be rewarded with an intimate view of the thundering falls.
Other overlooked spots include the upper viewing deck at the hornbill exhibits (which offers a different perspective of the unusual-looking birds) and Parrot Paradise.
---
5. Get Useful Guides for Your Day at Jurong Bird Park
A bit of planning can go a long way. Before your visit to Jurong Bird Park, head over the wildlife park's website to download some useful lists.
There is an Explorer's Must-do Checklist with different experiences you don't want to miss around the park.
For a bit of competitive fun, download the scavenger hunt activity sheet and put your kid's powers of observation to the test. Reward him or her with a memento from the park's gift shop if he or she manages to find all the answers.
There is also a suggested park itinerary to help you get the most from your day at Jurong Bird Park.
All these resources are available from this website.
---
Grab Wild Deals at Jurong Bird Park till 31 Dec 2020
During the 2020 year-end season, look out for Jurong Bird Park's Wild About You deals.
For a start, from 4 to 8 November 2020, there is a flash sale with 50% off Jurong Bird Park admission prices. Buy your tickets in advance for the upcoming school holidays and save big!
Other exciting promotions lined up include discounts on Friends of Wildlife memberships, special, mouth-watering meals and offers on cute animal-themed merchandise.
For an exciting experience where you will be taken to usually-off-limits areas of the park, sign up for the Bird's Eye Tour. A personal guide will take you on an intimate, up-close encounter with the birds that you not soon forget.
Find out more about the latest Wild About You deals here.
This year-end holidays, plan a visit to Jurong Bird Park and spend a day rediscovering the wonderful world of birds.
This feature is brought to you by Wildlife Reserves Singapore.