Buildings lights across Singapore will go out this Saturday, 24 March 2017, 8.30 pm as part of Earth Hour 2017. What started off as a grassroots movement in Sydney, Australia, is now a global movement that stretches across more than 172 countries and territories worldwide to raise awareness for climate change.
What is Earth Hour 2017 About?
More than just saving energy for one hour between 8.30 pm and 9.30 pm, Earth Hour 2017 shines the spotlight on the need to live sustainably. To participate, all you have to do is turn off the lights for that one-hour and have a romantic candlelit dinner, or throw a neon glowstick disco, or play blind man's bluff in the dark. You get the idea.
But if you are looking for ways to make a change besides sitting in the dark for 60 minutes, here are other five ways that you can get involved.
Trade In Your Pre-loved Items at AMK Hub
Source: AMK Hub
Do your part to help recycle and get rewarded for it at AMK Hub. Exchange your used items such as clothing and electronics for vouchers at AMK Hub from now till 9 April. Limited to the first 600 donors per day and one redemption per donor per day. Donated items will go to charity.
Here are the details of AMK Hub's Recyclables to Vouchers Tradeoff:
­
Week 1
(24 – 26 Mar)
Week 2
(31 Mar – 2 Apr)
Week 3
(7 – 9 Apr)
Theme
Used Clothing & Bags
Electronics, Books & Toys
Food Items
Charity
The Salvation Army
The Salvation Army
Food Bank Singapore
Criteria
2kg clothes or bags
2kg books & toys, or 1 electronic item
2kg non-perishable food items
Reward
$5 AMK Hub voucher + Fashion vouchers
$5 AMK Hub voucher + Lifestyle vouchers
$5 AMK Hub voucher + F&B vouchers
Exchange Old Light Bulbs for New Ones at i Light Marina Bay
Did you know that LED light bulbs can last up to five times longer than incandescent light bulbs? What's more, LED light bulbs are much more efficient than incandescent light bulb which has a majority its energy going towards generating heat.
At i Light Marina Bay, you can trade in your old incandescent light bulb for an energy-efficient LED one at the Gift of Light LED Light Bulb Exchange. This exchange programme is limited to one exchange per person and takes place at the info kiosk in front of Marina Bay Sands till 26 March, whilst stocks last.
Make a Kite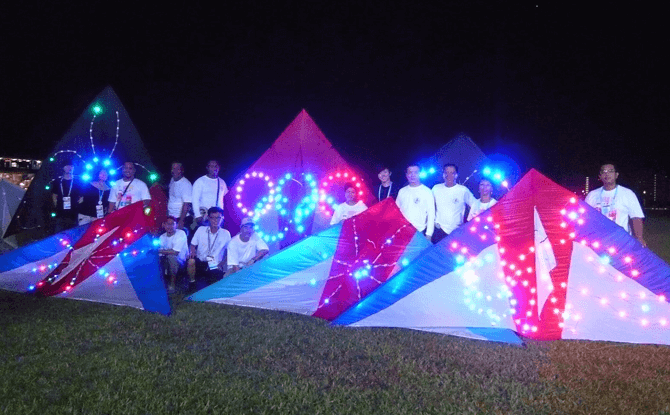 Source: Singapore Kite Association
Harness the power of alternative energy sources – in this case the wind – by making a kite on Saturday, 25 March. The Singapore Kite Association will be holding a free kite-making workshop from 6 pm onwards at Blk 706 Clementi West. Between 8.30 pm to 9.30 pm, LED kites will be put on displayed at Block 706 and people are welcomed to take pictures with them.
Plant a Tree – Both Virtual and Real
Step into the virtual shoes of a gamekeeper in the forests of Indonesia at ArtScience Museum's Into the Wild experience. Using a smart mobile device, you can learn about animals such as the tapir, Sumatran tiger and pangolin as your move about the museum. At the end of the virtual reality/augmented reality expedition, you can pledge a donation that will be used by the WWF to plant a real tree in Indonesia.
Cut Out Plastics for A Day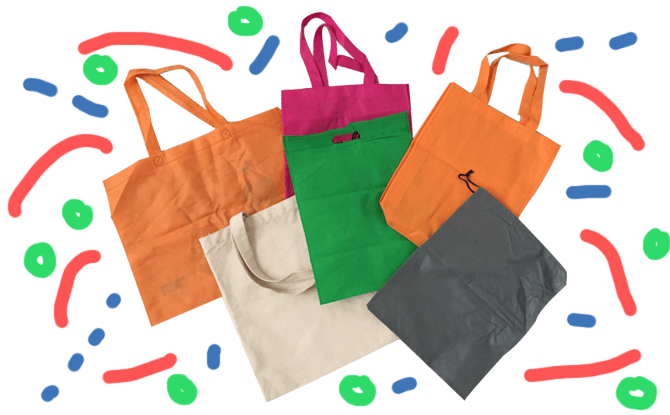 Plastics, especially single-use plastics such as mineral water bottles, are bad for the environment. These are non-biodegradable and stay around for a long time. They can even release toxic chemicals into the eco-system.
Challenge yourself to reduce your use of plastics for a day. This means avoid purchasing disposable drink bottles, not even using a straw, or accepting a plastic bag for your grocery purchases (bring along a tote bag instead). A little bit of effort goes a long way.