Planning a holiday to escape the balmy heat of Singapore? Wondering where to buy winter clothes in Singapore? Thinking of a winter trip to South Korea or to a visit Europe?
First, determine what kind of winter clothes you need according to the climate of the city you will be visiting. While base layers should be snug, outer layers should be slightly bigger than your usual clothing size to accommodate the layers beneath.
Also, remember the kind of activity you are planning. For hiking, snow-shoe-ing, skiing, snowboarding, wet or slippery terrains, remember to include proper footwear such as snow-friendly boots as well as waterproof outer layers and gloves.
---
Where to Buy Winter Clothes in Singapore
You may be shopping for mildly cold weather, or perhaps for full-blown snowy wintery weather. Whatever the case, there are several shops and outlets in Singapore that you can turn to in order to make sure you are ready for the cold. Here are some shops you should know about when you are looking to buy winter clothes in Singapore.
---
-- Story continues below --
---
UNIQLO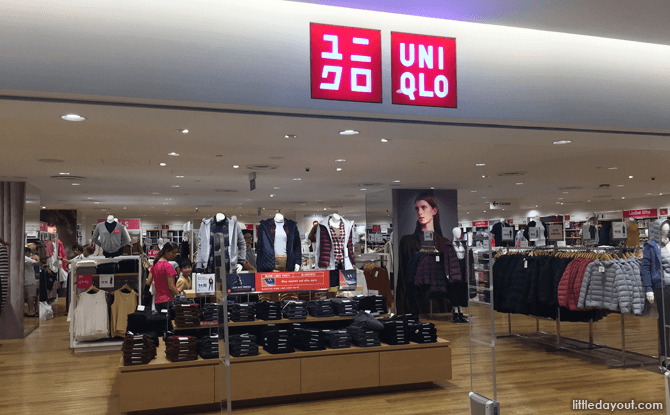 UNIQLO's name is derived from "unique" and "clothing". This clothing retailer from Japan has more than 20 stores in Singapore. Its winter line is based on Heattech, a material that converts body moisture into heat. This comes in three degrees of warmth – Heattech, Heattech Extra Warm and Heattech Ultra Warm. Heattech clothing keeps the body surprisingly warm without the bulk normally associated with winter clothing. UNIQLO is a good place to start your shopping for winter clothes in Singapore.
Locate your nearest Uniqlo store here. There are 26 stores to browse at or shop online!
---
Universal Traveller
Universal Traveller is a home-grown, Singaporean winter wear brand and retailer. Since its start in the 1970s, it has now expanded its reach beyond Singapore to Southeast Asia. You can buy the full range of winter clothing in Singapore at Universal Traveller which updates its collection for the season. Universal Traveller stocks everything from the lowest layers of clothing, like long johns, to outer coats, jackets and gloves. Their website also provides useful layering tips and a temperature chart for different countries to help you decide on what you need.
Universal Traveller has outlets at Changi City Point, Chinatown Point, Jem, Jurong Point Shopping Centre, Northpoint City and a factory outlet at Kaki Bukit View. Or shop online.
---
Winter Time
Winter Time is a winter apparel specialist and carries stock of winter wear from Europe, US, Japan, Taiwan, Hong Kong and China. They sell winter clothes for children and accessories such as scarfs, hats and gloves.
Winter Time's outlets are located at IMM, North Point, Parkway Parade and Changi City Point. There is also an online retail option.
---
Coldwear
Coldwear is a Singapore-based company that sells winter clothes. It carries a range of winter jackets, sweaters, hats, gloves and scarves. Its retail outlets carry both their in-house brand as well as other apparel brands. Be sure to check out their useful online tips on how to layer for different temperate ranges such as 6 degrees to sub-zero, 7 to 12 degrees and 13 degrees and up.
Coldwear stores can be found at IMM, Orchard Gateway, Paya Lebar Quarter, United Square and the Bendemeer outlet. Click here to shop online.
---
The Planet Traveller
The Planet Traveller is best known for its range of travel products that include outdoor packs, luggage, travel accessories and travel gadgets. In addition to these, it also sells a small range of outdoor wear, particularly geared toward for adventure seekers. This includes brands such as Manzella, Patagonia and The North Face. Visit The Planet Traveller's website for a range of travel tips and checklists including how to pack for cold climates.
The Planet Traveller can be found at Changi Airport Terminal 3 (Public Area), Marina Square and Paragon.
---
Decathlon
Better known for its sports gear and sports apparel, Decathlon is where you can also find coats and jackets for cold weather, even sub-zero temperatures. You can also check out its collection of light fleeces at budget-friendly prices.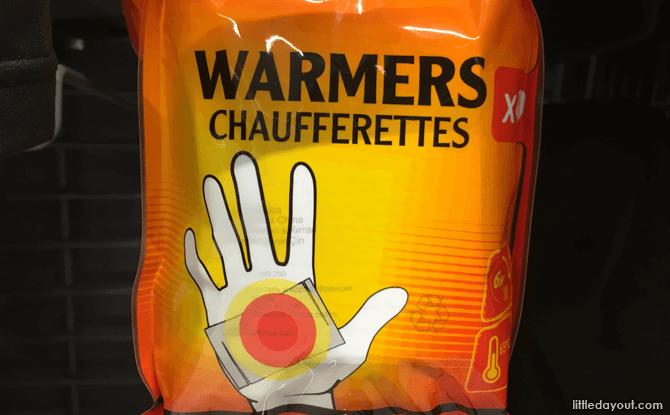 An interesting product at Decathlon is chaufferettes, a warmer that can be used to keep both hands and feet warm.
You can head to Decathlon's 15 stores islandwide or browse online!
---
Velocity at Novena Square
If heading to a mall with more options is preferred, try Velocity at Novena Square. Brands such as North Face are available at LivActiv. The Big Country also retails gear for outdoor sports such a skiing jackets, hiking boots and more.
---
IMM Jurong
IMM has many outlet stores, some of them like Timberland, North Face, Coldwear, The Travel Store, Winter Time retail all that you need for your winter holiday!
---
Campers' Corner, Bukit Timah
For the outdoorsy, Campers' Corner is a must-visit for all adventure needs. Cardigans, winter jackets, wind jackets, base layers can all be found at Campers' Corner.
Check out the full range here.
---
Columbia Jewel Changi Airport
If you are looking for outdoor gear for an upcoming adventure to a wintery cold area, you may wish to check out the Columbia Jewel Changi Airport store. The American outdoor sportswear brand offers plenty of high performance sportswear to help people to push their boundaries outdoors. Read more about the Columbia Jewel Changi Airport store.
---
Outdoor Life, Funan
Outdoor Life in Funan is a one-stop location for outdoor gear and travel essentials. Major brands it carries include Patagonia, Black Diamond, The North Face, Outdoor Research, Helly Hansen and more.
---
Carousell
Give second-hand items a life. From experience, Carousell has plenty of affordable winter wear, some in mint condition. Winter jackets, base layers and accessories are sold at a fraction of its retail price! So why not shop second hand!