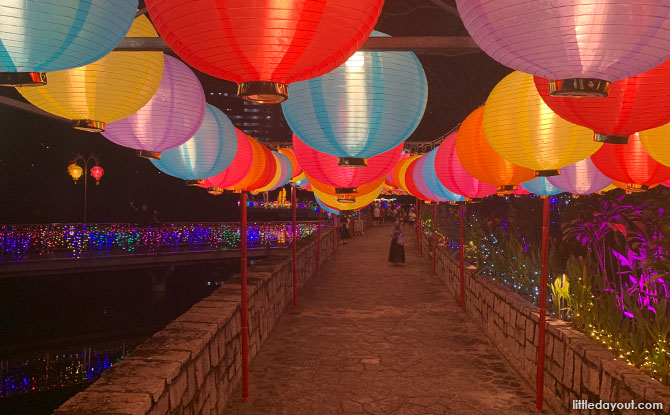 The Mid-Autumn Festival or Mooncake Festival falls on 21 September 2021. Other than gathering with family members and enjoying delicious mooncakes, another must-do activity is to enjoy the light of the fullest moon with lanterns and various light-ups. Here are 5 light-ups to see this Mid Autumn Festival 2021
---
5 Light-Ups To See This Mid Autumn Festival
Singapore Discovery Centre
From now till 26 September, visitors can enjoy the floating lights of the 'Moon Mirrors' installation by the Discovery Lake under the night sky and participate in the free-and-easy Moonwalk trail activity at the Singapore Discovery Centre. The installation lights up from 6 pm and is free of charge to admire. Read more here.
---
Gardens By The Bay
Taking inspiration from Asian customs where people penned their wishes on the sky lanterns and released them into the skies in hope of good blessings, this highlight set at Gardens By The Bay features sky lanterns "floating" up the Supertrees against a mountainscape backdrop with a pair of rabbits releasing a sky lantern marked with the Chinese character for "prosperity". There are also more lanterns both at the Outdoor Gardens and at the Flower Dome. Read more about Gardens by the Bay Mid-Autumn Festival 2021.
---
Chinatown
Centred around the theme of "reunion" the Street Light-Up at Chinatown this year spans 880 metres with 900 lantern pieces that combine traditional elements with contemporary designs that are sure to delight.
The highlight of this year's lantern display is a 12-metre-tall centrepiece of Chang-E, also known as the Chinese goddess of the Moon. There will also be other lanterns at the centre divider between Eu Tong Sen Street and North Bridge Road. Read more here.
---
Pang Sua Pond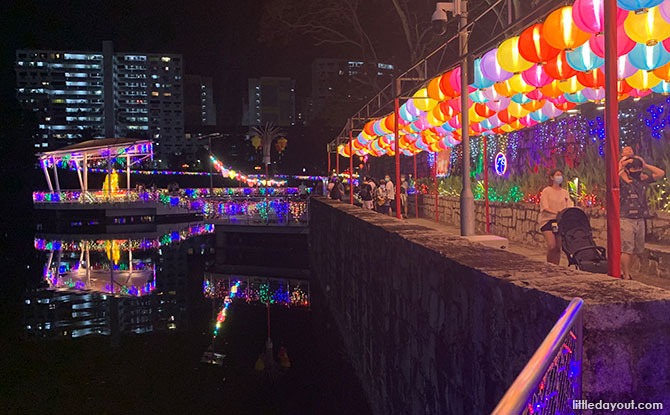 Step into a fairy-light wonderland at Pang Sua Pond, Bukit Panjang. Take a walk along its boardwalks and snap a photo under a canopy of colourful lanterns. Find out more here.
---
Sun Yat Sen Nanyang Memorial Hall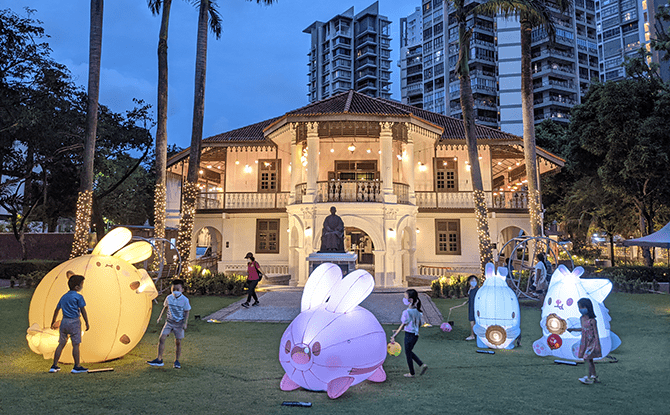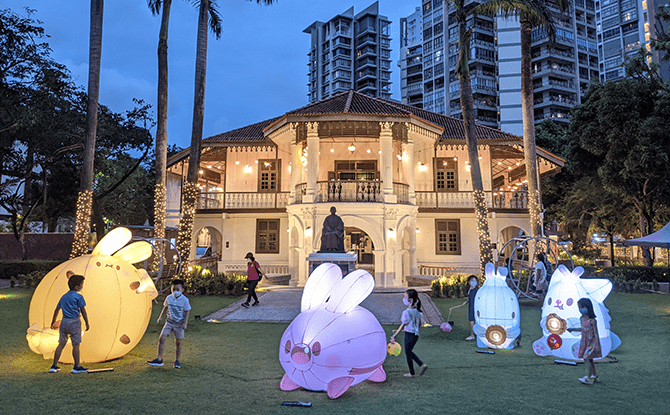 Named "Those Moonlit Moments…", visitors can view four lanterns in the design of bunnies. Each of the cute rabbits is enjoying mooncakes, along with each other's company, under the watchful eye of the Moon Rabbit. The lantern is the work of Thailand artist Boonyavee Boonsakda and will be on display on the lawn of the Memorial Hall from 31 August to 26 September 2021, 10 am to 9 pm daily. Read more here.
---
Jewel
Admire the colourful lantern display amongst the elegant orchids planted around the Shiseido Forest Valley at Jewel from now till 3 October. Visitors who visit the Canopy Park can also take some cute festive shots with the animals at the Topiary Walk that are also dressed for the occasion. Read more here.
For more activities to do this Mid Autumn Festival 2021, read our article here.