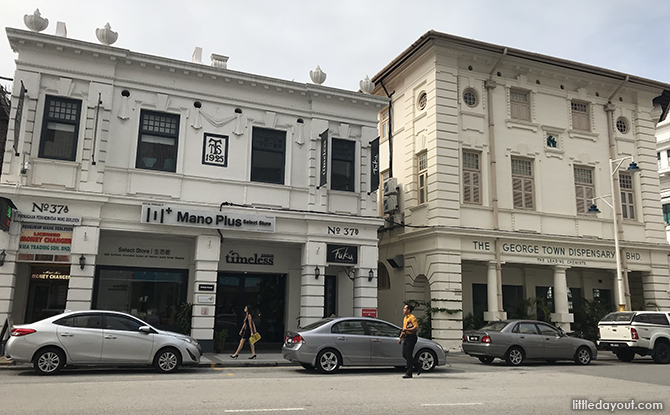 If you thought that Penang was just a sleepy village with lots of authentic local food, cultural buildings and street art- well you're correct but not entirely. On my recent trip to George Town, Penang, I uncovered many hidden gems during my days of adventure in the Pearl of the Orient. Whether you're looking for authentic local food (that is not just Teochew chendol or Penang assam laksa), amazing coffee or even retail therapy, make sure to mark these five spots down when planning things to do in George Town, Penang!
Things to Do in George Town, Penang
1. No.76 Coffee
A favourite breakfast spot amongst locals, No.76 Coffee is a hidden gem that was introduced to me when I asked for authentic Nanyang coffee recommendations. The humble coffee stall is located within the Batu Lanchang market which also houses many delicious food options including dim sum as well as a renowned nyonya kueh stall. The unassuming stall sells a wide variety of drinks including unique ones that I've never seen before such as a combination of Nescafe and Milo. I would highly recommend starting your day off on the right foot here (if you need your caffeine fix like yours truly) with a steaming cup of hot Nanyang coffee that comes with adorable latte art, making your morning beverage of choice as cute as it is comforting.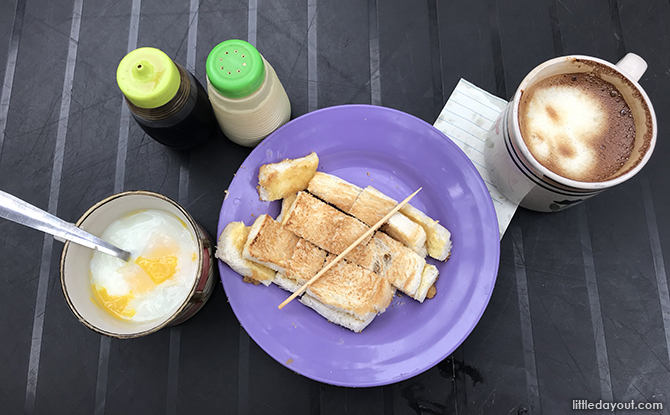 No.76 Coffee also serves a hearty traditional Nanyang breakfast of toasted kaya toast and soft boiled eggs which is delightful in its simplicity and evokes a strong sense of nostalgia. I would say that Penang's rendition of the traditional Nanyang breakfast is slightly different and definitely worth a try here at No.76 Coffee!
Address: 19, Medan Batu Lanchang, Jelutong, 11600 George Town, Pulau Pinang, Malaysia
Website
---
-- Story continues below --
2. Warehouse 129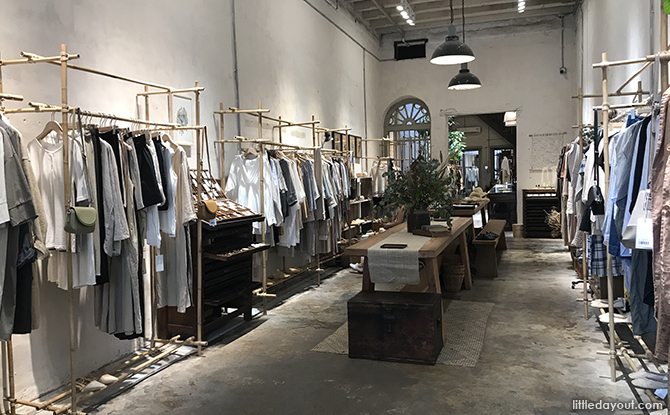 Surprise surprise, George Town, Penang also has a few carefully curated local boutiques sprinkled around the city. One of my personal favourites is Warehouse 129, a sprawling industrial-style space which looks like it came straight out of a Kinfolk magazine. Warehouse 129 carries minimalist apparel (think Muji or COS) for both women and men, perfect if muted neutrals and timeless classics are your aesthetic. I own and love a good few pieces from Warehouse 129 that are now my wardrobe staples (because they go with everything!).
Address: 129, Lebuh Pantai, George Town, 10300 George Town, Pulau Pinang, Malaysia
Website
3. Mano Plus Select Store
Another lifestyle shop to bookmark for your trip to George Town, Penang will have to be Mano Plus Select Store. Located within the George Town's UNESCO World Heritage Site, Mano Plus Select Store carries a wide variety of products ranging from lifestyle magazines, stationery to tech gadgets. What I like most about the boutique is the extensive range of Malaysian brands that they carry – from homegrown clothing labels, locally-blended teas to colourful postcards depicting Penang's street scenes and foods. You can also grab a bite at Fuku Eatery, a popular café serving Japanese-inspired dishes which is also conveniently located within Mano Plus Select Store. Be sure to check out Mano Plus Select Store if you are looking for things to do in George Town, Penang and pick up some cool souvenirs to impress your friends!
Address: 37A & 37B, George Town, Beach St, 10300 George Town, Pulau Pinang, Malaysia
Website
4. Tai Tong Restaurant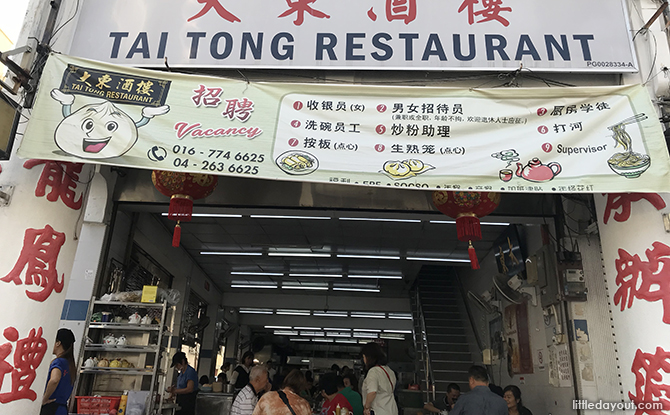 One of the most established and oldest dim sum joints in the city, Tai Tong Restaurant is a place you do not want to miss when in Penang, Georgetown. It's also open for business from 6 am, one of the rare spots open for breakfast in the city. However, do arrive early to grab a seat as the renowned eatery gets packed pretty quickly – with both locals and tourists alike. Tai Tong Restaurant serves scrumptious dim sum favourites such as siew mai, har gow, various Chinese steamed buns and other deep-fried dishes. The place is mainly staffed by middle-aged Chinese women with pushcarts filled with these mouth-watering dishes, adding to the restaurant's old school nostalgic charm. My advice would be to come with an empty stomach and in a group to enjoy a wider variety of these delectable delights.
Address: 45, Lebuh Cintra, George Town, 10100 George Town, Pulau Pinang, Malaysia
5. Constant Gardener Coffee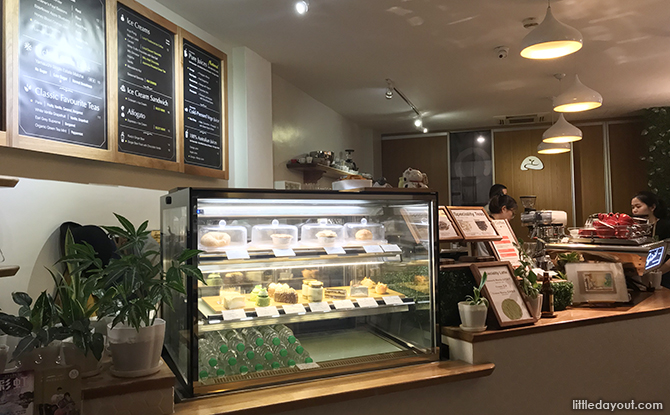 Tucked away on the ground floor of the Chinese Chamber Of Commerce Building is a lovely little café named Constant Gardener Coffee. Step in and you'll feel right at home in the warmly lit space with woody interiors and garden plants. Constant Gardener Coffee is known for their speciality coffee and their excellent brews – so all fellow coffee lovers can rejoice! As a chocolate lover, I couldn't resist trying their single-origin hot chocolate which is hands-down, the best hot chocolate I've tasted in my entire life. Come here to savour an extra-large cup of coffee and soak up the cosy ambience of Constant Gardener Coffee!
Address: Ground Floor, Chinese Chamber Of Commerce Building, 9, Lebuh Light, George Town, 10200 George Town, Pulau Pinang, Malaysia
Website