Vroom, vroom. What happens when you have the need for speed and want to get your zoom on? Are there ways for gearheads, young and old, to enjoy car-themed activities in Singapore?
Car-themed Activities in Singapore
Here are some ways to "wheel and deal" with car-themed activities in Singapore even without a driving license.
1. Activate Pedal Power at GoCycling, West Coast Park
The Pedal Go-karts at West Coast Park are a fun and easy way to explore one of the largest parks in the West of Singapore. Go-karts are made in Germany and with four wheels, can be enjoyed even by those who not accustomed to cycling.
The steering wheel puts you firmly in control while a brake lever provides that all important means to stop. Put your feet to the pedals and you will on your way to wherever you please.
The four-wheeled fun is available from the GoCycling kiosk at West Coast Park Car Park 2. Children as young as three years old can enjoy the pedal go-karts. There are tandem go-karts, family go-karts and even attachments such as child seats and trailers available.
2. Feel the Force (of Gravity) at Skyline Luge Sentosa
Experience the thrill of zipping down a hillside track at Skyline Luge Sentosa.
Starting from Imbiah Lookout, the ride places riders in control of a gravity-powered luge. Pull back on the handle bars and then steer your way to the bottom of Mount Imbiah. From the base of the hill, if "once is never enough", take a chair lift back to the top and do it all over again.
Skyline Luge Sentosa is also offers a Night Luge experience with flashing lights and colours around the track after the sun goes down.
Riders need to be at least 110 cm tall and six years old to ride on their own. Children who don't meet this requirement need not fret as they can ride along with an adult.
3. Get Behind the Wheel of a High-Powered Machine at RaceWorks Hobbies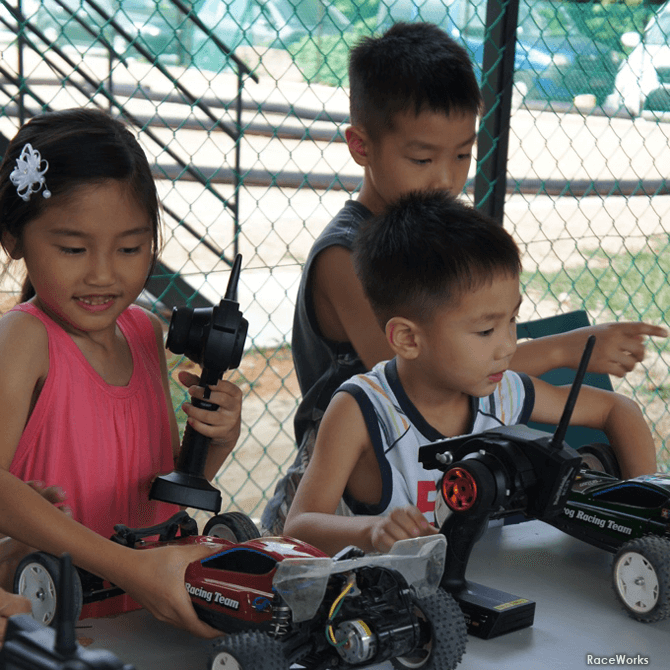 Even kids and those without a driving license can get behind the wheel of a finely-tuned, high-performance machine – a scaled-down RC version at least – at RaceWorks Hobbies.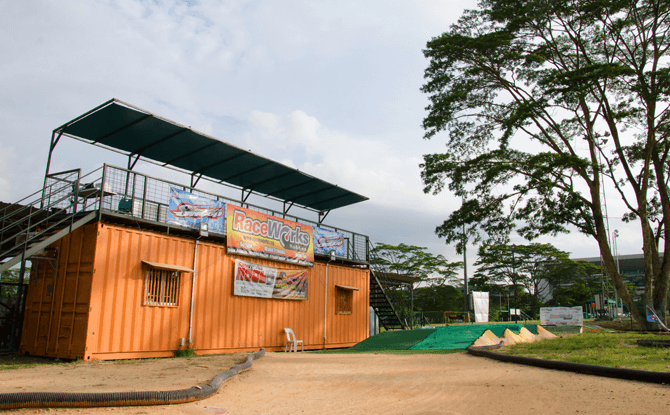 With a 1,200 square metre track and a sheltered pit area at Bukit Timah, RaceWorks Hobbies is Singapore's largest offroad RC (radio controlled) facility.
RC car racing is suitable for kids as young as six and teaches them cooperation, focus and an "speedy" introduction to science and engineering. You can use your own RC car or, if you don't have one, rent one from RaceWorks Hobbies.
Once a month, RaceWorks Hobbies holds FirstLaps, a junior racing programme for kids as young six and parents to bond over a simple programme. Work together on the RC cars, take some (RC) driving lessons and feel the heat of competition around the track.
Birthday parties and corporate events can also be held at RaceWorks Hobbies.




4. Go Crazy in a Bumper Car at TimeZone
Got bad driving skills? That's actually a plus point inside the bumper car rink at TimeZone Rush, VivoCity.
You can hop into one of the brightly-coloured cars with flashing lights and do your utmost to bump into your rink-mates. Bumper cars are also known as "dodgems" but why you want to do that? Colliding into other cars is the most fun part of bumper cars.
Riders need to be at least 106 cm. If they are shorter than 130 cm, they will need to be accompanied by an adult.
5. Chill Out at a "Drive-in Movie" at National Museum of Singapore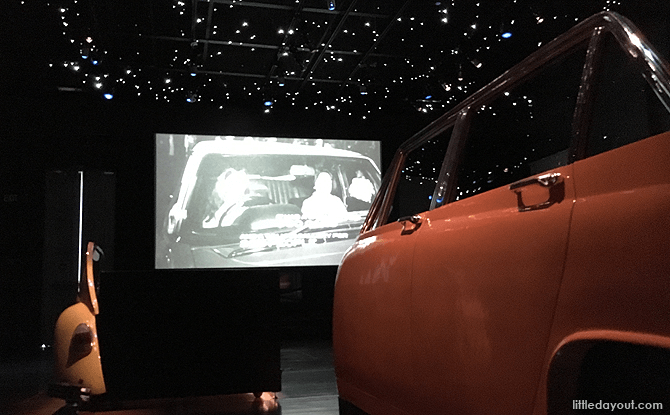 Settle down for a dose of nostalgia at the "drive-in movie" gallery at National Museum of Singapore. The video installation pays tribute to the Jurong Drive-In Cinema that existed from 1971 to 1985. In its heyday, the Jurong Drive-In Cinema could accommodate close to 900 vehicles. It was part of the chain of attractions at Jurong which include Chinese Garden and Japanese Garden.
At National Museum of Singapore, the car "couches" you can choose to sit on include a VW beetle and a pick up truck. Canopy of stars, courtesy of fairy lights, twinkle overhead while playing on the big screen is a montage inspired by 70s and 80s Singapore by filmmaker Eva Tang.