Venture into a valley of dinosaurs and have a face-to-face encounter with prehistoric creatures at Singapore Zoo's Zoo-rassic Park.
From 26 November 2016, 16 lifelike animatronic displays of dinosaurs will lie in wait for visitors among the lush, misty foliage at the Singapore Zoo's Dinosaur Valley. These include favourites like the T-rex, Triceratops and even a brood of Velociraptors.
Accompanying each dino display is a board with information on the characteristics and habits of the dinosaur.
Zoo-rassic Park: Raising Awareness About Extinction
Zoo-rassic Park is part of the Singapore Zoo's efforts to raise awareness about the threat of extinction.
Ms May Lok, Director of Education, Wildlife Reserves Singapore, said, "Dinosaurs disappeared from the face of the earth in the fifth extinction, and today, sadly, we are looking at a possible sixth extinction. Animal species are being wiped out at an unprecedented rate. We have lost 67 per cent of the world's biodiversity in the last 50 years. Through Zoo-rassic Park, we hope to raise awareness on the issue, and rally our guests to do something to save the world's biodiversity before it is too late."
To do so, visitors to Zoo can go on a self-guided discovery trail and learn about the similarities between dinosaurs and the park's living animals. The Same Same But Different Trail compares extant animals such as giraffes, rhinos and bats with the animatronic dinos at the Zoo-rassic Park display.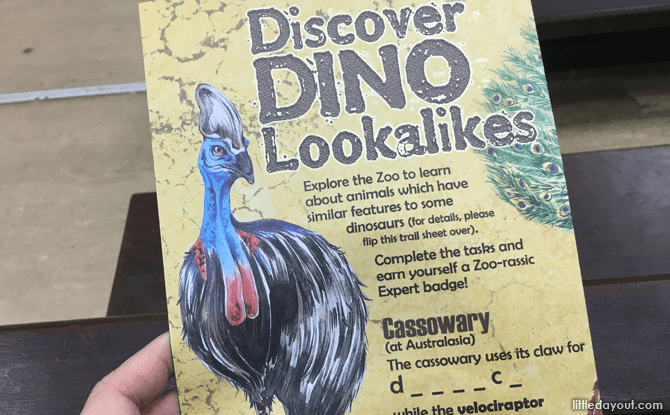 Visitors can also experience augmented reality dinosaurs at Zoo-rassic Park with Visual Discovery app, Blippar. By scanning the information panels at Dinosaur Valley, an AR version of the dinosaur will come to life on the mobile device.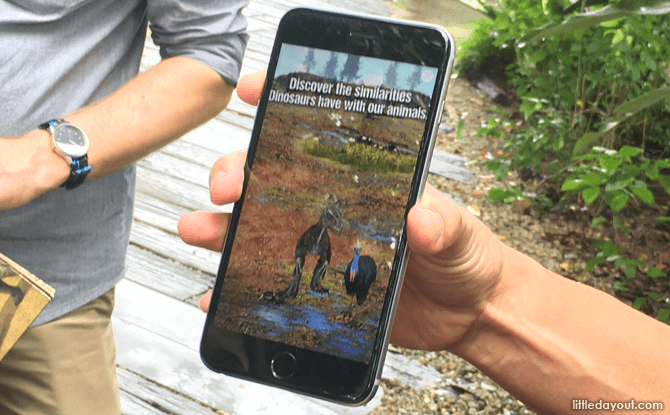 Zoo-rassic Park Activities During the School Holidays
Over the weekends from 26 November to 18 December, dinosaur-themed activities will be held at the Singapore Zoo. During this time, kids can enjoy crafts, face painting and other activities.
Meet-and-greet sessions with dinosaurs and their friendly keepers will also take place at 10 am, 11.30 am and 1 pm.
Zoo-rassic Park at River Safari
The activities at the Singapore Zoo will be complemented by a second discovery trail, Extinction Escapees, at River Safari. This showcases ancient creatures still in existence today such as the Alligator Snapping Turtle, Indian Gharial and Giant Salamander.
From 26 November to 18 December, local residents can buy a Dino-mite dual park admission combo. The ticket provides discounted rates for admission to the Singapore Zoo and River Safari. These dual park tickets are priced at $39 per adult and $25 per child.
Zoo-rassic Park's display at Dinosaur Valley will remain till March 2017. It is located to the rear of the otter enclosure.
Visit the Zoo-rassic Park website here.