Now that we're starting to get out a little more, it's time to pay some attention to our crowning glory that many of us neglected when we were holed up at home.
With half our faces covered by masks now, our tresses become the most visible aspect of our appearance, which is all the more reason to give it a good freshening up and make sure it's well-coiffed. Because when our hair looks terrific, we look terrific.
We ask the expert stylists at YOON to talk us through the different ways we can makeover our mane and turn it from drab to va-va-voom! #HairGoals, here we come!
Be Adventurous with a New Cut
Blunt bob or choppy bob; 70s-style curtain bangs or youthful short bangs; a modern asymmetrical lob or an updated take on Jennifer Anniston's classic "The Rachel" do. Whatever trend catches your fancy, don't be afraid to experiment and go for it.
As a safety net, always discuss with the friendly stylists and get their professional assessment first. Experienced stylists will be able to give you advice and work out the right haircut that's trendy, flatters your face shape and matches your personal style.
They will also take into consideration factors like how well you can maintain a particular cut given your lifestyle and beauty routines, as certain cuts might require time to blow dry and style.
Brighten Up with Colours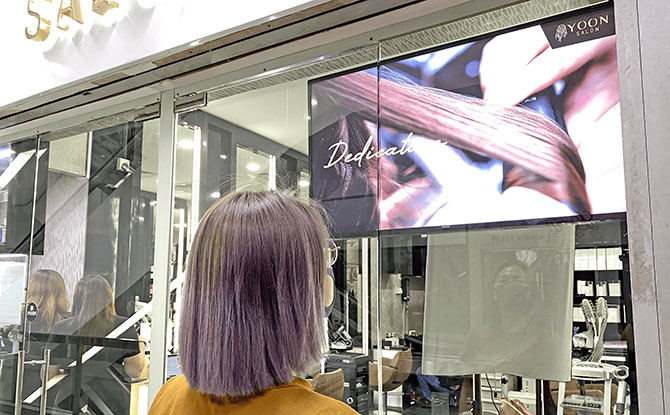 Changing the colour of your locks is probably the most effective way to instantly enliven and jazz up your look. Milky brown shades a la bubble tea, cool ashy tones, deep dark chocolates, vivid copper hues – the options are endless.
More daring souls may even consider head-turning shades like rose gold or pastel pink, greyish violet, and midnight or petrol blue.
Get a colourist's opinion in the salon. An expert colourist will identify your skin's undertone, your eye colour and face shape before suggesting the right hair colour.
Try Balayage or Ombre Hair Colouring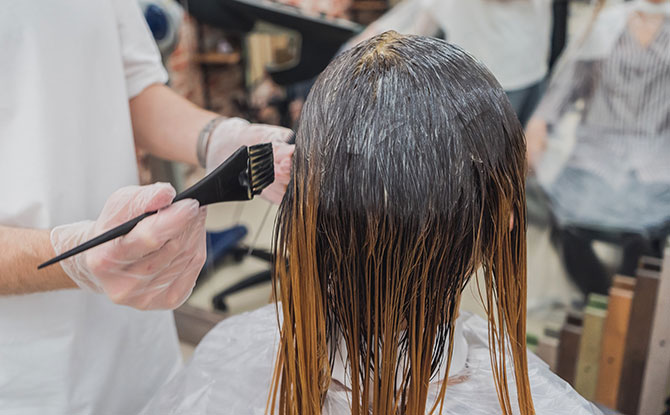 A French word that translates loosely to 'sweeping', balayage is a colouring technique for your tresses whereby the colour is painted on freehand, as opposed to the usual method of using strips of foil. This creates more subtle and natural looking highlights that aren't so chunky, and also give tresses more dimension.
Ombre is a colouring style where the colour of your locks gradually goes from dark at the roots to a lighter tone at the ends. Like balayage, this method produces a more natural and multi-layered effect than one-colour jobs. Both also tend to grow out better because the roots don't show up as much, especially if the base colour matches or is close to the individual's natural colouring.
Make Waves with a Perm
Forget old fashioned perms. You know, the ones which give you the sort of tight ringlets and poodle poof that make you look years older. Instead, there are various perms now designed to create loose, natural looking waves that are way more cool and modern.
There's the Korean S Curl Perm which creates voluminous S-shaped waves towards the bottom of one's mane. This is the most popular perm because of its versatility – it looks good on just about everyone.
Then there is the Korean C Curl Perm. This produces a gentle C-shaped curve at ends and is a very feminine and demure style. It matches particularly well with short bobs as it frames the face in a highly flattering manner.
Those gunning for a more casual, free-spirited look should try the Korean Wave Perm, a voluminous, beachy style with fairly defined curls.
And if you prefer something really natural and youthful, opt for a Japanese Perm. Its curls are a lot looser, creating a carefree, slightly messy look.
Rebond for a Sleek Mane
Want smooth, manageable locks worthy of a shampoo commercial? Rebonding is your answer.
YOON shares there are two types of rebonding to chemically straighten different hair textures. Coarser textures require straight rebonding, which uses more intense chemicals and stronger heat. Finer textures, on the other hand, should use soft rebonding with less chemicals and lower temperatures.
No need to worry that you'll end up with super flat locks that look pasted to your head either. Not only are their stylists well trained to carry out rebonding, they will also take into consideration the strength of your natural curls, your cuticle type and the styling or aftercare that may be required for a silky, healthy looking mane.
Get the Best of Both Worlds with a Perm-and-Straighten Combo
Who says you can't have your cake and eat it too?
Traditionally, you either perm or straighten your locks, not both at the same time. But because many people have manes that require taming in some areas and volume in others, you can opt for their creative hair shaping service that achieves a dual effect.
The Volume S-Curl Rebonding and Volume C-Curl Rebonding treatments combine these perming techniques at the ends of the mane with chemical straightening at the top. This delivers an overall look that is smooth and sleek, with the curly volume only towards the bottom of tresses.
The effects are said to last about six to seven months, but may differ depending on your haircare and cuticle growth cycle. Ideally, go for a touch-up every month to maintain your silky, voluminous mane.
YOON Salon: Pamper Tresses with Intensive Salon Treatment
You treat your skin with facials and masks in order to tackle specific concerns, and the same care should apply to your tresses as well.
While regular hair masking at home is a good practice, sometimes it takes a professional treatment to deliver a shot of intensive care.
Using a salon microscope, the salon's experts will first carry out a detailed check of your cuticles' condition before making their recommendation. Treatment time is typically around an hour and it's best to go for monthly sessions to maintain the results.
The salon also offers Hair Regrowth Treatment those with oily, dry or sensitive scalp, dandruff and hair loss. Their duration is about the same as hair treatments and users are also advised to follow-up with monthly sessions.
Locations:
2 Havelock Rd, #01-04 Havelock II, Singapore 059763
220 Orchard Road, #01-02 Midpoint Orchard, Singapore 238852
1 Queensway, #02-29 Queensway Shopping Centre, Singapore 149053
This feature is brought to you by YOON.