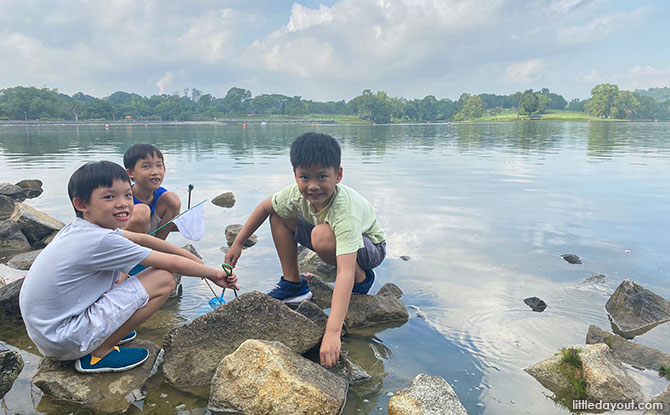 Did you know that aside from fishing at fishing grounds, you can also catch yabbies?
Common yabbies are freshwater crayfish introduced into our reservoirs by pet owners. This species has become an invasive one that has established itself in our waters. More specifically they are Red-Claws; its body has red and maroon highlights on a blue-green body.
---
Where to Catch Yabbies in Singapore?
You can head to Lower Pierce reservoir, Kranji Reservoir, MacRitchie Reservoir and Upper Seletar Reservoir to find them. In our experience, MacRitchie Reservoir, near Paddle Lodge and Upper Seletar Reservoir are preferable spots.
---
-- Story continues below --
---
How to Catch a Yabby?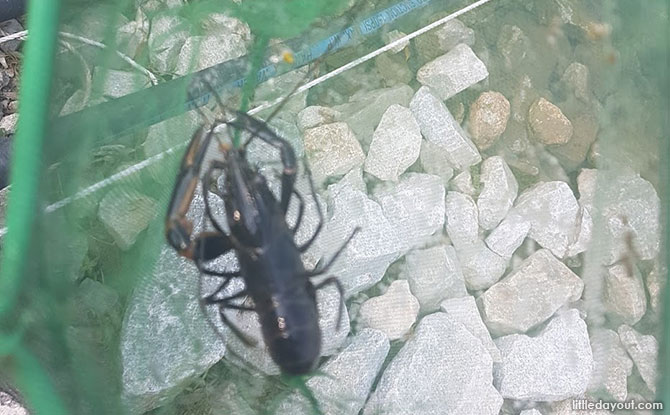 The yabbies are usually elusive and hiding underneath rocks and crevices.
Seasoned anglers have tips to catch them with hooks and bait like worms or liver.
First, prepare your child for essentials required – patience and perseverance.
It can be a long, fruitless wait and we have been outsmarted by the yabbies many times during our three trips to catch yabbies at various reservoirs.
Second, be equipped.
A hat, aqua shoes, repellent, sunblock and fluids are recommended for a more comfortable time. A change of clothes for the children would also be useful as they may fall into the water. While shallow, adults should keep a close eye on them.
For tools in yabby-catching, have the following ready:
A net, this costs under $2 from an aquaculture shop
Some stale bread broken into pieces
Rubber band
Netting
A stick of 30cm in length
Bucket to keep yabby in, if there is a successful catch
Tie the bread to the end of the stick, secure it with the netting and rubber band. This will be used as a bait for the yabby.
---
Ready? Let's Catch some Yabbies!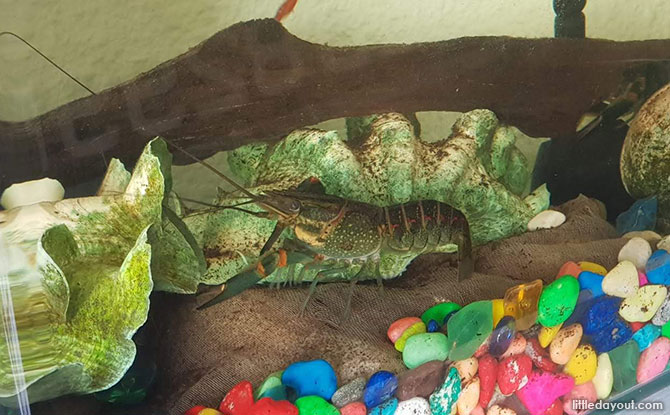 Try to spot air bubbles rising to the surface of the water, this usually means a yabby is present.
Then, find a comfortable rock to sit or squat on. Poke stick into the bottom of the rock and try to sense any tugging at your stick.
Once you feel a tugging, keep still and then slowly lure the yabby out.
Meanwhile get the net ready to scoop the yabby from behind. This has to be done cautiously to avoid spooking the yabby.
---
Good Luck catching Yabbies!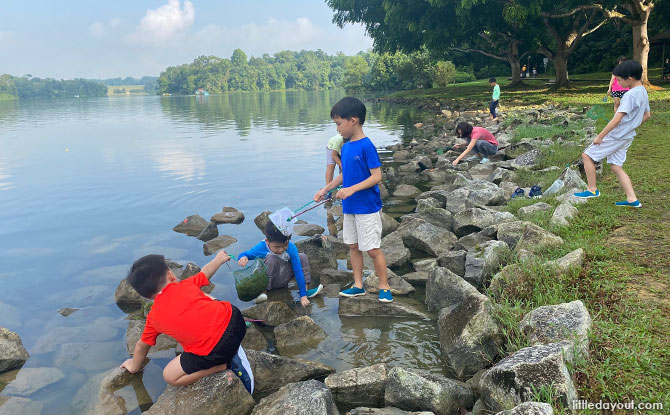 We hope you manage to catch some yabbies. Tag us in your Little Day Out or should we say hunt for yabbies.