The Artground ushers in the new year with Wild Rumpus, a brand new installation by artist and designer, Adeline Loo, featuring some of the softest and most cuddly monsters you've ever laid eyes on.
Where The Wild Things Are
From now until 5 May 2019, Womb, Hairy, Spot, Loopy Lou, Cthulhu, Inny and friends invite you into their wonderfully magical and tactile world. Get ready for a Wild Rumpus with over-the-top gentle giants and indescribably cuddly creatures of your wildest imagination.
The young and adventurous will have a great time clambering into Loopy Lou's mouth, then making their way across the drawbridge; or scale Cthulhu for a chance at conquering his awesome slide.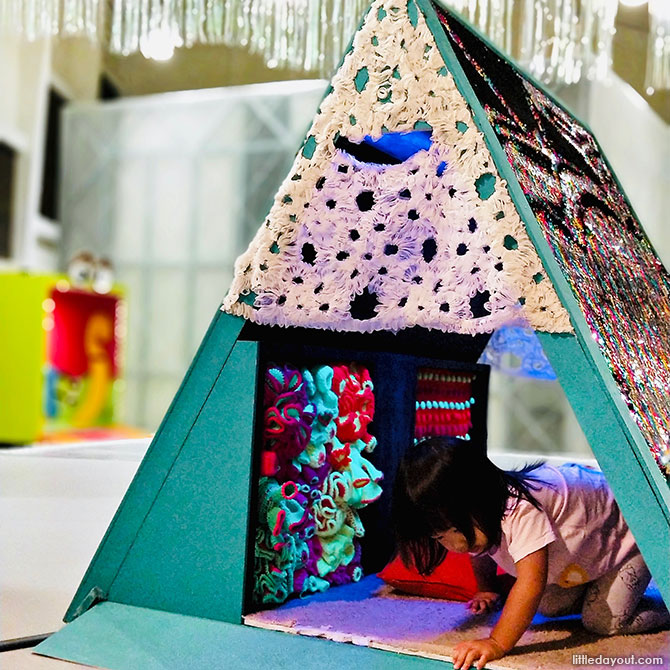 Babies, zero and up, will not be left out at Wild Rumpus. The littlest ones can enjoy an ethereal snuggle in Womb, complete with mermaid sequins and a dream catcher, or clock some tummy-time in Sea Cave whose interior is lined with glow-in-the-dark and reflective yarn.
---
-- Story continues below --
Older children might enjoy some downtime in Monster Cube, a cosy reading nook which features a specially curated selection of titles, including This Little Monster by Lyes Lucy, and Monster Munch by Tobias Krejtschi.
There's even a mystery sensory wall – right by Monster Cube – made up of socks and well, mysterious items. Fortune favours the brave, so take a deep breath and get your hands right in there to cop a feel!
A real feast for all five senses, Wild Rumpus is probably my favourite of all the installations The Artground has hosted since its inception. Judging by the way my daughter weaved in and out of the installations for an hour – non-stop – it's safe to say she enjoyed herself too!
For The Love Of Sci-Fi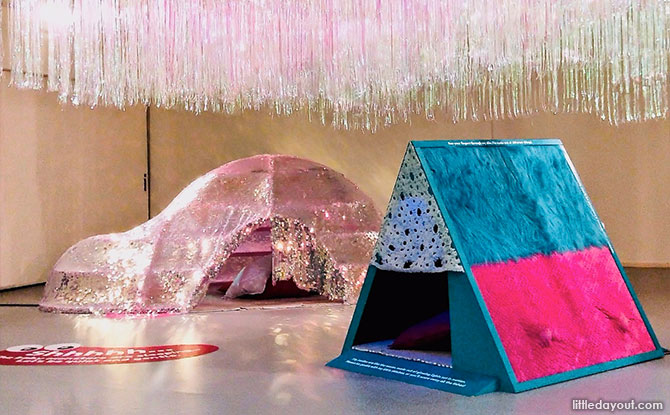 Wild Rumpus was inspired by Adeline's love of the sci-fi genre and her passion for knitting. A paralegal in another life, Adeline has brought to life the cuddliest of monsters of our imagination by experimenting with a myriad of materials to create installations that can be transformed, played with or simply admired by young and old.
There's Hairy who greets you as you step into Wild Rumpus. He stands strong on large fluffy bear feet, and towers over all with its massive head of pool noodles in green, yellow, blue and purple.
And Inny, a knitting extraodinaire's work of art. Yellow, embroidered, and accented by big googly eyes, Inny will excite and make you feel safe at the same time.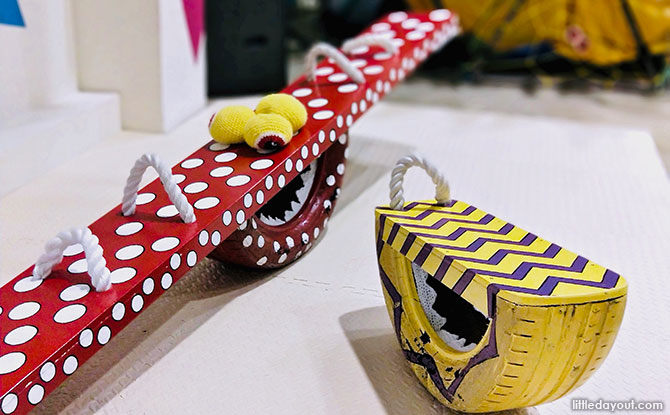 Wild Rumpus feels familiar and yet unique at the same time. It is here that usual playground suspects like a see-saw and a rocking horse are reinterpreted for a completely different play experience.
Have a Romp Around Wild Rumpus at The Artground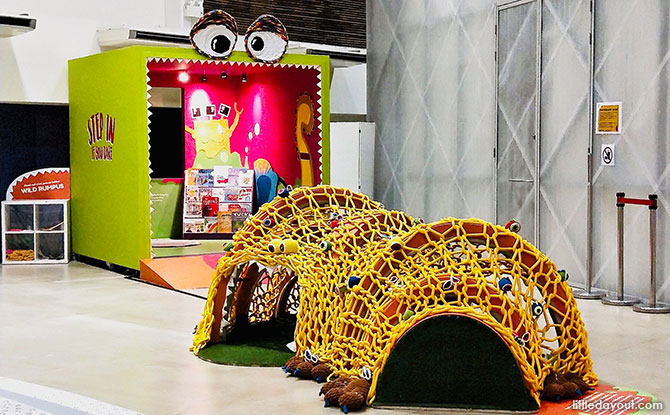 Wild Rumpus is open for play from Wednesday to Sunday.
For more information, go here.