Ho, ho, ho! It's that time of the year when Christmas parties are in full swing and friends and families come together for feasting and fun. A visit from jolly old Saint Nick would definitely add to the festivities, especially for little ones. You can schedule a stop for him if you rent a Santa costume in Singapore and have him pop up! Don't worry about the long flowing beard, it usually comes with the Santa costume too.
Here are some places where you can rent Santa costumes in Singapore, along with other festive outfits, for a merry time!
Where To Rent Santa Costumes in Singapore
---
CCM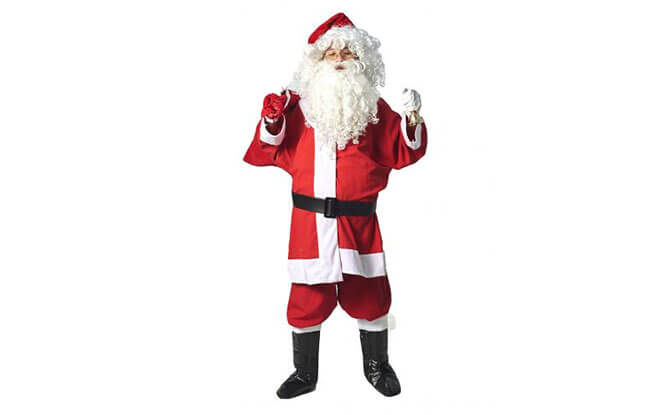 CCM at Kelantan Lane offers costume rentals for 1, 2 or 3 Days or up to 1 week. Get into character with a variety of Santa costumes in Singapore including a Santa Claus Mascot doll. Rental rates start from $80 for two days. Wanna build a snowman? There is even an Olaf costume available, along with other Christmas characters like elves, reindeers and Santarina costumes. For more details, visit the CCM website.
---
Moephosis Concepts
Get suited out with a classic Santa Claus costume complete with wig, beard, hat, white gloves, belt and boots from Moephosis Concepts. Book an appointment online and head down to the shop to make sure it fits. This Santa costume rental comes in two sizes – because not all Santas are the same! Don't worry if you haven't feasted enough yet, they can even provide a pillow for Santa to fill up the costume! Other Christmas costumes at his rental shop include toy soldiers and winter princesses. For more details, visit the Moephosis Concepts website.
---
Ministry of Costumes
Located at Henderson Road, Ministry of Costumes has an amazing range of 30,000 costumes! Not only does Ministry of Costumes rent but they also sell costumes too! There are Santa costumes available for both kids and adults! Prices to purchase a basic Santa costumes start from $19.90. There are also deluxe and super deluxe versions available too! Other than being a place where you can rent Santa costumes in Singapore, Ministry of Costumes also offers a variety of other festive Christmas-themed character costumes including elves, Christmas trees, snowmen, Santarinas and reindeers. Visits to its shop are by appointment only and you can contact them through their website here.
---
Global Costume
Global Costume is a costume rental warehouse in Singapore, located at Lavender Street, with a wide selection of costumes, accessories and props for those who wish to get into character. For the Christmas season, it has Santa Claus costumes, Santarina and Elf costumes available. Visit Global Costume's website for more details.
More Stories on Christmas: