With the increased amount of time we're spending at home, many of us have been scaling back on fashion purchases and taking the opportunity to clear out our wardrobes.
While the easy fix is to simply junk unwanted clothing, that's doesn't really help in the push towards becoming a zero waste nation. With Singapore's landfills set to reach full capacity by 2035, we really need to ramp up our recycling efforts. And at the moment, the rate of textile recycling is the joint-lowest (together with plastic) among all the waste categories.
According to stats from Singapore's Ministry of Sustainability and the Environment, there were 170,000 tonnes of textile and leather waste generated in 2020, of which only 4% was recycled.
Although COVID-19 has seen clothes-swop events suspended and some donation sites temporarily closed, there are still places where you can conveniently drop off used garments for recycling, repurposing or to be given to those in need. Here, we round up some of them.
---
Where To Recycle Or Donate Clothes In Singapore
Greensquare
By providing free textile recycling services to household and organisations in Singapore, Greensquare aims to keep textiles in a closed recycling loop and extend the lifespan of garments by selling them to second-hand clothing importers from developing countries for reuse. It accepts clean clothes, clean and wearable paired shoes, clean household linen, as well as accessories like bags and belts. No used undergarments, socks, pillows and comforters please. You can find Greensquare's big cardboard drop-boxes at multiple locations around the island, but do check its website for updates as locations may be closed due to COVID-19.
---
Salvation Army
Most likely the first place that comes to mind whenever you want to donate anything. Clothes that are in good condition will be retailed at Salvation Army's Family Stores and the proceeds are used to run the organisation's various operations, from community and charity work to disaster relief. There are various donation-in-kind booths where you can bring the garments, but some are closed till further notice.
---
St Vincent de Paul's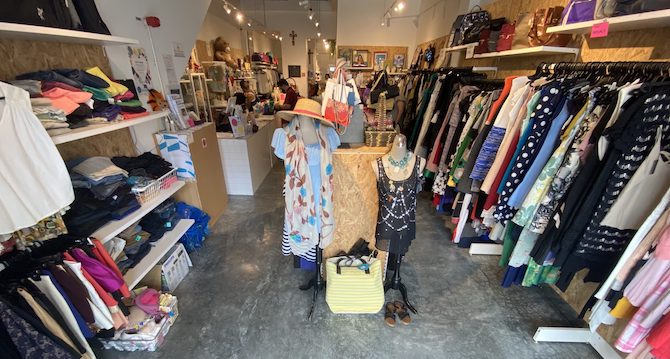 Run as a social enterprise, the SSVP Shop at Geylang Road sells an array of pre-loved items at highly affordable prices, including clothing. Donated items and earnings from sales go towards helping the poor. The charity keeps a wishlist which is updated according to its inventory and needs. Though it is not accepting apparel for now, that may change further down the road so do check its website for information. You need to call or send a message to its Facebook or Instagram page to make an appointment before dropping off donations.
---
Wing Tai Retail
It's the company that carries G2000, Fox Kids & Baby and DPAM, and you can visit any of these brands' standalone stores to drop your pre-loved clothing into the collecting boxes there. Collected items will be sorted by Greensquare for recycling or reuse, and Wing Tai is also collaborating with the Singapore arm of World Wide Fund for Nature (WWF) to raise awareness about textile recycling. Only clean apparel like tees, tops, shirts, dresses, pants, jeans and shorts are accepted – don't dump in anything wet, stained, mouldy or torn – and the garments should be packed in sealed bags to prevent contamination.
---
Uniqlo
There are RE.UNIQLO boxes situated in all the brand's stores where you can drop off old Uniqlo items for recycling. The clothes must be washed before donation and be in as optimal condition as possible. Feathers and down are recycled into new garments, while wearable used clothing are distributed via NGOs and partners to people in need worldwide, such as refugees, disaster victims and displaced persons.
---
H&M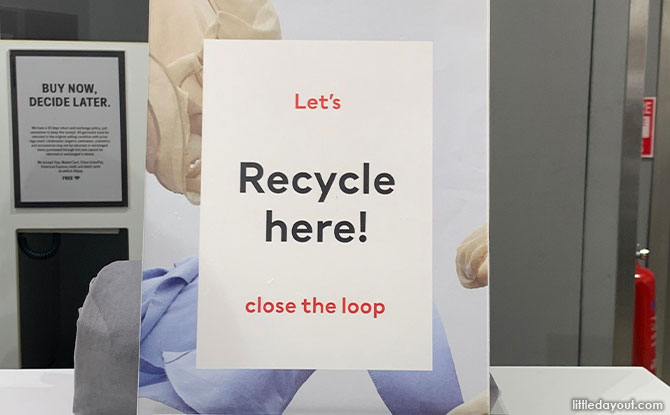 Launched in 2013, this global fast fashion giant's Garment Collecting programme sees a green recycling bin located near the payment counter in all its stores. All you have to do is hand your bag of unwanted clothing to the cashier and you'll receive a voucher for a discount on your next purchase.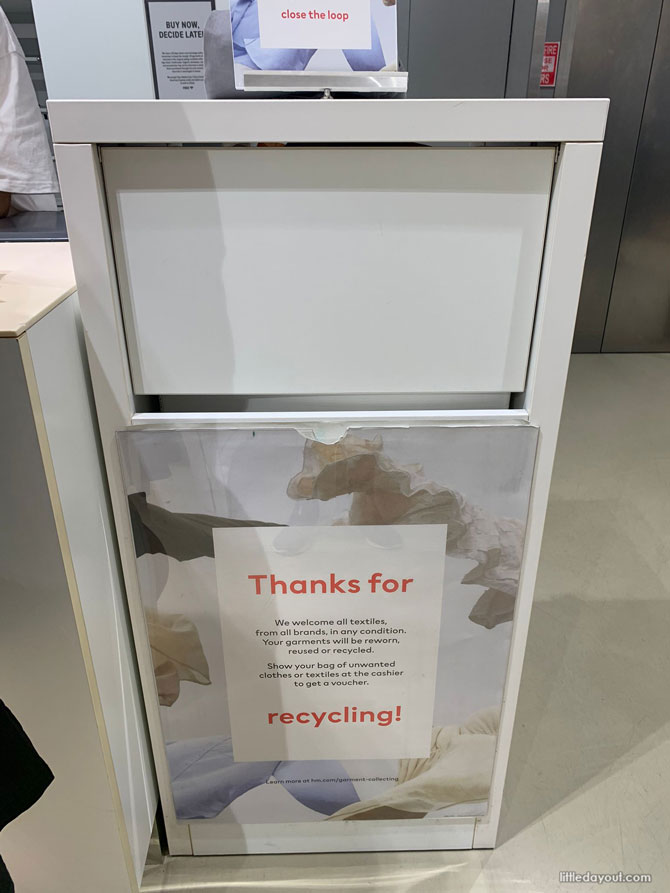 They take garments and textiles by any brand and in any condition, but do be civic-minded and not put in soiled or wet items. The brand has taken considerable flak for 'greenwashing', as the majority of collected items is reportedly resold or downcycled for use as insulation while only a small percentage gets recycled into new fibres.
There are also arguments that fast fashion is, by design, wasteful. Still, we think every effort to extend the life cycle of clothing and prevent them from winding up in landfills helps. As consumers, the onus is also on us to be more mindful of what we buy.
---
Love Bonito
Take an extra step towards a greener you by taking old clothes to a Love Bonito store for upcycling. Do note that they only accept clean clothes. Defective garments are also accepted but they cannot be undergarments, lingerie, socks or swimwear.