With Chinese New Year 2018 approaching, it is undeniable that the giving and receiving of red packets or "Ang Pows" is one of the signature rituals of this auspicious event. We've put together eight different places where you can get cute and stylish red packets or ang pows for Chinese New Year 2018 to make both the giving and receiving more enjoyable and memorable for all in the Year of the Dog!
Where to Get Ang Pows for Chinese New Year 2018
---
#1. Hello Kitty Ang Pows – Changi Airport
Changi Airport is offering Sanrio-themed Ang Pows in the run-up to Chinese New Year 2018. Available in a set of eight, these red packets feature Hello Kitty and her adorable friends such as My Melody, Little Twin Stars and Gudetama. They can be redeemed with an spend a minimum of $60 (or $80 for supermarket purchases) in a maximum two same-day receipts in Changi Airport. This Hello Kitty Ang Pows and the other Sanrio characters red packets are available until 2 March 2018. Changi Rewards members get a bonus pack if they pay by Mastercard.
---
#2. Paw Patrol Ang Pows – City Square Mall
City Square Mall welcomes in the Year of the Dog with "paws-perous" red packets or ang pows featuring Chase, Marshall and their friends from Paw Patrol! Spend $88 (or $188 if inclusive of NTUC receipts) and receive a set of eight red packets. Designs with Marshall and Everest are available from till 2 February and another set with designs featuring Chase and Skye are available from 3 to 25 February.
---
#3. Hope For Animals
Celebrate the Year of the Dog by contributing to the welfare of our furry friends. Hope For Animals is a non-registered voluntary group that started in 2012 and they are actively involved in the rescue, rehome and welfare of needy animals. For 2018, they are offering red packets designed by local talents for a good cause and there are a variety of cute designs to choose from – we're definitely sold! The designs can be viewed on Hope For Animals Facebook page, with some additional designs on the website, Barkatree.com. The packets can be purchased online with delivery options including mail and Door to Door courier.
---
-- Story continues below --
---
#4. Guide Dogs Singapore Ltd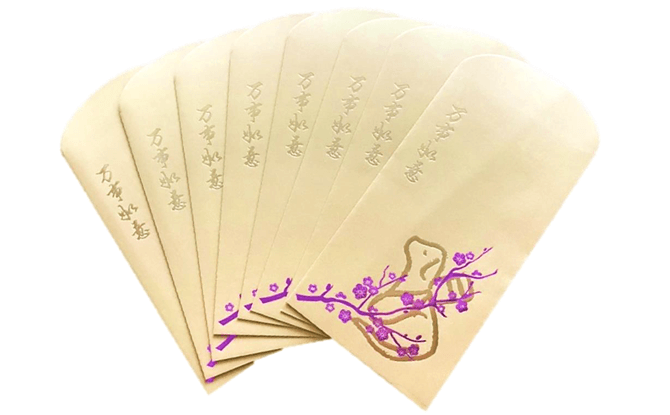 Guide Dog Singapore (GDS) is welcoming in the Year of the (Guide) Dog with specially designed ang pows! Designed by GDS' long-time volunteer, Ms Ng Shi Jie, the ang pow features a guide dog in a harness affectionately awaiting its handler. The dog is illustrated in calligraphy style to emphasise the dog's patience, precision and discipline as the user's mobility aid.
Members of the public can email them at admin@guidedogs.org.sg before 10 February 2018 to request for these complimentary ang pows. They are available on a first-come-first-served basis. Every local mailing address is only entitled to one pack of red packets. Play your part in helping to highlight the meaningful role guide dogs play in enabling the visually impaired and support a good cause this year!
You can also make a donation to support the work of GDS at the website https://guidedogs.give.asia/
---
#5. SpongeBob Ang Pows – Raffles City Shopping Centre
Pineapples are often associated with Chinese New Year. We are assuming that could be one of the reasons why you may want to some ang pows with the person who lives in a pineapple under the sea on them. At Raffles City Shopping Centre, you can redeem a pack of eight limited edition SpongeBob Gold and Year of the Dog red packets with a minimum of $100 spent.
---
#6. Muffinsaurs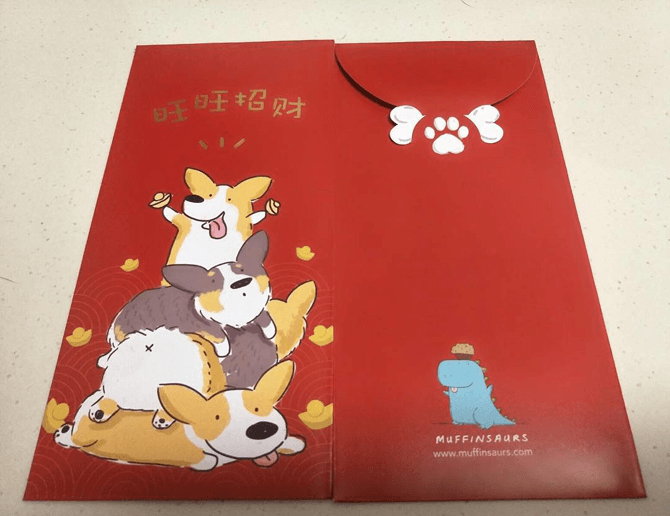 Talented artist, Muffinsaurs, has designed red packets that are so adorable, you might just have to get a few extra to keep for yourself! Choose between the Corgi or Doggo Design, priced at $8 for a pack of ten. Check out her other works on her social media pages.
---
#7. Singlish Mamashop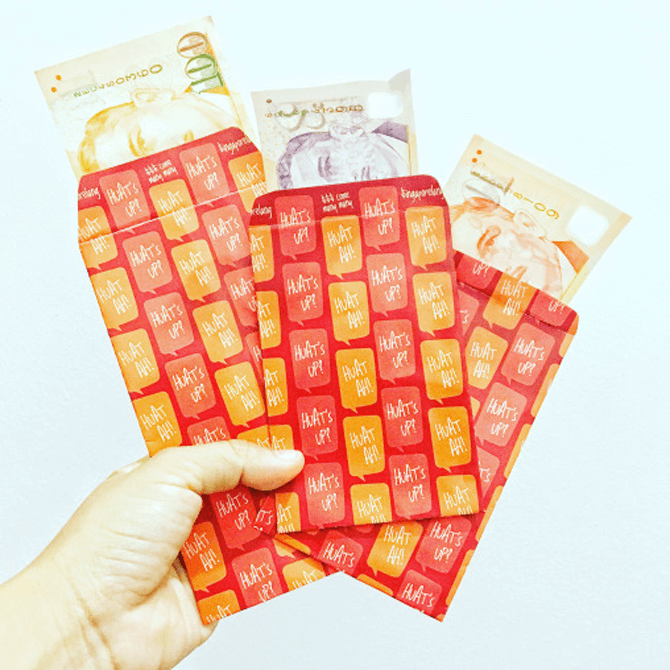 Be it for friends from overseas or family members who are visiting from out of the country, give them a red packet with a local twist. Available in both large and small sizes, these versatile red packets can be used for more than just this festive occasion! These locally-flavoured ang pows are available for purchase at Naiise's webstore.
---
#8. Spring Flowers – AMK Hub
If you are looking for spring-inspired ang pows, AMK Hub has some stylish floral ones available for redemption. A pack of eight festive red packets, which come in orange, pink or teal, can be redeemed with $80 spent (or $160 at FairPrice Xtra). Plus! Members and Pioneers can redeem these with $60 ($120 at FairPrice Xtra). Every shopper can redeem up to two sets of these spring-inspired design ang pows per day.