Too busy to head out to the stores for Chinese New Year clothes? We've curated a line-up of chic, comfy apparel for the little ones from shops where you can shop for Chinese New Year clothes for boys and girls in Singapore.
Most of them are #madeinsingapore or handpicked by local multi-label boutiques – so, don't forget to #supportlocal!
From whimsical and bold to quirky and adventurous, we've got you covered. There are even twinning or family sets, too!
Shopping for Chinese New Year Clothes For Kids in Singapore
---
#1. nana & bird kids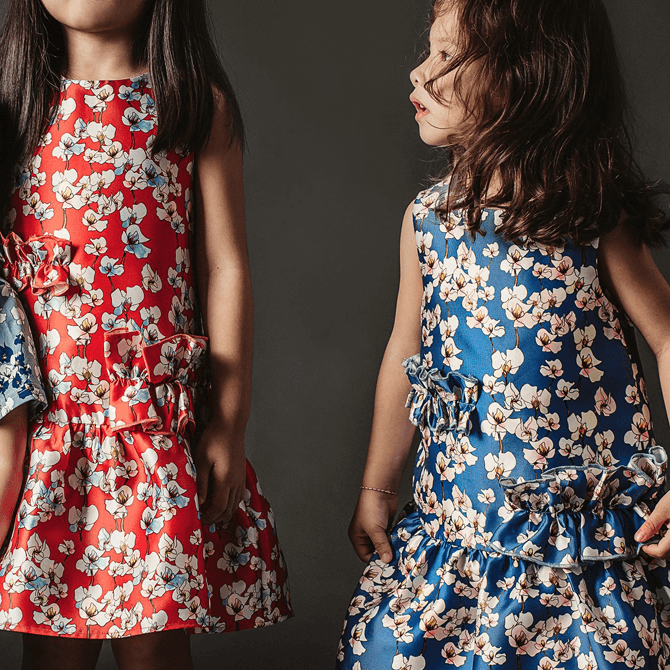 No time to hunt down stylish edits for your kids? Local multi-label boutique nana & bird has done it for you, curating unique and bold pieces not just for mummy, but for the kids too.
Their latest festive collection for kids from Voon and Daughters is a whimsical, floral affair featuring easy-to-wear apparel. The Tent Dress in Juju Orange or Blue is inspired by full-bloom orchids in a midnight garden with the brand's signature frills and a willowy loose silhouette.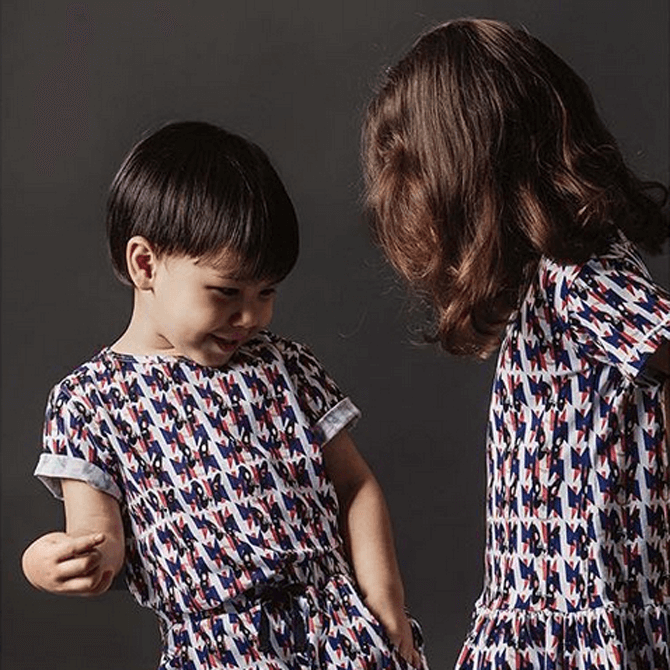 For the boys, the Bulldog Tee with Houndstooth print drop-crotch pants is fun, fun, fun. The frilly, carefree Spring/Summer 17 collection by the Singapore-based kidswear brand, founded by two sisters, is stocked at nana & bird, so shop away.
Discover other kidswear labels here – Agatha Cub, Bobo Choses, Sea Apple, and Wolf & Rita. Mum might even bag something she likes in the womenswear section, too!
---
#2. Chubby Chubby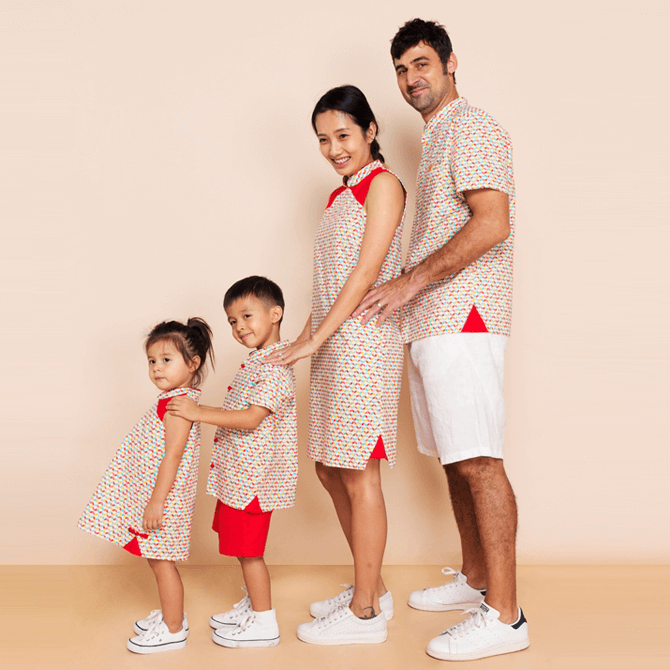 This homegrown label by graphic designer Nix Deng delivers yet again with a fresh, vibrant collection. If you are looking for Chinese New Year clothes for boys and girls, Oriental Origami 2018 is perfect with auspicious colours and designs inspired by the clean "folding lines" of origami.
The fully in-house designed prints collection, printed on 100% cotton fabrics, are a treat for the kids. From rompers to cheongsam and mandarin collar shirts, Chubby Chubby will get your Chinese New Year clothes sorted. Even better, there are matching tops and dresses for mum and dad too!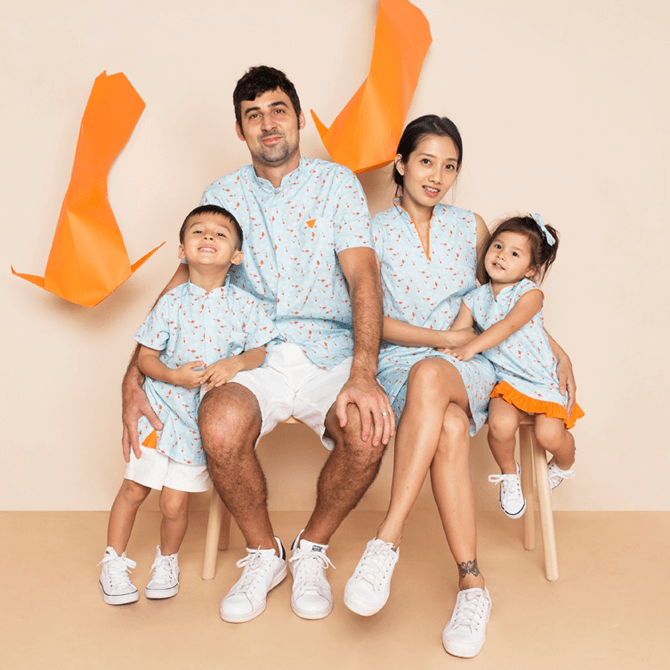 Go the alternative route and get these pastel-blue and orange pieces instead, if you have too much red in your wardrobe.
---
#3. Hannabe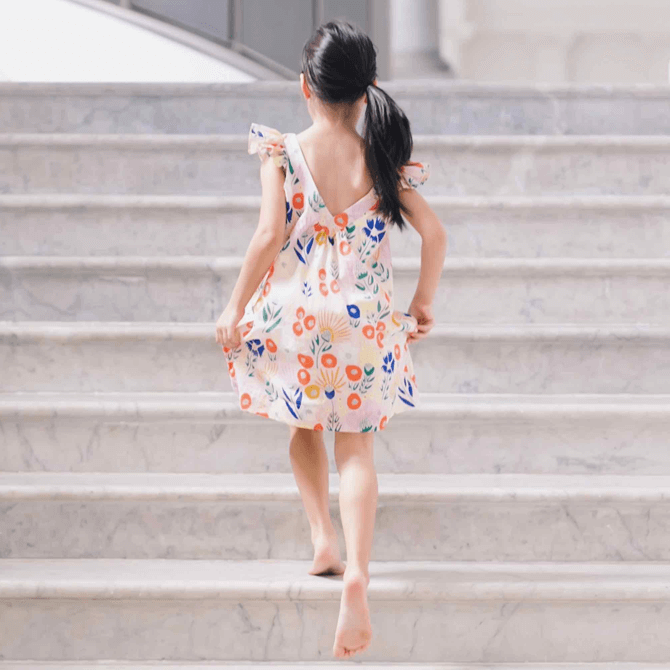 Handcrafted by Singaporean parents who have two children with very sensitive eczema-prone skin, local brand Hannabe's clothing is made of soft, organic cotton.
Besides being made of fabrics that will not irritate skin, their designs and prints are bold and fun. The lovely Imogen dress features a pretty mid-length flare with v-neckline and back, lined with organic voile and made with organic batiste.
The Nathanael shirt is a chic mandarin-collar shirt, available in Batik and Fish Tail prints.
---
#4. Sea Apple
We've always loved Sea Apple's luxuriously soft 100% GOTS organic cotton fabrics and dreamy prints.
Their Chinese New Year 2018 clothes collection City Flowers is inspired by Singapore flora and fauna, as well as Gardens by the Bay. With ixora, azalea and orchid prints on cheongsam, modern samfus and mandarin-collar shirts, these clothes are both urban and natural – a reflection of Singapore as Garden City.
---
#5. Baby Style Icon
This Big Fat AngBaosaurus piece is too cute. Sleeveless and made of 100% organic bamboo cotton, the tropics-friendly onesie also features a gold-braided frog button over a Mandarin collar and glossy red vinyl spikes. Very red and very CNY!
Or… if you are looking for Chinese New Year clothes for boys and girls but want to tone it down a little, try K-mono. Inspired by the Korean hanbok, the top features a stretchy soft cotton overlap collar and light floral fabric.
For dragon or dino-loving kids, wade through Baby Style Icon's Dracarysaurus collection – full of earthy tones and spikes for that rawrrrrr!!! style everyone needs. Fierce.
Local multi-label online store Baby Style Icon handpicks labels and brands from around the world for stylish kids.
---
#6. Privi Kids
Local label Maison Q's CNY collection is stocked at Privi Kids, featuring red-scalloped prints on reversible Mandarin-collar shirts and dresses. Commemorating the Year of the Dog, a puppy motif peeks out on every piece.
---
#7. Leia + Lauren
Designed by Singaporean couple Peter and Amber Lok, this label is named after their twin daughters who were born preemies at 32 weeks. Incidentally, the "Momo Twins" have 335,000 followers on Instagram alone.
Quirky and adventurous, their designs are inspired by their twins' personalities (and artwork).
This Leia Lauren collab with Ying The Label features artwork inspired by Leia and Lauren's drawings and is made of fabric imported from Japan – 60% silk and 40% polyester blend. There is a twinning dress for mummy, too!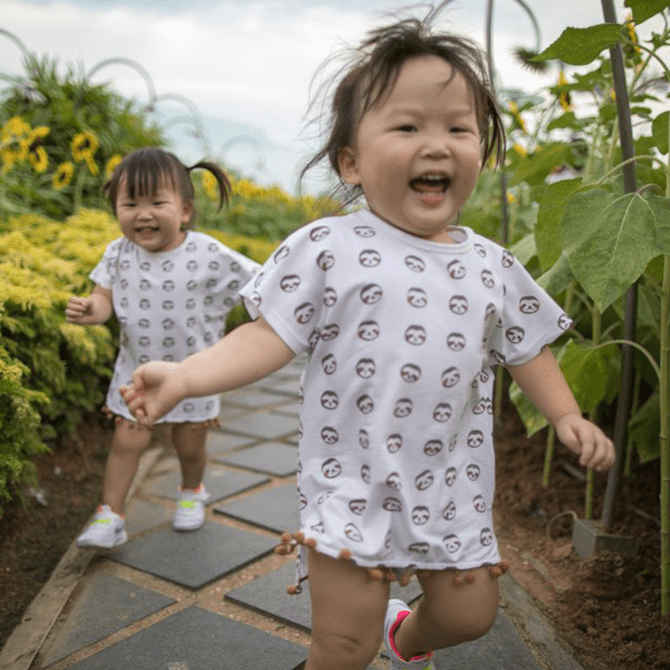 For a more dressed-down look, the panda print dress tee with a pom-pom hemline is cute as can be.
---
#8. BaeBeeBoo
Go dotty with local label BaeBeeBoo's new Chinese New Year collection this year. The Beespoke line has a crazy-woodlands adventure tilt, with references to Alice in Wonderland.
Like this polka-dotty dress for girls and shirt for boys – each comes with a detachable rabbit wooden toy made from organic maple wood treated with vegan wax and cotton fabric. The wide neck lends a breezy outlook.
For every BaeBeeBoo garment purchased, a percentage of the profit will go towards supporting homeless children in Sonagachi, which has the biggest sex worker district in Kolkata, India.