Unicorns are mystical magical animals that never seem to go out of style. They are still a crowd-pleaser, especially when it comes to being the centrepiece of any celebration, particularly for kids. Be it a cake for a birthday party, or any other celebration, here's where you can buy stunning unicorn cakes in Singapore.
Unicorn Cakes in Singapore
Butter Studio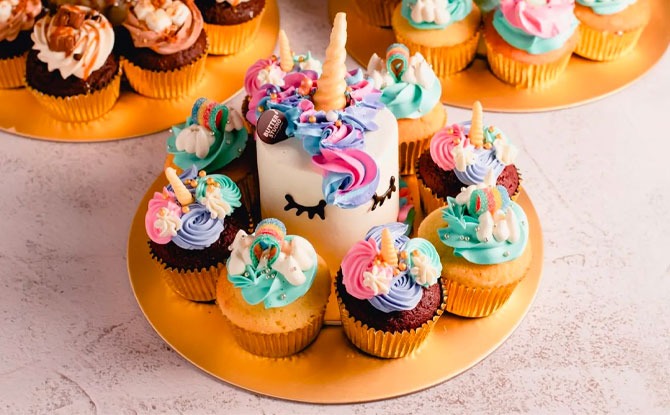 With various cakes and designs, Butter Studio has a beautiful unicorn cake that will add to any unicorn themed gathering. Order a Unicorn Cakelet made with a red velvet cake base that is coated with smooth, silky vanilla buttercream and topped with a beautiful frosted mane and unicorn horn. You can also order a Unicorn Cakelet platter that surrounds the petite unicorn cake with beautiful Magical Unicorn red velvet cupcakes and four Over The Rainbow vanilla cupcakes. Find these unicorn bakes here.
---
Whiskedbysenorita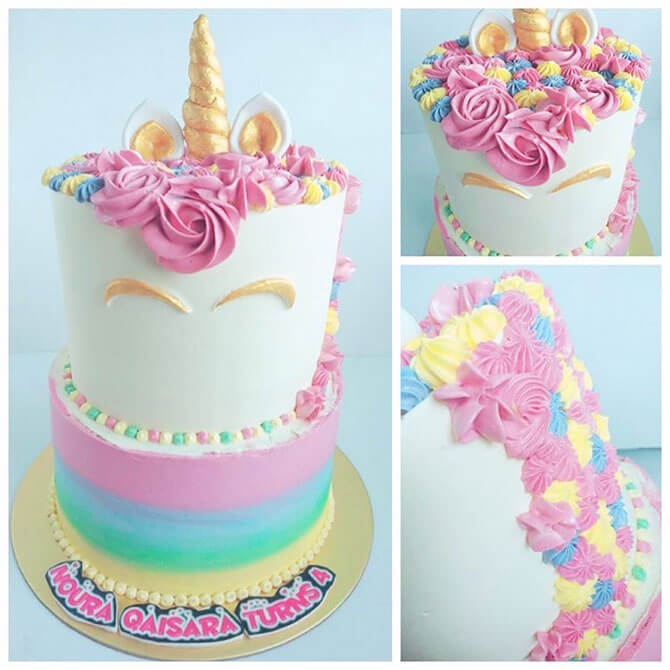 Mum of three Liza Ali started off baking cupcakes and simple birthday cakes for family and close friends. She has now expanded and does halal bakes for other events and even weddings.
Her best-selling flavour is Chocolate Vanilla. Other flavours available are Chocolate Ganache, Red Velvet Nutella, Salted Caramel, Vanilla Swiss & Chocolate Cream Cheese. You can even opt for a Surprise (pinata) cake where the centre of the cake will be filled with candies, m&ms or gummies.
---
-- Story continues below --
She uses Swiss meringue buttercream so the cakes are not too sweet. The price for a basic unicorn cake starts from $68 and up, depending on the size of the cake and final design of the cake. Whiskedbysenorita also does square desserts, fondant, customised, 3D & wedding cakes. More details.
Spiffycakes
What started off as a hobby six years ago is now this stay-home mum of twin's full-time job. After practising for a year, Regina is proud to be creating beautiful and yummy light buttercream cakes with fondant accents. Filling options include and are not limited to: strawberry, rose-lychee, mango and chocolate with Valrhona crispearls.
Prices start from $120 for a 6" cake. It's also available in an 8" size. You can check out her Instagram for other gorgeous creations that she's made such as cupcakes and even a Rose-lychee flower wreath cake! Find out more here.
---
thepatiobaker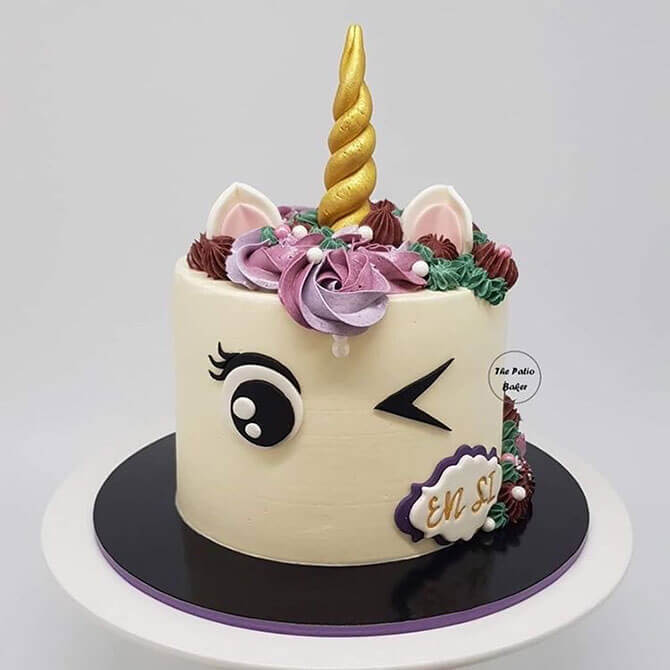 Pursuing her passion, Yanting from thepatiobaker does customised bakes such as cookies and desserts according to requested themes. The cakes are filled with vanilla Swiss meringue buttercream, by default, and can accommodate add ons like fresh fruits, homemade jams, homemade lemon curd and chocolate ganache. Prices generally start from $120 for a 6″ round cake with customised designs. Get more details here.
---
petitejoybakes
Cherie started Petite Joy Bakes with a simple dream of baking a birthday cake for her eldest daughter's first birthday. Petite Joy Bakes has since expanded and moved to a commercial kitchen space in December 2018, specialising in buttercream cakes with fondant decorations.
The three main types of cakes are standard design cakes (no-frills design), party cakes (pre-designed themed cakes available on the website), as well as customised cakes. For the unicorn cake orders, customers will be able to choose their preferred flavours from their standard cake menu such as their best-selling flavour oreo chocolate, as well as others like berries and cream, and vanilla cookie butter.
The unicorn cake is priced at $120 for 6″. Check out their socials and page for more info on other sizes that they offer. More details.
---
butterlicioussg
Mum of three, Jesslyn Tey started home baking in the year 2016 and went from baking to just family and friends to now taking orders and even conducting workshops! She does Mainly Buttercream cakes, cupcake, super adorable characters macarons. Delicious fillings include red velvet, dark chocolate, raspberry buttercream, coconut, cream cheese and others. Prices start at $80 for a 4 layers 6″ round cake which can serve about 18 to persons. More information.
---
River Ash Bakery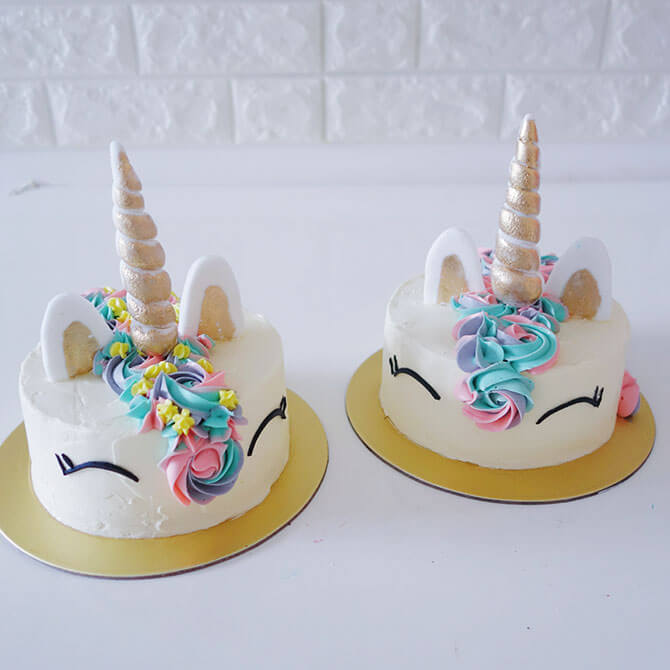 River Ash Bakery started in 2018 and within a short 2 years has fulfilled more than 7,500 cake orders. They come up with new designs every week and offer pretty customized cakes at adorable pricing. When it comes to unicorn cakes in Singapore, the bakery offers 9 different flavours: chocolate fudge, classic vanilla, red velvet, choc mint chip, s'mores, choc sea salt caramel, cookies 'n' cream, lychee and earl grey. Their 6″ size cake costs $79. They also do themed and character cakes for kids, adult cakes, wedding cakes and longevity cakes. Find out more.
---
Monice Bakes
Monice Bakes started in 2015 as a simple and fun hobby and she ventured after persuasion from peers around her. Monice specialises in less sweet and affordable buttercream cakes with fondant toppers or buttercream floral designs.
She caters to different events and offers a unique "Surprise Me" concept to cater to customers who want to leave the concept into her capable hands. Flavours available range from standard ones like Chocolate and Vanilla to premium ones like Matcha, Mocha and Earl Grey.
There are also Optional Fillings like Fresh sliced Strawberries, Lychee or Chocolate Ganache. The cake sizes range from 6" (10 pax) to 2 tier cakes catered for about 50 pax. Check out her site here.
You may also be interested to read this story about where to find unicorns in Singapore or you may also enjoy reading about this dessert shop with a ball pit.