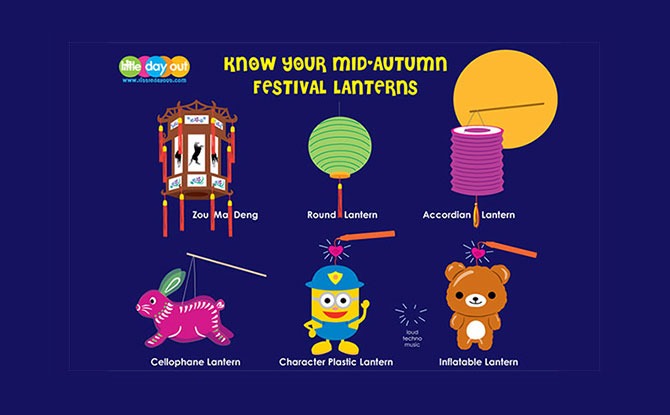 It's lanterns galore each Mid-Autumn Festival, so much so that it is commonly known as Lantern Festival here in Singapore and Malaysia. A harvest festival with its origins from China, Mid-Autumn is celebrated on the 15th day of the 8th month in the lunar calendar. Today, it is a harvest field of mooncakes, lanterns, pomelo and tea aplenty for many Chinese families.
With lanterns all aglow this Mid-Autumn at various places and as our little ones will soon be out in full force proudly carrying the customary lanterns, Little Day Out has initiated the familial gathering of young and old lanterns to help us all stay enlightened. We were surprised to find so many types of Chinese lanterns just for Mid-Autumn Festival alone. Kudos, of course, goes to the businesses that have been quick to introduce the growing range of New Age lanterns to capitalise on harvesting our pockets in recent years.
Read on to discover more about the Mid-Autumn lanterns from all eras. Or share this special infographic we have come up with to help you identify your type of lantern.
Which types of Mid-Autumn lanterns you are familiar with and keen on may well reveal the generation you hail from! But no worries, your secret's safe with us.
---
-- Story continues below --
Lanterns for Baby Boomers and Generation X-ers
1. 走马灯 / Revolving Lanterns
First up, we're not shy to share that the Revolving Lantern was a completely new revelation to us. After all, even the mainstay toy shop of Holland Village – Khiam Teck – let on that they stopped selling this traditional type of lantern over 20 to 30 years ago.
We learnt from our elders that these (running horse) lanterns, were rather large, and used to be hung up in the main halls at home. When the candle supported by wires at the bottom of the hollow of the cylindrical lantern is lit, the heat generated causes the lantern to rotate continuously. Pictures of ancient generals riding horses are seen through the translucent paper screens wrapped around the lantern made of bamboo or other types of wood.
With the lantern going round and round, it appears as if a continuous (wild) horse chase is taking place, giving wide-eyed kids of the 1950s and 1960s the sense of a captivating, never-ending story steeped in Chinese culture and tradition.
---
2. Pomelo and Milo-tin Lanterns
For those who were too poor to buy their own lanterns in the early years, nifty hands got to work. Tin cans and pomelo skins were crafted into lanterns!
---
3. Cellophane Lanterns
The pretty cellophane lanterns are, no doubt, our personal favourites. Thin metal wires are fashioned into different zodiac animals. Coloured cellophane paper is wrapped around these wires and the eyes, scales or feathers are painted on in white and other bright colours. A single candle illumines these well-loved lanterns.
Nowadays, these cellophane lanterns go back to the time of Jurassic dinosaurs and move fast forward with Thomas the Train and other characters our children are fonder of, pre-printed on cellophane.
---
4. Round Lanterns
These traditional ball-shaped lanterns need no introduction and typically adorn the streets even during Chinese New Year.
---
5. Accordion Lanterns
We love these accordion lanterns simply because they save space! Pull them apart like an accordion and you can have a lantern that suits the length of your legs.
---
6. Kongming Sky Lanterns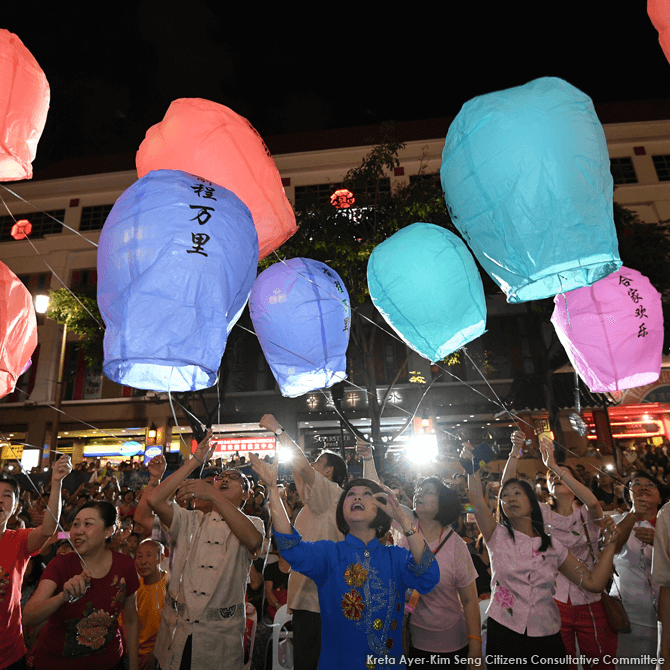 Kongming Lanterns, also known as Flying Lanterns, Sky Lanterns or Fire Balloons, are not as commonly found here in Singapore, but we were glad to come across this photograph of our minister releasing some of these lanterns one Mid-Autumn Festival.
Named after the famous Chinese military strategist Zhuge Liang who used these lanterns to relay messages, these lanterns are typically made from oiled rice paper around a bamboo frame. Most of them are shaped like the tall hat Kongming used to wear, but some also come as short or square. Once the waxy, combustible material within is lit, the lanterns float up into the air like a hot air balloon. People make a wish before releasing these airborne beauties.
Hundreds of these lanterns are released in the Pingxi District of New Taipei City, and also during certain festivals in Thailand.
---
Lanterns with Loud Techno Music
From days of yore, we now move on to the growing range of toys disguised as lanterns for our little ones. Nowadays, there are plenty of battery-operated lanterns that belt out jarring tunes with manic beats. If that's not to your liking, we suggest taping over the speakers to soften the music, or even surgically removing the wire to the speaker!
---
7. Character Plastic Lanterns
Character Plastic Lanterns no doubt double up as toys and are quickly snapped up. You might find your kids playing with them even after Mid-Autumn Festival.
---
8. Inflatable Lanterns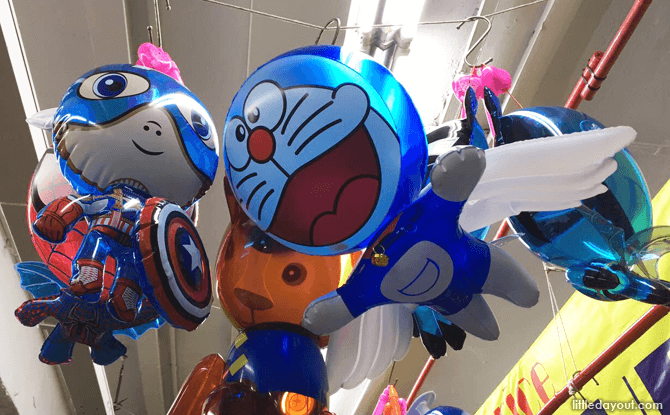 Perhaps these are safe, light and almost huggable, and are therefore attractive to the youngest of tots. These battery-operated inflatable lanterns light up and blare the mandatory tunes. We've even seen one of Psy "dancing" Gangnam Style.
---
9. Lanterns on Wheels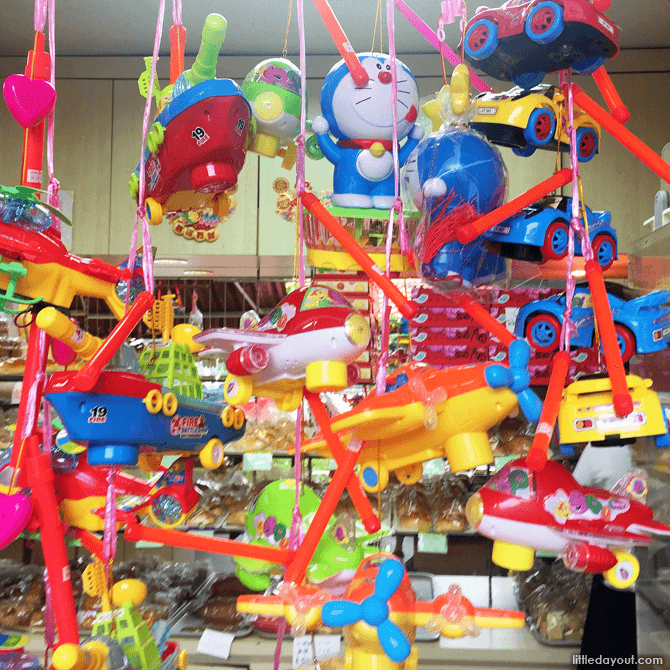 From horses to helicopters and warships, these lanterns on wheels are out to save the world. Fret not if they hit the wall. They will simply change course.
---
10. LED DIY Craft Lanterns
Go eco-friendly with paper shoji lanterns printed with pretty patterns and powered by LED lights. Make your own lanterns with kits that can be purchased online. These allow you to dress up the lanterns as little animals such as owls. Hoot hoot!
---
11. Bubble-blowing Lanterns
When light and sound are not enough, let the bubble-blowing lanterns descend. The device lights up and blows little balls all around, adding to the dreamy moonscape.
So there you have it, the various types of Mid-Autumn Festival lanterns all lit up for you. Of course, there are many more other types of lanterns – floating lotus lanterns, lantern riddles, and even The Green Lantern…
But these are stories for another time. For now, head out to pick out your favourite lantern to showcase the age you want to project and have a great little lantern night out!