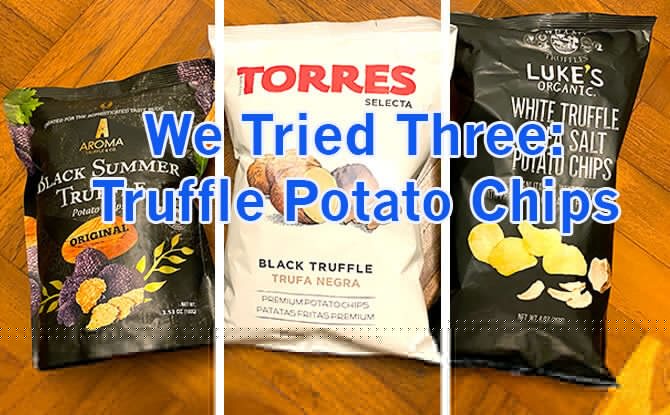 Love truffles and crave for it whatever the season? One of the quickest ways to get your fill of aromatic, great-tasting truffles all year round is to simply dig into a bag of truffle-flavoured potato chips.
After all, it's hard to deny – we love potato chips too! Marry truffle and chips together, and you have an irresistible, winning combination where you simply can't stop till you lap up the last crisp.
For some time now, we had depended on our truffle fix with the Torres Selecta brand of Black Truffle Premium Potato Chips, easily available from most supermarkets and online, whilst chilling out in front of the TV.
When we chanced upon the Aroma Truffle shop at Jewel Changi Airport some time back, we simply had to get our hands on them and swiped all three truffle flavours – Original, Parmesan Cheese and Honey Dijon to try.
---
-- Story continues below --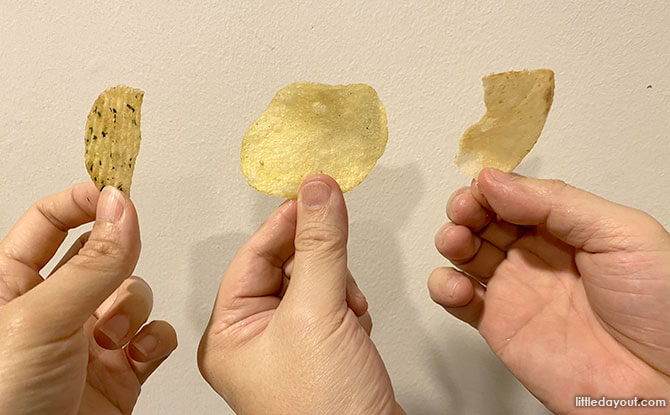 For the purpose of this article, we compared and reviewed only the original truffle flavoured chips from each brand – Aroma Truffle & Co., Torres Selecta and Luke's Organic.
So which is the best truffle-flavoured potato chips in Singapore to get your hands on while you stay home and embark on a movie binge? Read our review of the three truffle chips we tried to get our truffle chips verdict.
Truffle-flavoured Potato Chips in Singapore
Black Summer Truffle Potato Chips (original) from Aroma Truffle & Co.
100 grams, $10 per packet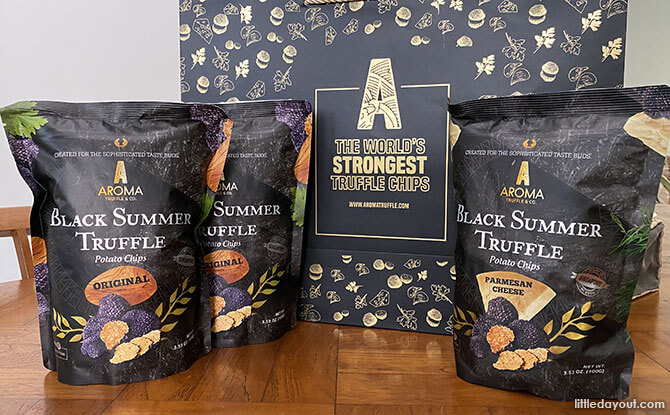 Pick up this well-designed, black-coloured packaging with reflective silver and gold letterings and a base for it to stand on its own, you immediately know you're holding on to something atas, a golden cut above the rest.
Aroma Truffle's packaging does not just exude sophistication but reinforces it with the first line on it firmly stating that it is "created for the sophisticated taste buds".
We are proud to note that the Aroma Truffle brand is made in Singapore, founded in 2018 after John, one of the co-founders, worked on a variety of truffles during a fine food masterclass and discovered the inimitable truffle recipe.
We couldn't wait to open it up to see if the Aroma Black Summer Truffle Potato Chips lived up to its claims of being "the world's strongest truffle chips".
With a small, clever slit at the top left side of the packet, we easily sliced open the whole world of premium truffles and intense aroma of truffles and wild mushrooms hit our noses at once.
Peering into the packet, we were slightly disappointed to see that these were the crinkle-cut, ruffles type of chips, and not the usual thinly sliced chips. However, there was no sign of salt, but several black bits of delightful black diamond truffles and parsley.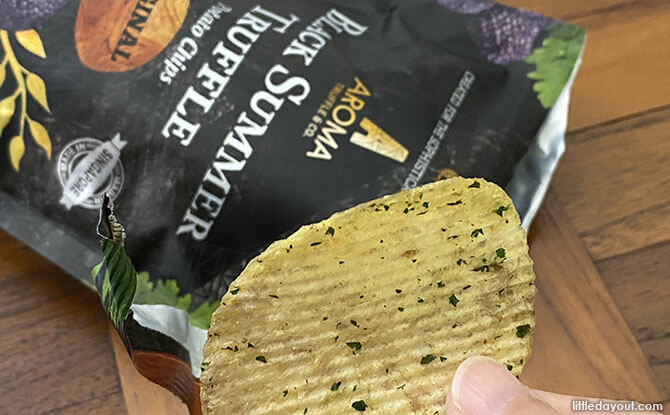 At first bite, we discovered the unique rich earthy taste of these specially sourced Italian truffles. It was well balanced and not too overpowering. The chips were crispy and our molars enjoyed the crunch of it and our love for it grew with each delicious chomp.
Where to buy: Aroma Truffle Potato Chips are available online at aromatruffle.com and at its stores at Jewel Changi Airport, Plaza Singapura, Bugis+, Chinatown Point and Westgate.
---
125 grams, ranging from $6.95 to $7.15 per packet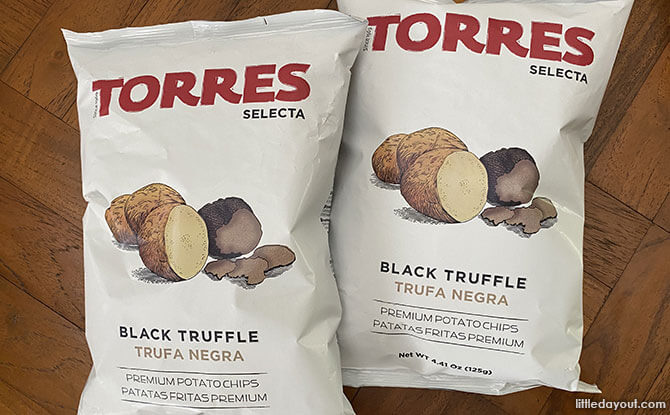 When Torres Selecta's Black Truffle Premium Potato Chips first hit the shelves here in Singapore some years ago, you knew exactly where they had sat as the shelves would usually be swiped cleaned of them not unlike the present Covid-19 toilet paper hoarding phenomena. We would then have to settle for the others left on the shelves, like Caviar, Iberian Ham and Sparkling Wine, but Black Truffle would always remain our favourite flavour.
Torres, the Spanish artisanal potato chips brand behind this truffle chips, started making gourmet snacks since 1969, including a range of nuts with the taste of the Mediterranean.
The upside to this brand is that all its potato chip flavours are free of gluten, traces of peanuts and other nuts, lactose or egg products, making it perfect for those with food sensitivities. The brand states that they aim for the finest natural products free of additives and preservatives.
Other plus points are that its Selecta chips are fried with three different varieties of unadulterated extra virgin olive oil and are flavoured with sea salt. The latter does come rather generously, so you might need to shake some off as you get to the bottom.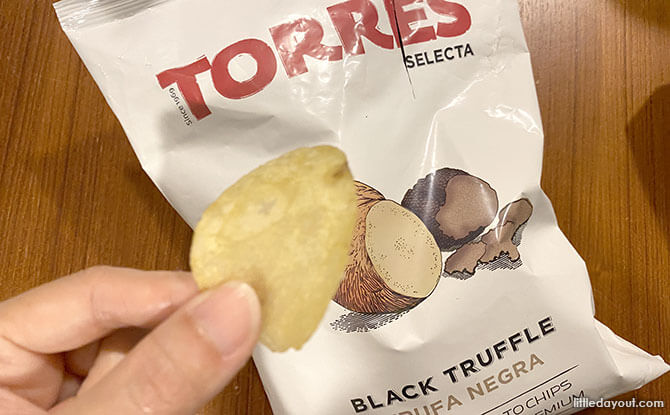 The Black Truffle Potato Chips from Torres Selecta have light, sweet and fruity notes and the thinly sliced chips balanced with the sea salt make this a real treat for the senses.
So far, we've had these chips on its own as an after-dinner snack. One day, we will try their recommended pairing of Spanish Iberian ham and sunny-side up fried eggs atop these exquisite Black Truffle Potato Chips!
Where to buy: Torres Selecta Black Truffle Premium Potato Chips are available at major supermarkets. To buy them online, click here.
---
113 grams, ranging from $5,80 to $7.30 per packet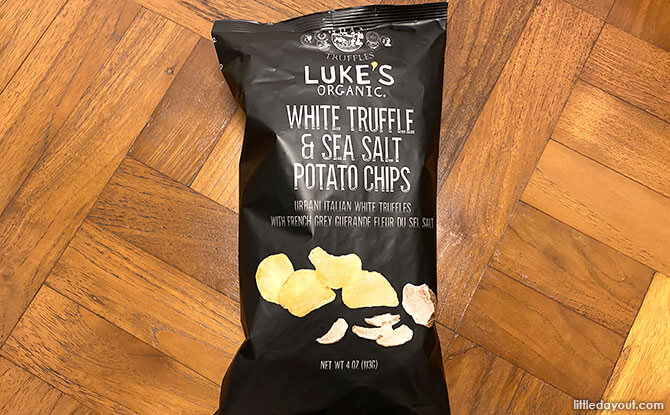 We were hoping to get our hands on another Black Truffle potato chips bag to compare all three on an equal footing, but we could only get our hands on Luke's Organic White Truffle & Sea Salt Potato Chips. No regrets, we must say.
Seasoned with Urbani Italian white truffles with French Grey Guerande Fleur Du Sel Salt, we love how the chips claim to allow us to "snack like a kid, live like a grown up".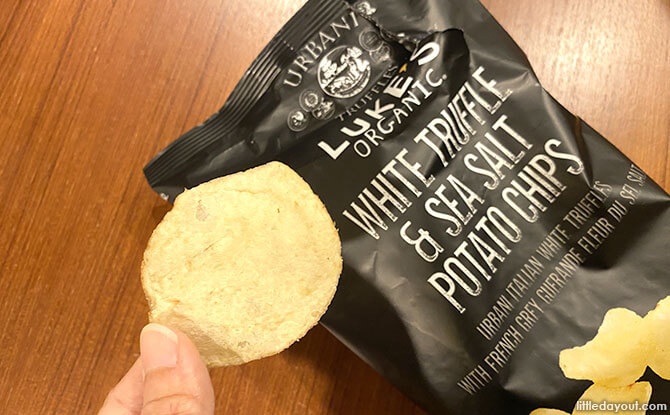 The thin slices of heirloon potatoes and the organic white truffle turned out to be rather fragrant, and the chips were light and crispy.
Luke's Organic White Truffle & Sea Salt Potato Chips are USDA certified organic, non-GMO and gluten-free.
They are also vegan/dairy-free, kosher, soy-free, peanut-free, with no sugar added, so you actually feel good indulging in this snack.
Where to buy: Luke's Organic White Truffle & Sea Salt Potato Chips are available at major supermarkets. To buy the online, click here.
So, Which is the Best-tasting Truffle Potato Chips Brand Available in Singapore?
It was an unanimous vote for Aroma Truffle's Black Summer Truffle Potato Chips. As we took sniffs of each packet side by side, they won the sniff test with the strongest truffle aroma.
Luke's Organic White Truffle & Sea Salt Potato Chips took the second spot. We had expected the white truffles to fair poorly next to the black. Interestingly, the aroma of the white truffles held up strongly and didn't fade away.
Torres Selecta's Black Truffle Premium Potato Chips smelt more like potato chips than truffles next to these two packets.
In the crunch department, Luke's was the most crispy and light, whilst Torres' slices were thicker and therefore crunchier. Aroma's was in a league of its own with its ruffles and the way they were sliced actually made the truffle pairing succeed.
Taste-wise, Aroma's chips won again with its rich truffle flavour and winning recipe. We loved the healthier feel of Luke's chips so it looks like we'll be seeing more black packaging as we cosy up on movie nights.
This story contains affiliate links. This means we earn a small fee if you purchase something through a link from our website. There is no additional cost to you. This helps to support Little Day Out and keeps us going.