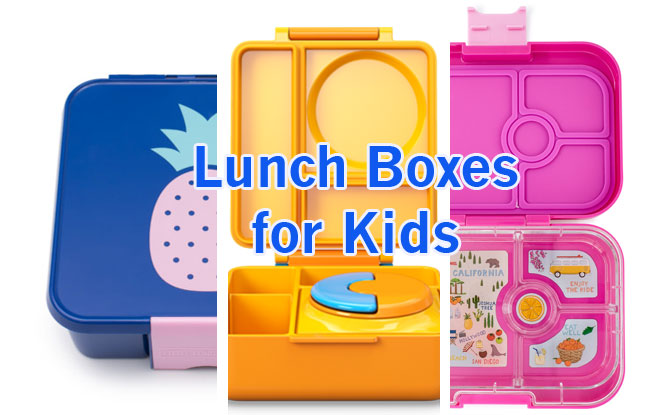 Trina reviews three of the trendiest lunch boxes for kids and shares with us her thoughts on which one seals the deal.
When you watch me swiftly whipping out food after food to feed – or bribe – my daughter, you'll understand why friends sometimes refer to me as Mary Poppins.
My bag may not always have wipes, or even diapers, but snacks – I have lots!
Like me, your kitchens are probably well-stocked with an array of food storage containers. So why is a specially designed lunch box necessary? Couldn't we just make use of what we already have at home?
---
-- Story continues below --
But now that my daughter is craving a lot more than a teething rusk, I've decided it really is time to invest in a lunch box because little packets of snacks here, and a box of fruit there just isn't cutting it.
I rounded up three of the trendiest lunch boxes for kids in the market today as I search for the perfect lunch box!
Lunch Boxes for Kids
---
Bento Five by Little Lunch Box Co.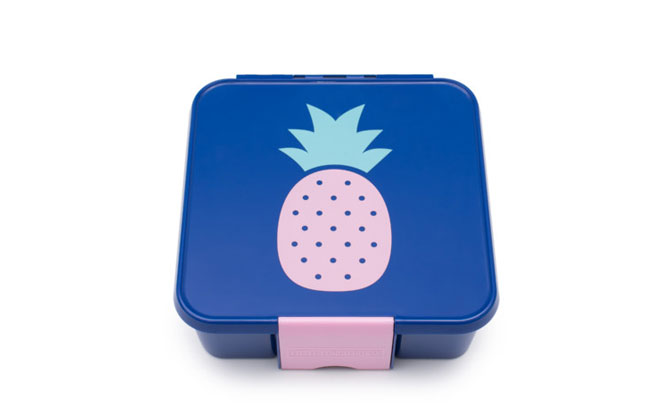 The Little Lunch Box Co came about when a busy mother of two wanted to make meals on-the-move appealing through the use of colourful, yet practical lunch boxes. Easy enough to pack, and appetising enough to eat – win-win!
The Little Lunch Box Co has a range of lunch boxes – Bento Two has two compartments, while Bento Three has three; Bento Five, you guessed it, has five deep compartments.
My daughter loves variety, so I naturally went with the Bento Five which was designed specifically for children who like having options!
Due to the leakproof feature within, I was able to put yoghurt in one compartment, finger sandwiches in another, and not experience any leakage. No one likes soggy sandwiches or crackers. That said, hold the soup, please!
I do appreciate the price point of the Bento Five, so that's a big draw as it's the cheapest of the lot!
---
Omiebox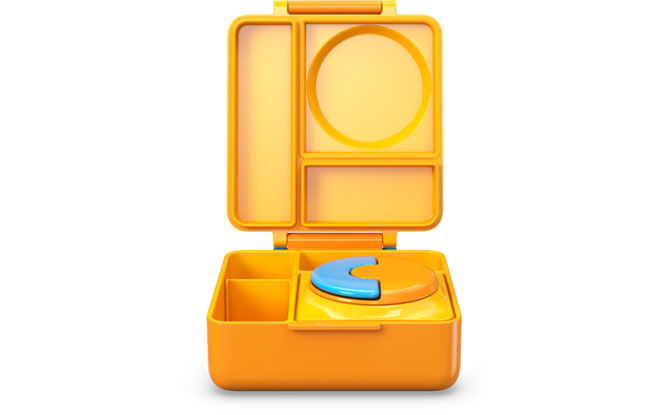 The Omiebox is the only bento-style lunch box available in the market today that is capable of storing both hot and cold foods, so it's great if you're looking to feed your child a hot lunch on-the-go.
Available in a range of colours, the Omiebox uses two types of insulation to ensure that meals are always served at the perfect temperature. Air insulation, vacuum insulation, and an airtight seal minimizes heat transfer to keep food fresh and yummy.
The Omiebox has about three to four sections – one of the compartments actually has a removable divider.
Now, where the Omiebox truly sets itself apart from its competition is in its removable thermos tub. Unlike most food jars that are deep and narrow, this vacuum-insulated thermos bowl is wide and shallow, so your child can easily scoop food out.
The lid of this thermos bowl has a chunky handle, so my two-year-old was able to independently open – and close – it up quite effortlessly.
I was pleasantly surprised to find that my Spaghetti Bolognese stayed warm in the Omiebox thermos tub a pretty long time; almost 4 hours later, and my daughter's pasta was still warm to the touch.
As a result of the double-walled insulation, my packet of chilled yoghurt drink stayed cool in the Omiebox even though it was right next to the thermos bowl of Spaghetti Bolognese.
---
Yumbox – Panino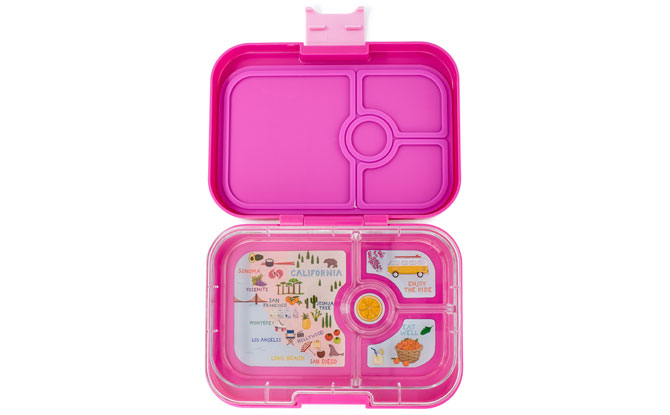 Yumbox was dreamed up to allow children – and even adults – to develop healthy eating habits based on moderation and balance. Featuring a good range of designs, Yumbox makes packing lunch-to-go fun and fuss-free!
Measuring approximately 20cm x 15cm x 5cm, the Yumbox Panino incorporates the brand's signature leakproof feature into its overall design and into the design of the 4 compartments. This ensures that wet foods such as yoghurt or ketchup will stay put, and not leak into the other sections within the lunch box.
I like that the Yumbox Panino consists of only two pieces – the food tray and the outer shell – thus reducing the risk of losing loose parts when my daughter uses her lunch box in school.
My daughter, on the other hand, loves that the Yumbox Panino food tray has cute illustrations which actually act as food portioning guidelines to aid in the packing of a healthy and yummy lunch!
She's really enjoyed packing her Yumbox Panino with me as she gets to choose her snacks based on the illustrated tray. This little bit of autonomy has made a world of difference as she'll finish her food without prompting since she gets to decide what goes where.
One of my gripes about the Yumbox Panino is that it weighs a lot more than your everyday plastic food storage container.
However, this weight is due in part to the sturdy design of the lunch box which is important, especially when in the hands of a clumsy toddler who drops many, many things.
Dinner, Dinner, Chicken Winner
This was a pretty tough decision to make as it's kind of a draw between the Yumbox Panino and the Little Lunch Box Co's Bento Five.
I reckon younger children – under the age of five – will love the cute and fun graphics of the Bento Five Boxes, while older primary school-aged children would probably rather the stylish Yumbox Panino in a solid colour.