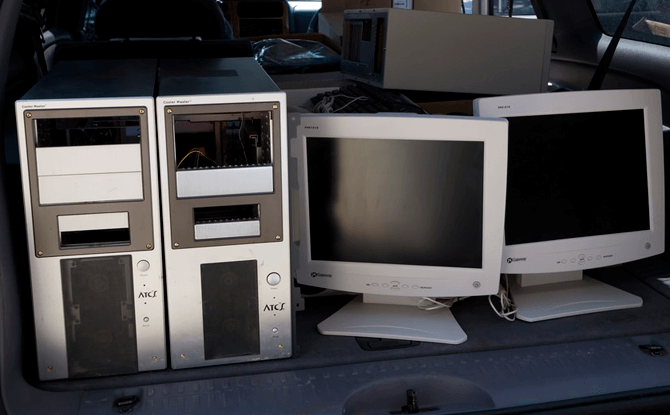 Clearing out the home and discover that you have accumulated a pile of e-waste over the years? Looking for places to recycle e-waste in Singapore?
E-Waste in the Age of Electronics
E-waste is a reality in this day and age. The term refers to electrical or electronic items such as computers, smartphones, monitors, printers and televisions which have reached the end of their useful life.
As the equipment breaks down, turns obsolescent or simply ends up being overtaken by the latest gadgetry, many old devices get relegated to the junk pile, resulting in the accumulation of e-waste at home.
Rather than discarding the old equipment as trash (and assuming that you have taken steps to properly delete your personal data on the device), it is better for the environment to recycle the e-waste. This allows useful components, such as metals, from the devices to be stripped out safely and reused.
Where can you recycle e-waste in Singapore you ask? Here are some places and ways to do so.
How to Recycle E-Waste in Singapore
Recycling Nation's Electronic Waste (RENEW)
The RENEW programme consists of green-coloured e-waste recycling bins found at various locations around Singapore. The bins accept any type of electronic device that is less than 47 cm by 12 cm in size and able to fit through its deposit slot. There are several RENEW bins around Singapore. The RENEW programme is led by StarHub and supported by DHL, TES and NEA.
ReCYCLE
ReCYCLE, the Singtel x SingPost E-waste Recycling programme, provides a way for people to dispose of devices such as mobile phones, laptops, tablets and accessories such as batteries and chargers. Items can be dropped into ReCYCLE bins found at selected Singtel shops and post offices. You can also request for a ReCYCLE envelope from Singtel shops and post offices to mail in your unwanted mobile device for free.
Electronic Waste Recycling Programme
At City Square Mall, you can bring your electronic or electrical items that you no longer want, including PCs, laptops and smaller white goods such as kettle and irons to the L2 Customer Service Centre for recycling.
Project Homecoming
What do you do with your used ink and toner cartridges? Drop them off at Project Homecoming boxes found at participating public libraries and Courts Singapore outlets and help save the environment. The main components of the used ink cartridges will be recycled to minimise waste. Project Homecoming is a joint initiative by Canon and Epson.
Heartland E-Waste Recycling Programme
In partnership with South East Community Development Council and other partners, the Heartland E-Waste Recycling Programme is a series of monthly collection drives being held till February 2018 to recycle old IT equipment, consumer electronic devices and anything else with an electric cord. Collection points are at RCs, CCs and NCs around the South East CDC on the first Saturdays of the month between 9.30 am to 1.30 pm.
Punggol Eco-Drive
Punggol Eco-Drive is an e-waste recycling initiative by the Punggol 21 Community Club Management together with recycling partner, Virogreen. Under the programme, there are boxes found at locations around Punggol for residents to recycle their old devices.
More Stories on Chinese New Year: