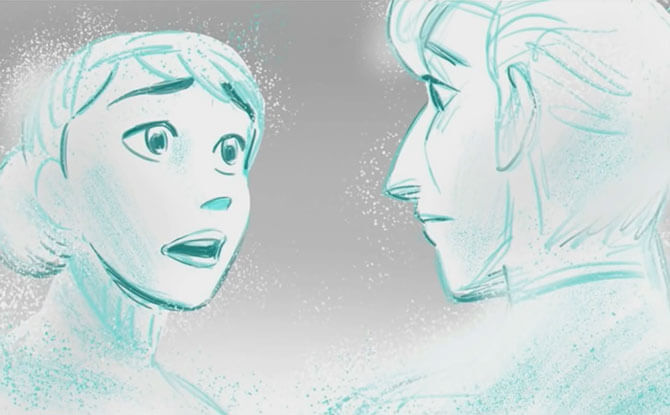 The directors of Disney's Frozen 2 shared a new video with Insider that shows a deleted scene from Frozen 2 about Elsa and Anna's parents.
Before, you read any further, take note that there are spoilers ahead.
In an interview with Insider, Jennifer Lee, director and screenwriter, talks about how Anna struggles with questions about why she was never let in on Elsa's secret powers. She said, "She (Anna) still had questions she needed answers for."
A Memory
Lee goes on to describe how they had the idea of Elsa summoning a memory to show Anna how her parents felt about her.
---
-- Story continues below --
It was meant to be included after the Ahtohallan scene in Frozen 2. Ahtohallan is described as a river "full of memories" and the scene consists of the memory of their parents.
However, the deleted scene never made it into the Frozen 2 movie.
Deleted Scene from Frozen 2
You can watch the interview and the deleted scene, which isn't fully rendered, in the video below.
The memory features King Agnarr and Queen Iduna speaking with one another about Anna. In it, it is revealed that Queen Iduna wished to share Elsa's secret with Anna. However, King Agnarr reveals that his worry is about Elsa, not Anna.
However, after conversing further, King Agnarr and Queen Iduna agree that they will reveal the truth to Anna when they return from their voyage. However, as fans of Frozen would know, the pair never do.
The touching scene ends with Anna hugging Elsa tearfully. Elsa reassures Anna saying, "They believed in you Anna and so do I."
The deleted Frozen 2 scene helps to fill in the backstory of why Anna was kept in the dark about Elsa's magical powers.
However, it does raise another question – should it have been left out of Frozen 2?