Don't worry if you're having post-holiday blues following the Christmas and New Year break as Singapore's next large festival is not far away. On 28 January 2017, Chinese, Korean, Japanese and Vietnamese families across the world will be celebrating the Lunar New Year.
2017 is the Year of the Rooster, a zodiac known for being active and entertaining, so you can expect that Singapore will be particularly abuzz with colorful lanterns, lively festivals and plenty of good food during this multi-day celebration. Traditionally, this festival is a time for relatives to reunite and spend valuable time with each other, so we've narrowed down the top 5 places in Singapore to usher in the new prosperous year with the whole family:
---
1. Gong SEA Fa Cai at S.E.A. Aquarium
Dive into exciting Chinese New Year festivities at the S.E.A. Aquarium in Resorts World Sentosa (RWS) which is having a special "Gong SEA Fa Cai" series of progammes. This year's star animal is the Rooster Hogfish.
Embark on an interactive Trail of the Rooster (Hogfish) to get up close and personal with this special fish, as well as other endangered species like the Manta Ray. Along the way, you and your family will also get to uncover fun facts about marine life considered auspicious in Chinese culture, including the Leafy Sea Dragon and Abalone.
Be mesmerised by daily underwater dragon dances performed by skilled divers to the thrilling beat of 'live' Chinese drums. Watch from a specially-lit viewing gallery that will make you feel you are underwater and part of the action. The outgoing Monkey and incoming Rooster will also be making special underwater appearances, adding to the festive celebration.
Where: S.E.A. Aquarium, Resorts World Sentosa
When: 21 January to 11 February 2017
Charges: Book now to enjoy the $34 bundle which includes one S.E.A. Aquarium One-Day Ticket, one Pokemon Research Exhibition admission and a $5 retail voucher*. Promotion is ongoing till 5 March 2017.
*Terms & Conditions apply
Click here for more information
---
2. "Rise to Good Fortune & Prosperity" at Chinatown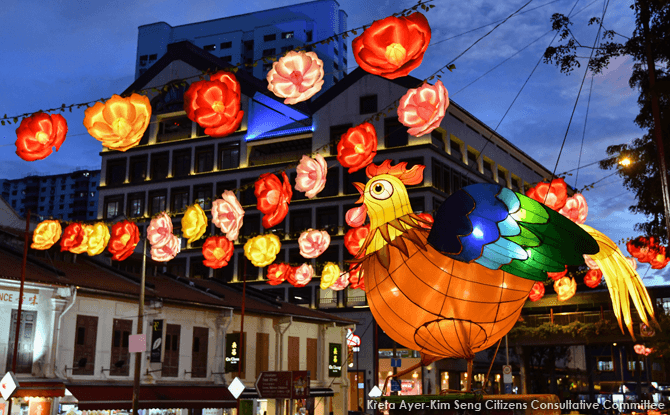 What better way to spend this traditional Chinese festival than in Chinatown itself? The best time to visit is at night as you'll be awed by more than 4,000 handcrafted lanterns adorning the pedestrian streets and main roads. Made by 40 skilled craftsmen hailing from different parts of China and designed with the help of our local SUTD students, this year's lanterns show the beautiful life progression of a young chick evolving into a majestic 12m-tall rooster.
Kids will also love exploring Chinatown's festive street bazaar selling everything from Rooster-themed decorations and traditional Chinese costumes to delicious cookies and treats for the Lunar New Year. For a more meaningful experience, share the love of Chinese New Year with the less fortunate by getting your little ones to write their well wishes on cards and hanging them on the Chinatown Wishing Tree ($2 per card; all proceeds go to the Kreta Ayer Seniors' Activity Centre).
Where: Chinatown
When: 6 January to 25 February 2017
Charges: Free entry
Click here for more information
---
3. Huayi – Chinese Festival of Arts 2017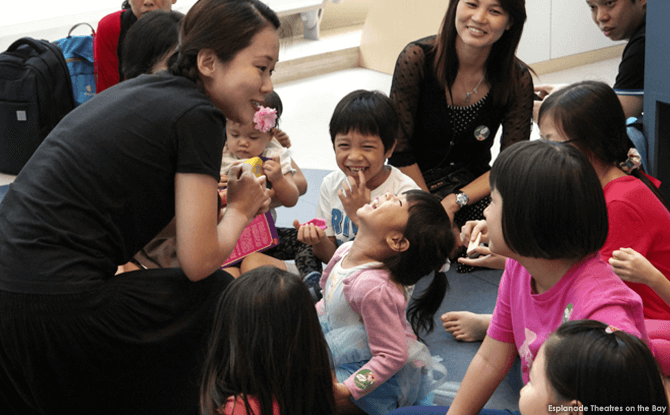 Celebrate the Year of the Rooster by introducing your children to traditional and contemporary Chinese arts at the Esplanade. Featuring an array of ticketed and free theater, dance and music performances by artists from Singapore and all over the world, the annual Huayi – Chinese Festival of Arts promises to add a unique lively touch to your regular Lunar New Year celebrations.
Children can look forward to exciting performances, workshops and 10 days of free programmes! Take part in an interactive storytelling performance and chase away the Chinese New Year monster, Nian, and take part in a parent-child workshop and make your own beautiful handmade fan. There are also exciting lion dance performances and free activities such as a Rooster Cup Craft and Rooster Headgear Workshop. Storytelling sessions and puppet performances have also been lined up to keep children amused and entertained.
Where: Esplanade Theatres on the Bay
When: 3 to 12 February 2017
Charges: Free and Ticketed. Prices vary per programme
Click here for more information
---
4. River Hongbao 2017
Held every year since 1986, River Hongbao has been an annual favorite tradition in Singapore. Taking place at the iconic Floating Platform @ Marina Bay and along the Esplanade Waterfront Promenade, River Hongbao promises lively lion dances and mouth-watering food to exciting performances. Locals and tourists alike come here to be enjoy the impressive handcrafted lanterns depicting figures of Chinese mythology, including the God of Fortune and animals of the Chinese Zodiac.
River Hongbao is also popular with children for its exciting sideline activities, including more than 30 amusement rides and carnival games, Chinese Opera and street performances, as well as live demonstrations of Chinese calligraphy and paper cutting. Another highlight to catch here is the massive outdoor Food Street where you'll be able to try local delights from over 60 food stalls. The most exciting time to visit River Hongbao is on Chinese New Year Eve, where you'll get to witness a spectacular fireworks show to usher in the Year of the Rooster.
Where: The Float @ Marina Bay
When: 26 January to 4 February 2017 (2pm to 11pm daily, extended until 1am on January 27 for Chinese New Year Eve)
Charges: Free entry
Click here for more information
---
5. Gardens by the Bay's "Spring Surprise 2017"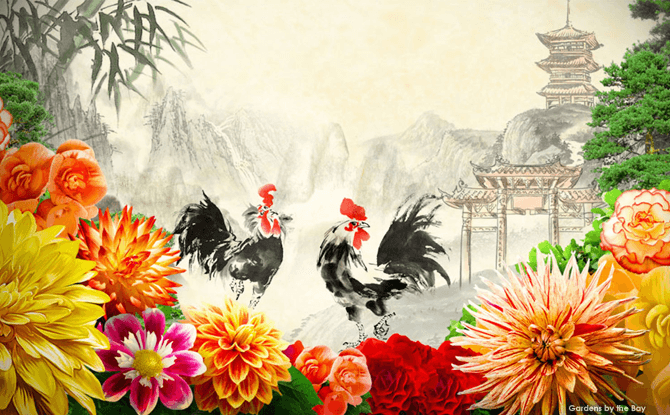 The world's largest LED Phoenix is making its debut appearance right here in Singapore at Gardens by the Bay as part of a dazzling performance involving stilt walkers and LED lions and dragons (8pm on 3 & 4 February, 7pm on 10 to 11 February). Other free shows your family can catch during the festive period include lively drum performances, melodic tunes by a traditional Chinese orchestra, an aerial contortionist and the incredibly synchronized "Dance of a Thousand Hands" (show dates and times vary).
For more Rooster fun, make your way down to the Flower Dome to enjoy the beautiful spring and Rooster-themed garden displays. Little ones can get their creative hands going at the Flower Dome's craft booths, where they'll get to design their own prosperity eggs and learn the art of Chinese Calligraphy.
Where: Flower Dome & Supertree Grove at Gardens by the Bay
When: 30 January to 12 February 2017 (Dates and times vary per programme)
Charges: Admission charges to Flower Dome applies ($12 for adults, $8 for children ages 3 to12, free admission for children below 3 years old)
Click here for more information
---