The Tokyo Fire Museum in Shinjuku is an interactive, family-friendly museum where visitors can get a unique understanding of fire-fighting and its history in Japan.
With multiple floors filled with exhibits, the Tokyo Fire Museum is not only a good place to learn about fire-fighting but, with free admission, great value for families to visit. It is co-located with the Yotsuya Fire Station in Shinjuku and run by the Tokyo Fire Department.
Fire Trucks Everywhere
When you can enter the Tokyo Fire Museum at Shinjuku, you will find the basement level and ground floor is filled with the museum's fire truck exhibits.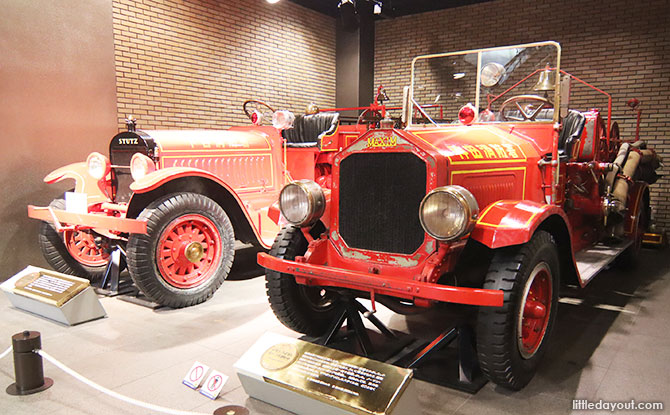 Some of these vehicles date back as far as the 1920s and were imported from foreign countries.
To explore the rest of the Tokyo Fire Museum, take the elevator up to the fifth storey. From there, make your way down back to the ground floor.
From the Edo-Period to Present Day
The fifth floor of the museum starts with a historical perspective of fire-fighting in the 17th century. This was during the Edo Period and, with most of the building constructed out of wood, being able to respond to outbreaks of fire was essential.
There are models of fire-fighting activities and replicas of firemen's period uniforms.
A highlight here on the fifth floor is an actual helicopter located outside on the rootop. This French-made fire helicopter was in use up till the 1980s. You can even enter the helicopter to imagine what it was like flying over the city when there was fire outbreak.
On the fourth floor, exhibits cover the development of fire-fighting from the 1800s to the mid-20th century. New Western equipment and technology was introduced during this period as Japan opened up to the West.
The Tokyo Fire Museum's third floor delves into fire-fighting post World War II and features more current equipment. It is informative and interesting to walk through.
Interactive Fun Around the Tokyo Fire Museum, Shinjuku
Interactive activities around the museum include outfits for kids to try out and crafts.
Even though much of the information is in Japanese, this does not detract from the experience.
To end off your visit, take the elevator up to the building's 10th floor. This is where the Tokyo Fire Museum's observation deck is located and you can take in views of the Shinjuku skyline and Tokyo Skytree in the distance. If you need some refreshments, there are also vending machines located here.
A visit to the Tokyo Fire Museum at Shinjuku is great for families and children. The museum is directly connected to the Marunouchi Subway Station at Exit 2, making it extremely convenient to access, even on a rainy Tokyo day.
Tokyo Fire Department – Fire Museum in Shinjuku
Where: Japan, 〒160-0004 Tokyo, Shinjuku, Yotsuya, 3 Chome−10
Website