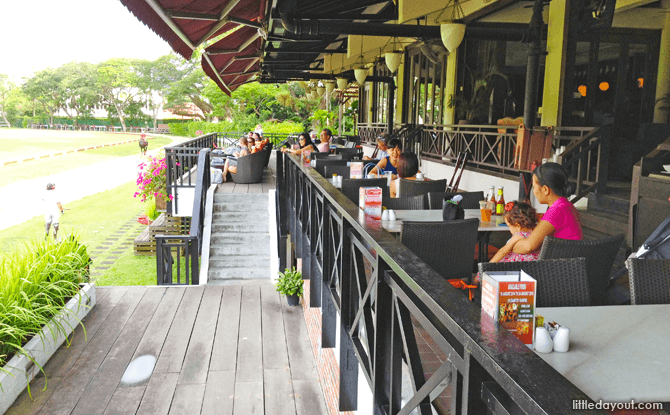 The Thomson area has one of the oldest and longest roads in Singapore, fringed by lots of green on either side. It is named for a Scotsman who helped build roads into the interior of the island back in the 1840s and 1850s.
But this is no fuddy-duddy neighbourhood with only tropical foliage and sleepy shophouses for company. The neigbourhood has room for young families who want to eat, play and chill.
Made up of three parts – Thomson Road, Old Upper Thomson Road and Upper Thomson Road – this long stretch of road is home to some gems your kids will love, including chic eats and creative play spots.
Trot along through old Thomson with Little Day Out!
---
Singapore Polo Club
Kids will love the sprawling green field at the Singapore Polo Club – and did we mention that there are galloping horses?
A hidden gem for families with young kids, it's bound to keep the little ones entertained for a long time, and great place for dad and mum to chill.
Open to the public from Mondays to Fridays, the spacious alfresco dining area at The Verandah overlooks the field. Here, tots can gawk endlessly at the polo matches that take place on Tuesdays and Thursdays, 5pm onwards.
Food at The Verandah is decent (price range from $10 to $15 a dish), so everyone can munch away on Asian and Western chow while enjoying them horses.
The Verandah @ Singapore Polo Club
Address: 80 Mount Pleasant Road, Singapore 298334
Opening Hours: Monday – Friday: 7.00 am – 11.00 pm (For public)
---
One Man Coffee
You don't want to be late for brunch at One Man Coffee. The rows and rows of chairs outside the cafe are there for good reason.
Slightly past 11 am on a weekday and a queue was already forming outside.
If you somehow can't seem to find the cafe, it is helpful to know that One Man Coffee shares premises with the Crust Gourmet Pizza Bar.
The space is small – but charming in an indie sort of way – and it can accommodate perhaps a high chair or two at the most. But if you can jig up a spot, you'll be seated at the popular rustic wooden tables with long benches – especially if you are with a big group – in cool air-conditioned comfort.
Kids will love eating from the wooden slab, where the tomatoes will roll around (and off) like crazy marbles, and makes you feel you're eating off a chopping board. Hungry ones can go for the Big Brekkie ($12), with six-minute-cooked eggs, roasted cherry tomatoes, spinach, and ham on sourdough bread. In fact, they'll happily whip up a small tot-sized set at your request too. A simple extra order of egg and roasted tomatoes for your kid will set you back only $3.
Also, don't miss the Gashouse Egg with Bacon Jam ($10), which is One Man Coffee's version of Toad-in-the-hole.
You'll be happy to know that they serve up a complimentary babycino for kids! (But only when they are not crazy busy; and you might have to ask.)
One Man Coffee
Address: 215R Upper Thomson Road, Singapore 574349
Opening Hours: Monday: 9.00 am – 5.00 pm, Wednesday – Sunday: 9.00 am – 5.00 pm
---
The Little Things
Send your kids on an adventure of a culinary kind at The Little Things, started by a pair of friends, Valerie Lee and ex-preschool teacher Emily Yeo.
Whipping up yummy dishes is plenty of fun, but it takes planning and methodical know-how, or you'll end up with a flat cake or a rubbery steak.
No stuffy classrooms or boring lectures here for 4- to 12-year-olds. Instead, kids learn through play and are encouraged to pick up life-skills such as independence and resourcefulness.  One term is made up of lessons that take place two hours weekly for eight weeks.
Lessons take place in a real kitchen, where the little ones take on creative challenges like meal-planning, food preparation from market to table, home-craft, and even team projects for the community.
For dads and mums concerned about the dangers of a real kitchen – knife-work is highly supervised; there are no open-fires and only induction cookers. Class sizes are deliberately kept small so that teachers can keep an eye on all the kids.
After your kids cook up a storm here, you'll even get a curry puff or rainbow cake out of it when they bring their goodies home!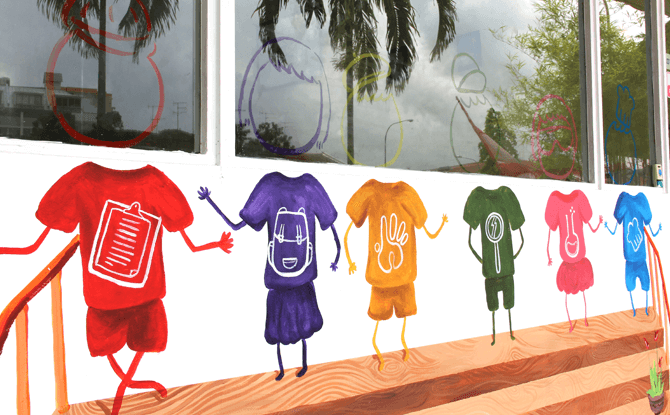 The Little Things
Address: 215H Upper Thomson Road,Singapore 574349
Opening Hours: Monday – Friday: 12.00 pm – 7.00 pm; Saturday – Sunday: 10.00 am – 7.00 pm
---
WowART Learning Studio
Another creative adventure for kids in Thomson starts with a blank canvas. WowART Learning Studio offers sessions that allow children from 2.5 years to 12 years of age explore their imagination and express themselves.
Children 3 years old and under start off with Art Play lessons, where they can use different colours and mediums to doodle to their hearts' content at this 'scribble stage'.
Those between 4 to 6 years old get to experiment with materials like oil pastels and clay, and even 2D, 3D and mixed media to develop fine motor skills and artistic creation.
Older kids from 7 to 12 years of age are taken through themes like culture, nature, geography and living, to develop critical thinking. They will use different mediums like foam, gouache, clay and charcoal, to name a few.
Make room for imagination in your child's life by having a fun day out with art.
WowART Learning Studio
Address: 200 Upper Thomson Road, #01-10 Thomson Imperial Court, Singapore 574424
Opening Hours: Monday: 9.00 am – 9.00 pm, Wednesday – Sunday: 9.00 am – 9.00 pm
---
Crust Gourmet Pizza Bar
Surprise the kids with pizzas that aren't round, but, oh hey, rectangular.
Boasting 'upper crust' pizzas from $23 – think prosciutto ham, wagyu beef, roast duck, gorgonzola cheese and the like – this cosy pizza parlour also offers pizzas for kids at $10.
With airy crusts and creative bases like hoisin sauce, bechamel, and garlic oil, there's bound to be something to tickle even epicurean tastebuds.
There are high chairs for younger children, although there isn't much space inside. Head for the outdoor seating area if you would like for the kids to run around.
On weekdays, Crust opens only at 5pm for dinner; gun for the weekends if you want lunch. And oh, they deliver too, with a minimum spend of $25.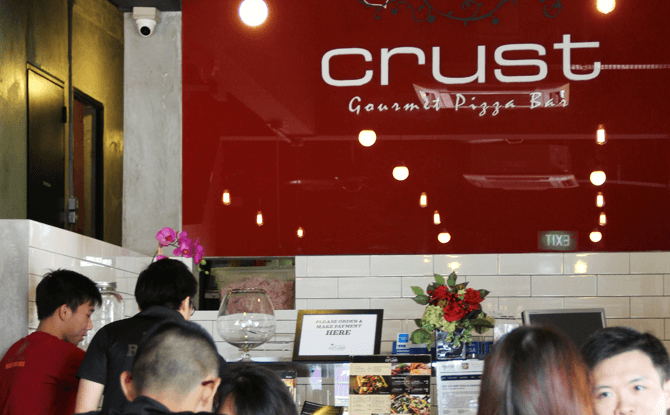 Crust Pizza
Address: 215R Upper Thomson Rd, Singapore 574349
Opening Hours: Monday – Friday: 5.00 pm – 11.00 pm, Saturday – Sunday: 11.00 am – 11.00 pm
---
Little Pancakes
These aren't pancakes just for little people, but these are really miniature pancakes.
Besides the usual sweet offerings, Little Pancakes also serves up savoury pancakes that make up a whopping big brekkie. Adding an Asian twist in their menu are choices such as Singaporeans Unite – pancakes served with local toppings such as kaya, butter condensed milk.
Littlies will dig the novelty of 3-inch pancakes.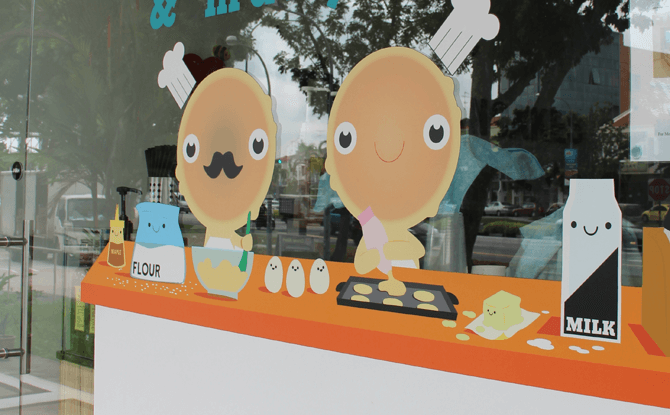 Little Pancakes
Address: 200 Upper Thomson Road, #01-04 Thomson Imperial Court, Singapore 574424
Opening Hours: Monday, Wednesday – Friday: 1:00 pm – 11:00 pm, Saturday: 11.00 am – 11.00 pm, Sunday: 11.00 am – 9.00 pm
---
Old School Delights
Get ready some childhood stories to tell to the kids when paying a visit to Old School Delights, a retro resto-cafe that dishes up classic comfort food like mee siam, chicken rice and kueh pie ti.
The interior of Old School Delights is a blast from the past, with vintage wares and wall-to-wall chalkboards filled with colourful doodles.
The shelves are also stocked with toys from the 80s, and you will recognise classics such as aeroplane chess and five stones. What's more, and most of these are for sale.
You can regale your kids with stories about how you used to rock at five stones challenges at the void deck or stayed the reigning school champ of zero-point forever.
No matter that the stories are likely to be "slightly" embellished – your kids won't know!
Old School Delights
Address: 215M Upper Thomson Road, Singapore 574349
Opening Hours: Tuesday – Friday: 11.30 am – 10.30 pm, Saturday – Sunday: 11.00 am – 10.30 pm
---
Habitat Coffee
Go early, even on weekdays, or you might find yourself at the wrong end of a 45-minute queue. By noon, Habitat will be swarming with so many people that you will hardly be able to get through the door.
The coffee is good and strong (don't you need it, mummy!) and the food yummy. Habitat's menu is a good mix of sandwiches, pasta, and brekkie/brunch. You can't go wrong with dishes such as Eggs Tomato Relish ($15) – two eggs, bacon, and baby spinach served in a pan with hearty tomato sauce.
There is a neat little loft at the back of Habitat where there is an enclave of seating, up a short flight of stairs.
The cafe is more spacious than One Man Coffee, and has more room for high chairs. But still, don't bring your stroller along.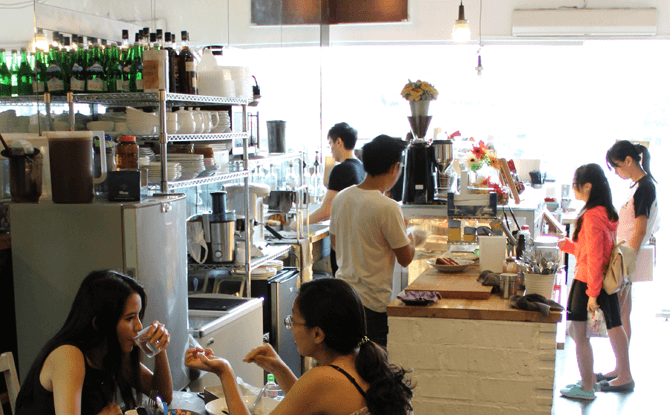 Habitat Coffee
Address: 223 Upper Thomson Road, Singapore 574355
Opening Hours: Tuesday – Friday: 11.00 am – 10.30 pm, Saturday – Sunday: 10.30 am – 10.30 pm
You May Also Like
Explore more of Singapore's neighbourhoods with kids!