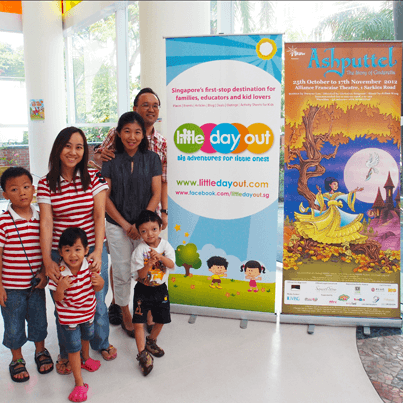 If you were forced by an evil stepmother to work everyday, and finally got a day off, where would you go?

In the Ashputtel's Little Day Out Contest, organised in conjunction with I Theatre's production, Ashputtel – The Story of Cinderella, Little Day Out's Facebook fans were invited to be creative and imagine what Ashputtel would do on her day off.
And we definitely received some creative answers.
---
-- Story continues below --
One contestant suggested that she would "play at the park because…her mice friends wanted to go play scavenger hunt."
Another thought she would "hit the mall…because she wanted to go to Cold Storage to stock up on cheese for her mice friends and buy hand lotion for her dry hands from scrubbing the floors."
In the end, it was the entries from Linda Wong and Gordon Ngiam that received the highest number of votes to win the contest. They both imagined that Ashputtel would want to go to the Prince's Ball to meet and dance with the Prince. Their entries won them tickets to be among the first to watch I Theatre's Ashputtel – The Story of Cinderella.
When Little Day Out caught up with our winners, this is what they had to say about their own favourite Little Day Outs:
Linda:
"One of the places that we never get tired of bringing our boy to is the Singapore Zoo. He likes to watch the animal shows and he gets to meet and learn about all the animals around the Zoo."
Gordon:
"One of my favourite places to bring my kid is the Sengkang Riverside Park. It is located at Anchorvale Street, near the Anchorvale Community Club. You get to enjoy wide open spaces with fruit trees, beautiful aquatic plants, and you also get to see many types of insects in the park. One interesting feature is the floating island, where you can walk on the bridge and admire the pretty aquatic plants, and sometimes you may even spot some wildlife birds resting in this wetland habitat!"
"Another place that I bring my kid to is the small indoor playground at Paragon. You can stay at the playground all day and not feeling hot and sweaty. That is a plus point for parents who want to stay cool in a playground."
Thank you to our winners for sharing their tips on their favourite Little Day Outs and congratulations on winning the Ashputtel's Little Day Out Contest!
I Theatre's Ashputtel – The Story of Cinderella is on from 25 Oct to 17 Nov 2012 at the Alliance Francaise AGF Theatre. Also, do keep a look out for Little Day Out's review of Ashputtel.