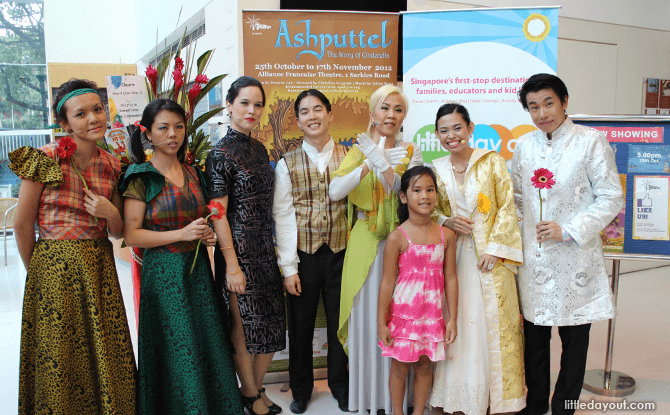 Little Day Out reviews I Theatre's production of Ashputtel – The Story of Cinderella…
With the prolific commercialisation of the well-loved Grimm Brothers' fairytale, Cinderella, its mere mention conjures up images of the well-known Disney princess, resplendent in her fine blue gown. Or if you're like me, memories of illustrations from a favourite childhood picture book magically come to mind, etched deep in our memories from repeated re-readings (the Cinderella in my childhood book wore a shimmering white gown).
The play's high-energy performance with fast-flowing comedic sequences, compliments largely of Ashputtel's stepsisters, and Prince Charles and his faithful butler, stirred uproarious laughter from the audience.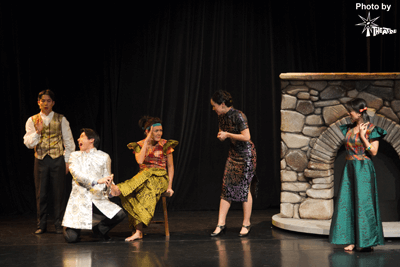 ---
-- Story continues below --
The well-choreographed proceedings made the house's enjoyment of the more outlandish and slapstick elements obvious. Prince Charles' innocent implorations for help elicited surprisingly spontaneous responses from the helpful young audience who clearly enjoyed the pleasure of one-upmanship over the likeable but bewildered prince who had no idea where to find his beloved.
While Asputtel is similar to the tale we are familiar with in so many ways, it also adds fresh, new layers of appeal for family entertainment as well. As the play opened with a young girl, Ashputtel, pining the loss of her mother in song and recounting the promises she had made to her, I found myself a little taken aback by the depth of emotion displayed both by the song and the lead's convincing performance.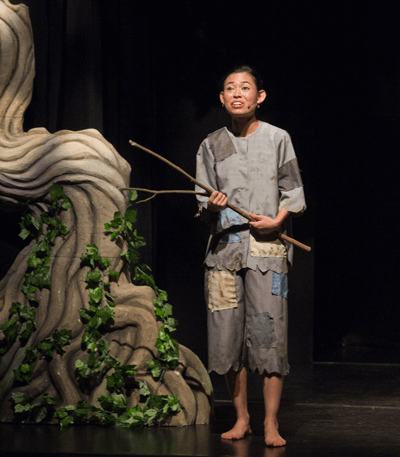 Ashputtel, played by Matilda Chua (Photo: I Theatre).
This was not a theme typically expounded in fairytales for the young, though obviously Cinderella, or Ashputtel, in this case, would obviously have lost her mother, seeing as she had a stepmother and stepsisters. The sense of longing and the strong underpinning relationship between Ashputtel and her mother were delicately espoused as the production deftly employed music and imagery, infusing the scene with a palpable assurance that Ashputtel was never alone, but that her mother was always watching over her. It was touching and appropriate, and this unique focus on the relationship between Ashputtel and her own mother was probably the strongest positive differentiator between I Theatre's production and any other typical retelling of the Cinderella story.
Both in the initial and later sequences, the meaningful exploration of the maternal relationship elevates the production from merely being one just for children, to a well-written and moving theatre experience both adults and children can relate to for its universality. Within the short 55 minutes' duration, the production manages to accomplish a great deal in its own right with its overall entertainment value, magical storytelling, and uplifting themes, making it time well spent for both young and mature audiences alike.
The cast (from left): Stepsisters Gertrude (Serena Ho) and Trudy (Audrey Luo), Stepmother (Julie Wee), Butler (Tan Shou Chen), Head Puppeteer & Ashputtel's Birth Mother (Adelynn Tan), Ashputtel (Matilda Chua) and Prince Charles (Edward Choy) with a six-year old fan.
I Theatre's Ashputtel – The Story of Cinderella is on till 17 November 2012 at the Alliance Française AGF Theatre. Ashputtel is nearly sold out and is only best available on weekends and public holidays. You can book your tickets through SISTIC.