"Peranakans love their 'bling'," explained Gwen Khoo, our guide at The Peranakan Gallery at Claymore Connect, as she showed us the ornate kerosang brooches worn on sarong kebayas.
We were on a tour of The Peranakan Gallery and gaining new perspectives on Peranakan culture, which included delicately embroidered kebayas, bejewelled brooches and dazzling beaded slippers traditionally worn by Peranakan women or nonyas.
Peranakan Traditions
The Peranakans trace their story back to the 15th century when Admiral Cheng Ho fleet sailed from China to Southeast Asia. Marriage between the Chinese and local Malays gave birth of the Straits Chinese culture. This also led to the assimilation of different cultural practices, shaping the Peranakan heritage and aesthetic.
The fusion of different cultures can be viewed all around the Peranakan Gallery. For example, kamchengs, or ceramic storage jars, decorated with Chinese symbols such as the phoenixes sit comfortably alongside European crystalware.
---
-- Story continues below --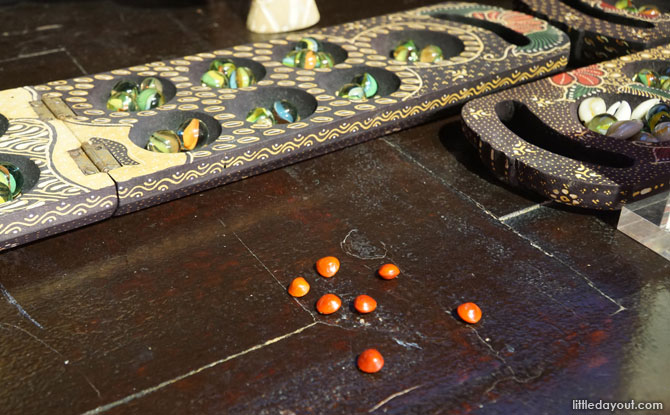 Another part of the gallery displays traditional games which would have been played by children. These include familiar games such as five stones to the less familiar like congkak. Not just for display, visitors to the gallery can try out the games as well.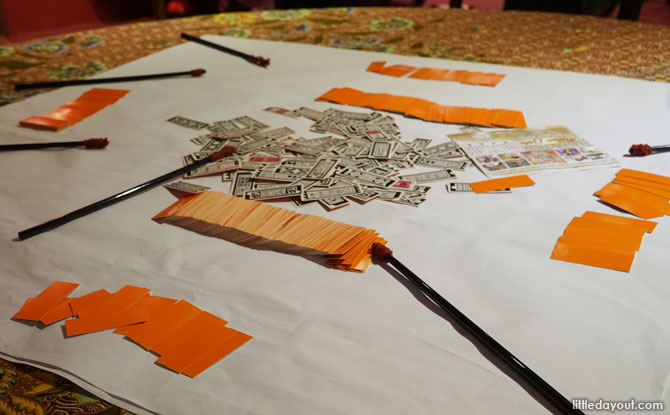 One table at the gallery is scattered with cherki playing cards, a popular card game from Malacca. It is similar to mahjong and, just like with mahjong, the cherki table was a place to socialise and chit chat.
The Long Table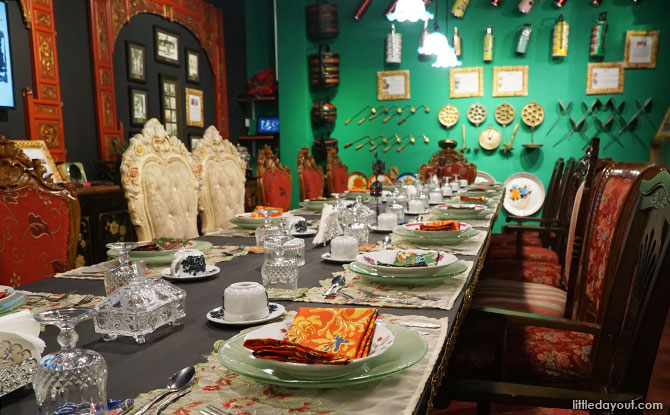 Pride of place at The Peranakan Gallery at Claymore Connect goes to the Tok Panjang. Literally translated, Tok Panjang means long table and it is where large Peranakan families would gather for meals.
Other icons of food around The Peranakan Gallery include moulds used to make kuehs and titbits. These highlight the central role that food plays in Peranakan culture.
The Peranakan Gallery is run by the adjacent restaurant, The Peranakan. Helmed by Baba Raymond Khoo, the restaurant serves authentic Peranakan food and is a great way to get a "taste" of Peranakan culture.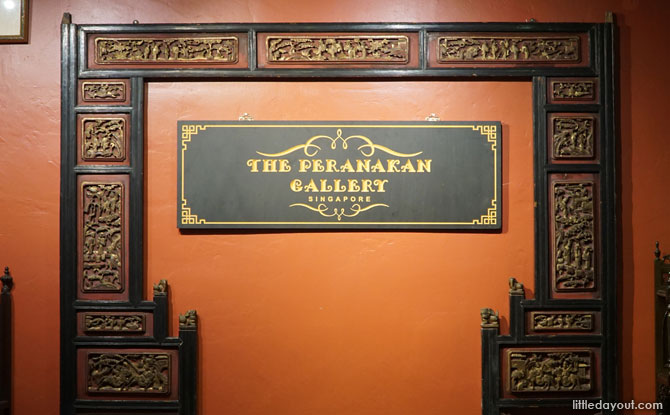 The Peranakan Gallery is open from 11 am to 10 pm daily and located at Level 2 of the Claymore Connect Mall.
Admission fees to the gallery are $15 per person and waived for visitors who present a hotel key card or receipt from any outlet at Claymore Connect. Contact the gallery before your visit if you wish to arrange for a guide like Gwen to bring you around during your visit (highly recommended). The gallery is small but chockfull of artefacts, therefore having a guide is invaluable to gaining a true appreciation of the items on display.
The Peranakan Gallery
Where: Level 2, Claymore Connect Mall, 442 Orchard Road Singapore 238879
Website