Five Delights in One Location
Get five familiar children's favourites under one roof at The Little Big Club at Puteri Harbour Family Theme Park in Nusajaya, Johor.
The Little Big Club is a blend of an indoor play centre and a kiddy amusement centre. Set over two floors linked by an internal escalator, the focus here is on active fun.
With multiple playscapes laden with ramps, slides, nooks and crannies to explore, kids will go dizzy dashing from one to the other. They have Barney's Play Yard, Bob the Builder's construction site and the Sodor Playground to choose from.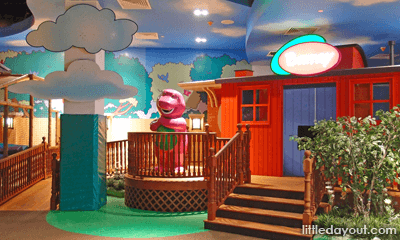 At the Bob the Builder playscape, there are soft interlocking bricks that can be used to construct a house. Kids can join the "Can-do Crew" and we are sure they will have just as much fun demolishing walls as they will have constructing them.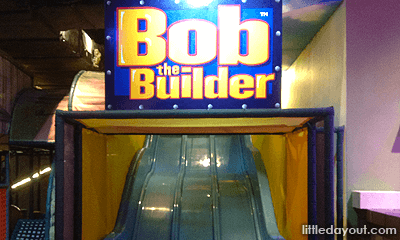 On the second floor of The Little Big Club, the Sodor Playground is a uniquely laid playscape where kids have to climb up a tower and over the train station to get to the large play area which is encircled by a train track.
Thomas Land
The entire upper level of The Little Big Club is devoted to Thomas & Friends. It serves as a counterfoil to the more "girl-oriented" Sanrio Hello Kitty Town on the floor below The Little Big Club. Thomas & Friends fans and little adventurers will go wild here. There are numerous indoor amusement rides that kids can go on over and over again.
Want to tour Sodor? Let Thomas the Tank Engine pull you around on one of his trucks. Want to take flight? Head over to Tidmouth Sheds where Harold the Helicopter is giving out joy rides.
One of our favourite rides has to be Bertie the Bus. He literally makes his "rounds", going up and down. There is also a mini-ferris wheel, bumper cars and a crane drop. Thoughtfully located in the middle of the fun is the Mc Bunn Café where parents can take a seat and keep a watchful eye over the action going on around them.
More to See and Do
Of course, girls that want to pursue more demure pursuits are not left out either. On the lower floor, Angelina Ballerina has a dance studio where budding ballerinas can don a tutu and learn how to dance.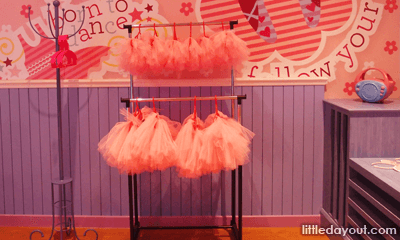 There is also a Pingu-themed amusement area with entertainments such as air-hockey and mole-whacking machines.
What will universally appeal to young kids is the musical performance at The Little Big Club stage where different characters come alive. Appealing to young children, there are even minders who engage young audiences to get up and be part of the performance. With some encouragement, kids will soon be singing and dancing along to familiar favourites as if they were in an episode of Barney & Friends. Lemon drops and gumdrops, anybody?
Practical Information
The Puteri Harbour Family Theme Park is a quick 20 to 25 minute drive away from the Tuas Second Link. Together its sister theme park, Sanrio Hello Kitty Town, it provides an easy location to bring the kids for a cool Little Day Out across the border.
Admission is RM65 each for both adults and children to enter The Little Big Club. A combination ticket to both The Little Big Club and Hello Kitty Town costs RM110. There are also four birthday party rooms within The Little Big Club and the party packages will be announced at a later date.
The Little Big Club will appeal to younger kids. If your kids get a kick out of sitting on those $1 kiddy rides in the shopping centres, you will get your money's worth here. With three playscapes to choose from, there is also plenty to keep young ones, and mommies and daddies, busy.
Practical Tips on Getting There
The Puteri Harbour Family Theme Park is 10 minutes away from LEGOland Malaysia by car. For those who do not wish to drive, alternative transport options including coach or private return transport arrangements are also available from websites such as www.traveldelight.biz. These can take you and your party directly to the destination and back again.