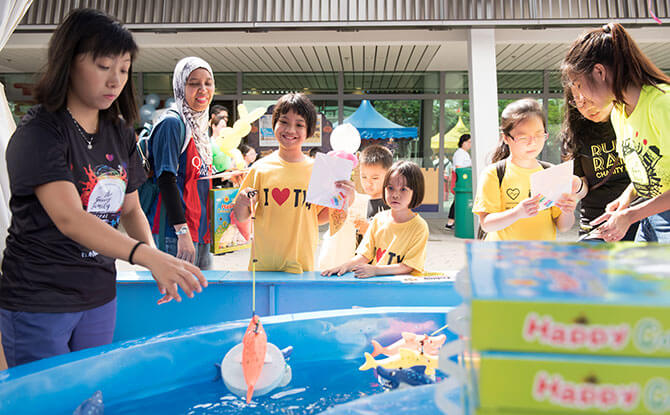 Get together for some family fun and contribute to a good cause at The Giving Family Festival, 1 and 2 September 2018, at Singapore Sports Hub.
Organised by TOUCH Community Services, the two-day charity carnival takes place on the first weekend of the September school holidays. Carnival-goers can purchase coupons to participate in various activities with proceeds going to 31,000 individuals and families under the care of TOUCH Community Services.
Here are some of the highlights that you can look forward to at The Giving Family Festival 2018.
Festival Highlights
---
1. Carnival Rides, Game Booths & Performances
Kids and families can enjoy rides such as the Pony Carousel, Drum Walker and a Ferris Wheel at the Festival. Put your skills to the test at exciting game booths and enjoy entertaining stage performances on both Saturday and Sunday, 1 and 2 September.
---
-- Story continues below --
---
2. Exciting and Fun Workshops
Fun workshops being conducted as part of The Giving Family Festival 2018. Pick up basic sign language skills, take part in a special art workshop alongside talented artists with intellectual disabilities or join together in rhythm at a cajon drum workshop.
There will also be jumbo cookie decoration workshops, storytelling sessions, brush lettering workshops and more.
All workshops are available on a first-come-first-served basis. Fees for materials will apply for selected workshops.
---
3. Run & Raisin' 2018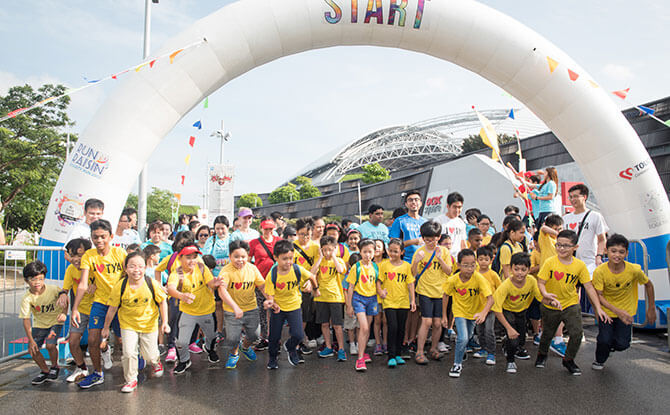 Put on your running shoes and get your feet moving at the Run & Raisin' charity run on Saturday, 1 September 2018.
Choose between a 10 km Competitive Run, 5 km Fun Run or a 1.2 km Family Run. Run & Raisin' is held in support of the TOUCH Young Arrows (TYA) programme which incorporates academic coaching, values-driven activities and family bonding events for disadvantaged children.
Registration closes on 19 August 2018. Sign up online.
---
4. Nerf Gun Battle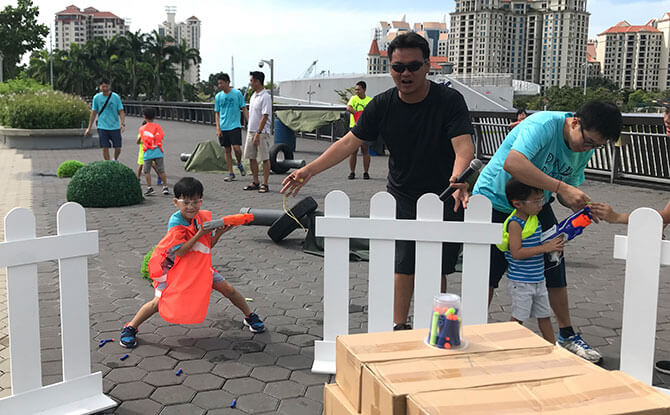 Team up, load up and get ready for a Nerf Gun Battle! Teams of up to five persons will battle it in two types of gameplay, Capture the Flag and Wipeout. Book a slot at $30 per team. Walk-ins are welcome from 2 pm onwards, subject to availability.
---
5. Bridging the Gap Kids' Gym Sessions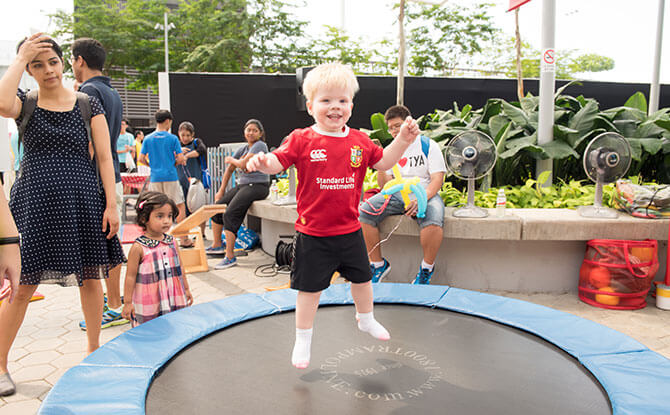 Young ones can get active at an outdoor sensory gym by Bridging the Gap. Little tots can jump about on mini trampolines, try out gymnastic bars and more. Participation costs $10 for a half-hour session.
Be a Giving Family
Coupons for The Giving Family Festival 2018 are available for purchase online. Coupon booklets cost $50 each.
If you would like to provide an opportunity for a family in need to enjoy the activities at The Giving Family Festival, you can also choose to do so with a sponsorship of $350. With this sponsorship, a TOUCH beneficiary and two family members will each receive a complimentary ride, game and hotdog at The Giving Family Festival. The remainder of your donation will go towards supporting other TOUCH Community Services beneficiaries.
Find out more about how you can sponsor a family here.
The Giving Family Festival 2018
Where: OCBC Square, Singapore Sports Hub
When:
Saturday, 1 September, 10 am to 9 pm
Sunday, 2 September, 9 am to 9 pm
Website
---
The Giving Family Festival 2018 Giveaway
Little Day Out is giving away two sets of four festival passes and one $50 festival coupons sheet to The Giving Family Festival 2018. Each festival pass allows for 1 free carnival ride, 1 free game and 1 free hotdog.
To take part in this giveaway by submitting your answer to the question below by Thursday, 23 August 2018.
Like and share this post to double your chances of winning.
This Giveaway has closed. We will be announcing the winners shortly.