Aching for a quick kid-free getaway? How about a spa-cation – a spa treat plus vacation? There are many spa options to choose from in Singapore, getting away for a night is a real treat for parents looking for a break – like us. It's not just a time for relaxation but a time for bonding and strengthening the marriage with no children in sight to disrupt our conversations. We trooped to Tempat Senang Spa Resort, a convenient 45 minute ferry ride away onto Batam island.
Tempat Senang Spa Resort – Just a Hop Away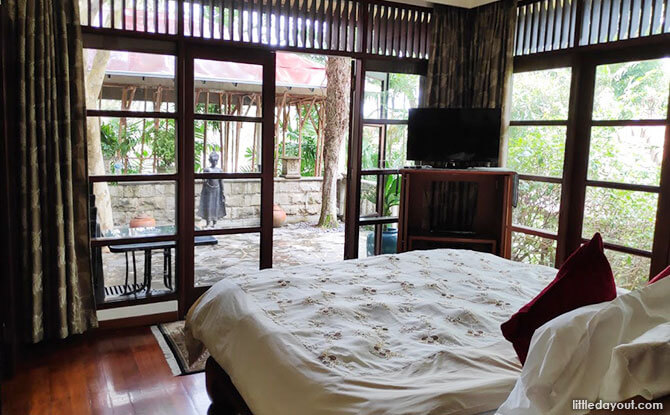 Given the amount of recommendations we received from neighbours and friends for this resort, we knew it was the place to head to in Batam. It was just 10 minutes away from the Sekupang ferry terminal in Batam after a short ferry ride from Harbourfront ferry terminal.  Within an hour, we were in a different country experiencing true Indonesian hospitality plus top-to-toe pampering!
We were greeted by a lush foliage resembling a Balinese villa when we arrived. The water fountain flowing, birds chirping, branches swaying and cool breeze made us feel so at ease, away from the bustle of the city.
There are 14 themed rooms at Tempat Senang Spa Resort, each decorated with according to its name. For instance, staying at the Tree House suite is like living in the midst of a rainforest with a tree in the room and beddings and room décor with animal and leafy prints. Other rooms like the Abu Dhabi Harem suite is specially designed for a bevy of five, suitable for a girlfriends' getaway or a mom-cation.
One big plus point is there is no need to bring toiletries (except tooth paste, tooth brush) to the spa resort as it is well equipped with quality in-house developed skincare, haircare products to use, right down to insect repellent. These products can also be purchased at its shop.
Spa Offerings at Tempat Senang Spa Resort Batam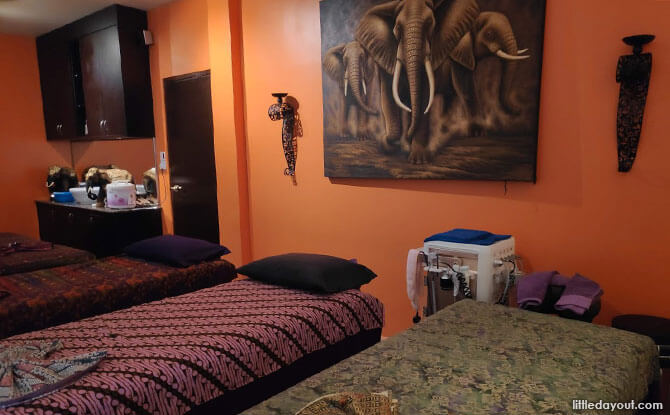 Many visit Tempat Senang Spa Resort for its spa options – half day spa (three hours) consisting of three different treatments, full day spa (six hours) with six treatments and lotus spa available on selected days. There are mix and match options – beginning with eleven different kinds of massages and even one for expecting mums. We chose the Office which was a house specialty comprising of a few massage techniques which promise to ease the aches from working in the office we presume. After selecting and wearing our soft cotton kimonos, we were ready to be pampered!
Aside from massages, guests can opt for facials, body scrubs, hot herbal compress, hair spa, foot reflexology, ear candling, milk bath, pedicure and V spa. Guests opting for a facial can choose from eight different types of treatments, all made in house with carefully chosen and locally grown ingredients and special blends of plants, roots, flowers, herbs infused with vitamins and nutrients. I opted for the Hyaluronic Acid treatment which left my skin moist and glowing for days. Obviously I was pleased given that it was a facial long due for five years.
My husband tried the hot herbal compress which uses heat and bundles of herbs to relieve tired and sore muscles. The massage after also ensures comfort and came highly recommended by the resort. For DIY sessions, you can even purchase the herbal bundles to bring home.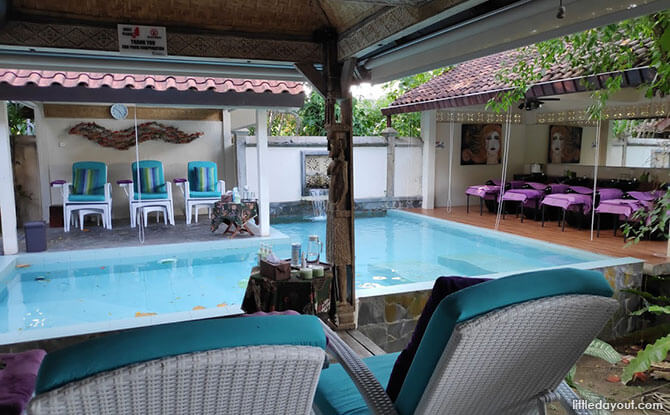 A session we both enjoyed thoroughly was the outdoor hair spa. Ladies might want to try the honey collagen mask, which moisturized the hair thoroughly and strengthened both scalp and hair ends. There are five other options to choose from, all guaranteed to lend the hair that vigour you see in shampoo commercials. After a scalp and head massage and a hair mask, the hair spa ends with a hot oil treatment to stimulate blood circulation at the same time combating common hair troubles such as dandruff, dry scalp, fizzy hair. It was so relaxing we were gently lulled to sleep surrounded by nature.
Sumptuous Meals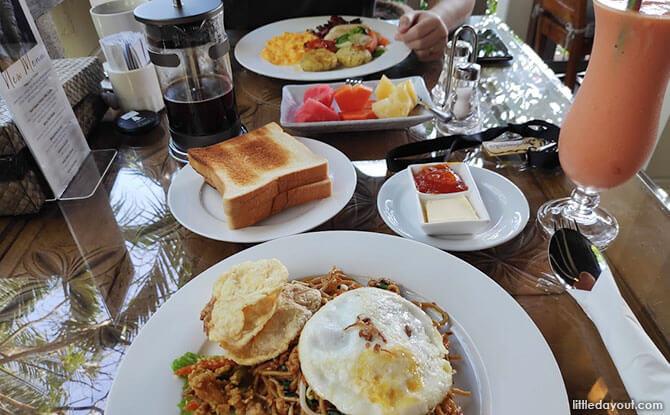 Mealtimes are also a treat at the resort. Aside from the usual Indonesian fare of nasi goreng, mee goreng, satay, gado gado, there are also other familiar Singapore dishes like Hor Fun. The coffee is also a must-drink for a perk-me-up. We appreciated the healthy options such as shakes and cold-pressed juices as well for good detox opportunities.
For the ones staying the night, you might want to indulge in the seven-course dinner which includes dishes from seven different countries in the region. From Thai betel leaf crunch which we truly enjoyed, Vietnamese summer rolls, Phnom Penh noodles, Malaysian chicken curry, Indonesian beef rendang, we were so stuffed by the end of the meal and immensely spoilt.
Quiet and Pleasant Getaway
It was really precious to be able to spend alone time as a couple and Tempat Senang. Our skin, hair, body felt extremely rejuvenated and ready to fight life's battles again. (Yes, the joys of parenthood) We are already looking forward to the next luxurious experience and hope to return for a day trip!
For more details, do visit Tempat Senang's website. For early bird bookings, there are discounts of up to 20%.