Parenting is a 24/7 job. You can't apply for leave. But for your sanity's sake, you're allowed to sneak out for a little break once in a while!
How about a spa treat on your precious time out? For once, you get to do nothing while someone else – the massage therapist – does all the work. Doesn't that sound awesome?
To help you save time, we've done the research for you. Here are our picks of some of the most pampering and interesting spas in Singapore to visit, in the north, south, east, west, central, and not forgetting Sentosa, the mother of all spa locations.
Spas in Central Singapore
Here are some spas in central Singapore that have earned our praise. Let the indulgence begin!
---
Unwind in the lap of luxury at My Cozy Room Boutique Spa. The lavishly-decorated spa has received accolades like the Beauty & Spa awards from Blissful Brides and Best Luxury Spa in Singapore from the World Luxury Awards, and they are well-known for their Award-winning Pore Extraction Facial.
My Cozy Room Boutique Spa has earned praises for its gentle, yet thorough, extraction facial. Its professional beauticians are known to provide meticulous and painless extraction of clogged pores, making each visit a relaxing experience. Tired moms and dads who wish to pamper themselves can turn to My Cozy Room Boutique for its rejuvenating facial treatments which are effective for various types of skin conditions including acne, clogged pores and dull/ dehydrated skin.
At their new branch in Devonshire Road, you can experience their new treatment – Royal Bird's Nest Facial, which is ideal for anti-aging, whitening and rejuvenation. The royal treatment begins with a Golden Exfoliator, enriched with tangerine and papaya enzymes to unclog pores and exfoliate dead skin cells. A Bird's Nest Complex consisting of active ingredients Swiftlet Nest and Silver Vine Fruit Extract follows to promote moisture balance and skin luminosity. This is combined with DRF Therapy to ensure optimal absorption before the treatment is completed with a Premium White Nest Alginate Mask.
To complete this pampering treat and achieve beauty inside out, customers also get to enjoy a complimentary bottle of Kinohimitsu Bird's Nest after the Royal Bird's Nest Facial! Maintain your youthfulness and enhance your complexion from this beauty delicacy!
The 120-minute Royal Bird's Nest Facial costs $388. As an added bonus, My Cozy Room Boutique Spa offers a promotion of 50% off the treatment for first-time local residents, and 20% off for first-time tourists.
Address: 125 Devonshire Road (Opp 111 Somerset), Singapore 239884
Contact: 6753 0030
Whatsapp: 8811 0030
Opening Hours: Weekdays – 11 am to 9 pm, Weekends – 10 am to 8 pm, reservations highly recommended.
Website
---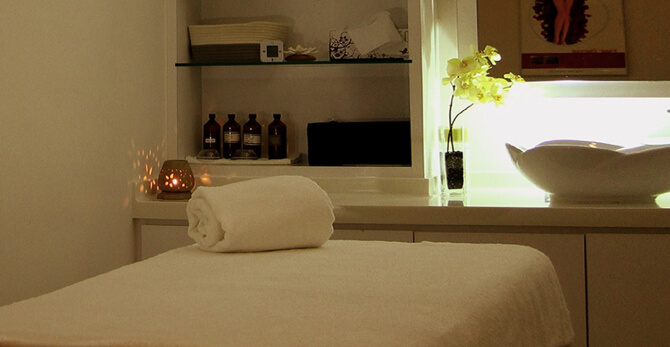 This little spa, as its French name implies, is run in a boutique style filled with personal touches. No wonder it has won the affection of Expat Living readers, who have voted the Tudor Court outlet as the "Best Salon for Facial or Massage" in 2016.
Le Petit Spa Prestige opened its doors more recently at Tanglin Mall and comes equipped with a children's playroom. Good news for when you can't find someone to help out with the kids!
Full body treatments are priced from $90 for a body scrub
Opening hours: 11 am to 8.30pm (Mon to Sat); 11 am – 8 pm (Sun and Public Holidays)
Click here for the spa menu.
---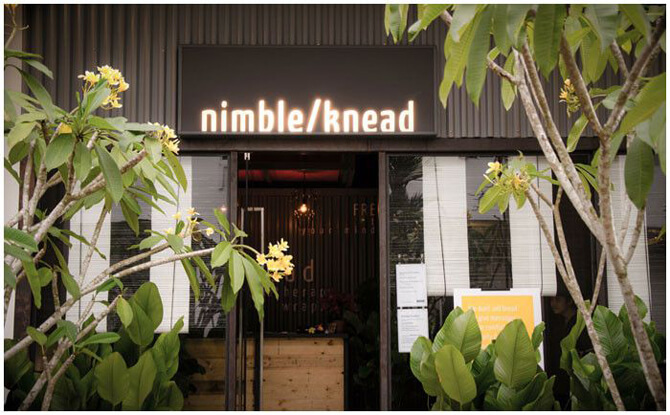 With its industrial chic design and shipping container treatment rooms, Nimble/Knead fits in perfectly with its hip Tiong Bahru neighbours – the indie bookstores, quirky fashion boutiques, and Instagram-friendly cafés.
Housed in a conserved shophouse along Eng Watt Street, the spa's shipping container concept stems from its desire to "transport" guests to wherever their minds take them, as their bodies are kneaded to total relaxation.
How about a "trip" to Bali, made possible by Nimble/Knead's signature Destination Bali massage (from $76)? As they promise on their website, "shipping is free" (though the massage isn't)!
Full body treatments are priced from $69 for a 45-min body scrub
Opening hours: 11 am to 10 pm
Click here for the spa menu.
---
Located within the Bishan Park, Aramsa Spa pioneered the garden spa concept in Singapore. Way back in 2006, in its first year of business, the spa clinched the "Best Spa Experience Award" from the Singapore Tourism Board. Ever since then, it has continued to gain recognition, including the World Luxury Spa Awards and Expat Living Reader Awards, throughout the years.
You'll be happy to know that this spa offers treatments for kids as well. So if you desperately need a spa break and can't get a babysitter, just bring the little one along! He can get a Mini Swedish Recharge ($85.60) while you pamper yourself with the Aramsa Touch (from $147.66), the spa's signature fusion massage.
You get to relax, and bond with each other at the same time! Now how often do you get to enjoy the best of both worlds like this?
Full body treatments are priced from $104.86 for a 30-min exfoliation therapy
Opening hours: 11 am to 10 pm (Mon – Thur); 10 am – 11 pm (Fri – Sun)
Click here for the spa menu.
---
Spas on Sentosa Island
Enjoying a spa day is great. But having your body gently kneaded to the rhythm of relaxation, far from the hustle and bustle of Singapore – that would be a dream come true. Well, even though Sentosa is strictly still Singapore, its location off the mainland gives it the vacation vibes.
---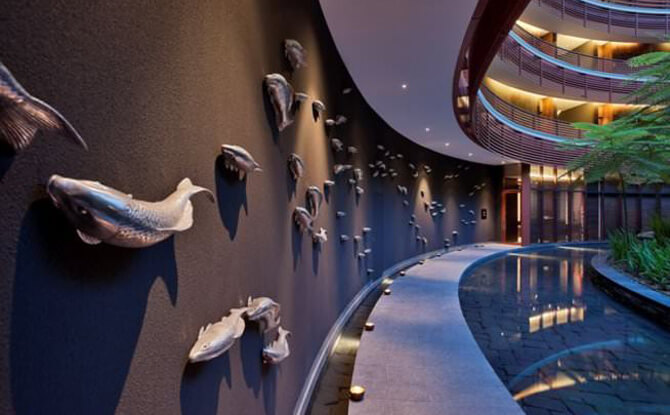 A visit to Auriga at Capella Singapore is nothing short of a celestial experience. After all, it is named after a constellation in the Northern Hemisphere, with Capella as its brightest star.
The spa's signature treatments (from $290) are designed around the lunar cycle. Titled New Moon, Waxing Moon, Full Moon, and Waning Moon, each treatment is offered only when it corresponds to the particular stage the moon is in. The idea is to take advantage of the varying energies of the lunar phases to align you with the rhythms of nature for optimum wellbeing.
Of course, if you're not a lunar geek, the 12,000-sq ft spa offers other treatments that will have you over the moon too. There are also wellness packages that include healthy meals, manicures and pedicures, or yoga classes within four hours of spa indulgence. Pre- and post-natal treatments are also available for mums-to-be and new mums respectively.
Full body treatments are priced from $180 for a 60-min body massage
Opening hours: 10 am to 10 pm
Click here for the spa menu.
---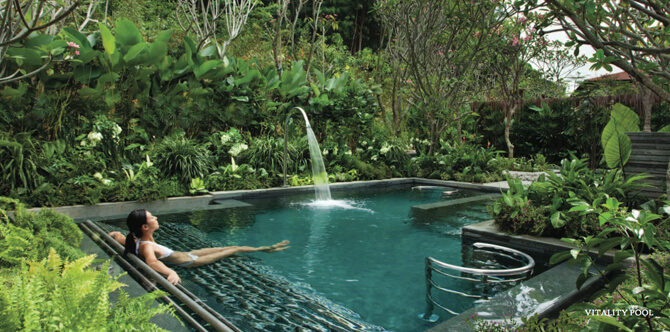 ESPA has won multiple awards over the years, including Luxury Resort Spa – Country Winner at the World Luxury Spa Awards 2016, Best in Singapore at Spafinder Wellness Travel 2016, and Most Pampering Treatment at Her World Spa Awards 2015.
Located at Resorts World Sentosa, ESPA boasts a host of pampering facilities within its 10,000-sq ft premise, including Singapore's first authentic Turkish Hammam, forest onsen-style pools, and a spa café.
Try the Indulgence Hammam Ritual ($225), which starts with a body scrub, followed by a full body foam massage, a marine mud body mask with aromatic oils, and ends with a hair cleanse and conditioning treatment.
If you're wondering if this place is worth all the hype, even Joel Robuchon, the most Michelin-starred chef in the world, has given his endorsement on the spa's website. So all you need now is to find a good excuse to indulge!
Full body treatments are priced from: $125 for a 25-min Hammam cleanse (Turkish body scrub)
Opening hours: 10am to 10pm (for treatments), 9am – 10pm (for spa facilities)
Click here for the spa menu and here for the prices.
---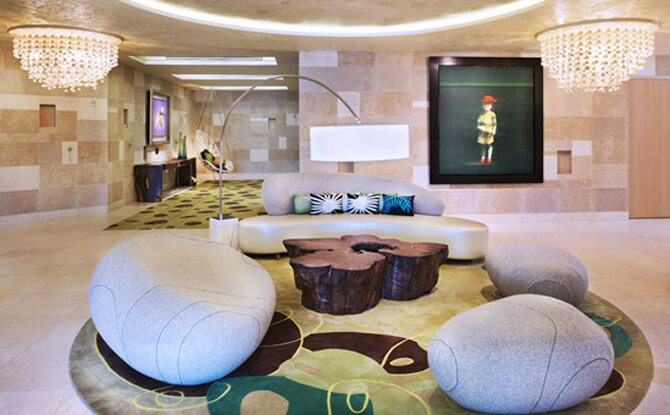 The multi-awarded Away Spa at W Singapore, Sentosa Cove stands out with its futuristic chic interpretation of the rainforest theme. Warm wooden structures, comforting neutral tones, and larger-than-life expressions of nature at the reception area give way to a decompression area in glowing hues of blue, purple, orange, and green. (The decompression area is where you can enjoy the vitality pool, herbal bath, experiential showers, and other facilities prior to your treatment.)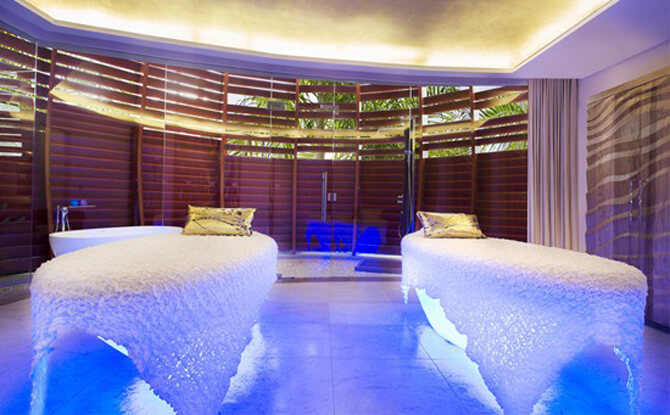 Elongated oval treatment beds are illuminated in a comforting blue at the treatment rooms, each with a private outdoor shower attached. Now, time for the pampering. The signature Away Massage ($250) promises to "soothe you from head to toe", with the perfect blend of oil customised for your needs by the "spa mixologist" using the "latest massage techniques".
Cool way to relax, huh?
Full body treatments are priced from $90 for a 45-min body scrub
Opening hours: 10 am to 10 pm
Click here for the spa menu.
---
So, this is the largest So Spa in the world. So Spa Singapore is located at Sentosa Resort & Spa and boasts 14 indoor treatment rooms, six outdoor pavilions with private gardens, a mud pool, and a float pool with cascading waterfalls.
It took over the premises from Spa Botanica, which closed in 2014. But don't worry, only light renovations and refitting were done, to preserve the colonial charm of the 19th-century building that the spa is housed in.
As for its treatments, So Spa's philosophy is to match ancient traditions from around the world with the latest in French cosmetology, giving rise to unique treatments such as The Sentosa Massage (from $180).
Another interesting option is the Mummy Time-out package ($310), which includes one hour of pre- or post-natal yoga followed by one hour of massage and a healthy lunch at the spa's Garden Restaurant.
A very attractive facility at So Spa Singapore is the Villa Des Enfants, a kids club where you can leave your little one for two hours for free with every $180 you spend on spa treatments or food and beverages. So even if your babysitter bails on you at the last minute, you're covered!
Full body treatments are priced from $100 for a 30-min Hammam mini sampler
Opening hours: 10 am to 9 pm
Click here for the spa menu.
---
Spas in the South of Singapore
A little north of Sentosa, on the southern end of mainland Singapore, three spas with totally different concepts stand out from the crowd.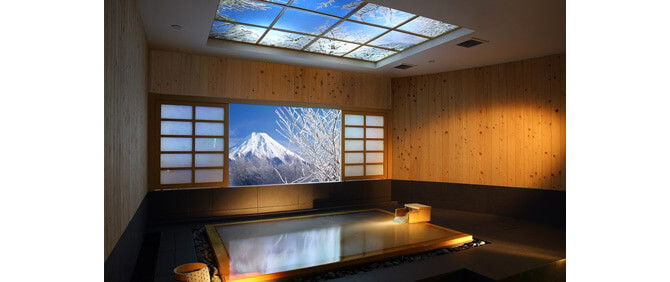 Ikeda Spa Prestige was opened in 2013 at Clarke Quay and has since been winning a whole string of recognition from prestigious organisations including the World Luxury Spa Awards and Tripadvisor, and magazines such as Harper's Bazaar, Her World, and Style.
Designed around the concept of ryokans from the Edo period, the spa offers the first Hinoki Onsen Bath ($80) experience here in Singapore. Once reserved for royalty, Hinoki is Japan's most prized cypress wood with a soothing scent and anti-bacterial properties.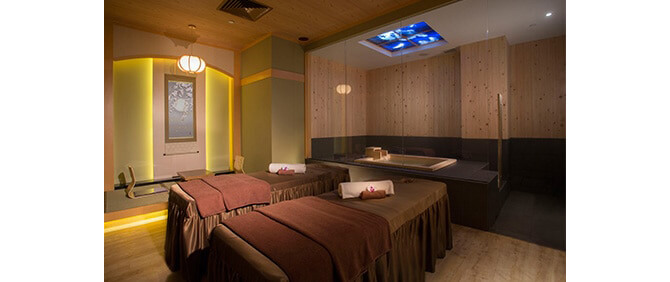 Its Zen Candle Therapy Massage (from $180) is also one of its signature treatments. Voted "Best Tension Relieving Massage" in Singapore, this massage uses Ikeda's own customised massage zen candles to create a nourishing salve for the skin.
Although it's not a body treatment, we'd like to make a special mention of the Geisha Organic Facial ($240). This facial treatment uses UV-sanitised nightingale droppings, apparently a traditional beauty secret kept by geishas in Japan!
Full body treatments are priced from $80 for a 30-min body scrub
Opening hours: 1 pm to 10 pm
Click here for the spa menu.
---
From traditional Japanese, we move on to Traditional Chinese Medicine (TCM)-inspired treatments at The Spa at Mandarin Oriental.
The Mandarin Oriental Signature Spa Therapies ($330) is developed in consultation with TCM specialists and master aromatherapists to combine the beneficial effects of oriental meridian massage and custom-blended essential oils.
If this doesn't move you, how about a four-hand massage – Oriental Harmony ($510) – that begins with a soothing foot bath, followed by a warm scrub and indulgent massage performed by two therapists working in sync with each other, and ends on the ultimate high with a simultaneous head and foot massage? Extremely pricey, but worth considering if you're celebrating an important occasion like your wedding anniversary.
Full body treatments are priced from $270 for a 90-min body massage
Opening hours: 10 am to 11 pm
Click here for the spa menu.
---
For a massage with a view, Heavenly Spa is the place to be. Located high up on level 35 of The Westin Singapore, the spa offers gorgeous views of Chinatown in five out of its six treatment rooms.
We recommend the Heavenly Massage (from $160), voted "Best Relaxing Top-to-Toe Experience" by Harper's Bazaar Singapore in 2016. In this treatment, a heated compress is used to relax muscles before your body is kneaded to submission with firm Swedish strokes. If this doesn't take you to cloud nine, we don't know what will.
Full body treatments are priced from $80 for a 30-min body massage
Opening hours: 10 am to 10 pm
Click here for the spa menu.
---
Spas in the West of Singapore
With a safari-themed spa in this part of Singapore, it's indeed the "Wild Wild West". At Masego, you get to enjoy your treatment in one of 14 canopied tents, lulled to total relaxation by the humming of tropical birds and the pampering therapy performed by skilled hands.
Located within the SAFRA Jurong compounds at Boon Lay Way, Masego has 16 spa treatments on its menu. Not exactly an extensive list. But the spa does have interesting selections such as Cleopatra's Sandbath Detox Therapy, an ancient Egyptian remedy that will have you immersed in a tub of heated sand that has been treated with aromatic salts and herbs!
Another plus point is its late closing hours – 1 am daily! You can even wait till your child is asleep before sneaking out to be pampered! (As long as there's someone at home for the little one!)
Opening hours: 11 am to 1 am
Click here for the spa menu.
---
The Ultimate Resort Spa is the suburb outlet of The Ultimate Penthouse Spa located at Shaw Centre. Nestled within the lush greenery of the Bukit Batok Civil Service Club, The Ultimate Resort Spa offers 8,000 sq ft of tranquillity and makes sure that you're spoilt for choice with its long list of available spa treatments.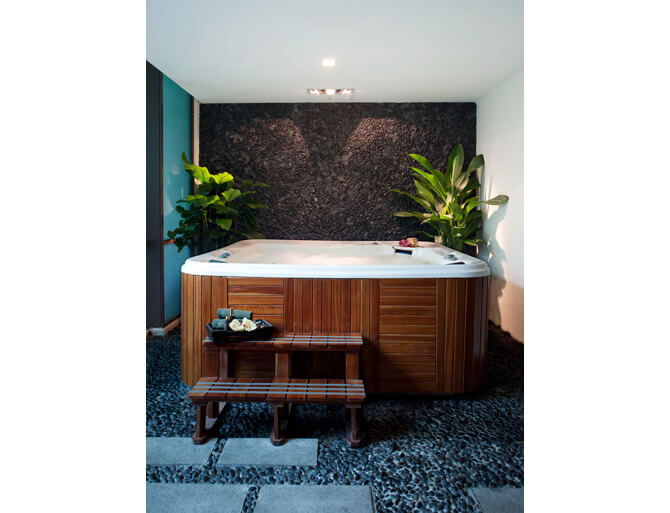 The spa has been awarded "Best City Retreat" by Harper's Bazaar and "Best Resort Spa" by The Singapore Women's Weekly.
Here's one promotion you have to take advantage of at the Pavilion Spa Special. For just $198 nett per couple, you'll each enjoy a full body massage and body scrub in a hillside pavilion that comes with its own Jacuzzi and ensuite bathroom. Just imagine, 110 minutes of total bliss, for below $200!
Full body treatments are priced from $128.40 for a 30-min body massage
Opening hours: 11am to 8.30pm (weekdays); 10am – 5.30pm (weekends)
Click here for the spa menu.
---
Spas in the East and North of Singapore
Located at Vibes @ East Coast along Telok Kurau Road, Spa Aperial uses the award-winning BABOR STEMCELL products from Germany in all its treatments, performed in rooms with beautiful sea view wall murals.
Although it's known more for its facial therapies, the spa has received good reviews for its Body Hot Stone Therapy (from $98) and has been recognised by World Luxury Spa Awards,
European Health & Spa Award, and the like.
Full body treatments are priced from $98 for a 60-min hot stone therapy
Opening hours: 12 pm to 9 pm (Mon – Fri); 10 am to 7 pm (Sat and Sun)
Click here for the spa menu.
---
This spa chain has eight outlets, two of which are located in the north at the Orchid Country Club in Yishun and Upper Thomson Road and one in the east at the CPF Tampines Building.
On top of being very accessible, Healing Touch is also well awarded, having won the Cleo Body Awards 2016, Women's Weekly Spa Awards 2016, and received the Certificate of Excellence from Tripadvisor in 2016.
At $55 for an hour of body massage, its treatments are the lowest-priced among the spas mentioned here. Yet, their quality has been tested and approved publicly. The spa's Deep Tissue Massage, for instance, has been a Women's Weekly Spa Awards winner two years in a row, in 2015 and 2016.
While you won't get all the frills that you enjoy at the pricier spas, you'll be able to indulge in more massages with the same budget. It's all up to you: decadent indulgence or functional relaxation?
Full body treatments are priced from $35 for a 30-min body scrub
Opening hours: 11 am to 10.30pm
Click here for the massage menu.
Top image via Visualhunt.com
---
---