Burger King has launched a pair of Mentaiko Burgers, just in time for Chinese New Year 2019. The Salmon Mentaiko Burger features a salmon fillet (made from Hokkaido salmon) with a layer of Mentaiko sauce. The other contender is the Mentaiko Double CHICK'N CRISP burger which features two crisp chicken patties and the Mentaiko sauce.
Curious to find out what the Mentaiko Burgers at Burger King tasted like, we made our way to our nearby Burger King outlet to pick up the pair of burgers for a taste test.
A Mentaiko Burger meal costs $6.90. Burger King also has a bundle which we picked up. The Mentaiko Burger bundle consisted of a choice of burgers (we got one Salmon Mentaiko and one Double CHICK'N CRISP), two Sjora drinks (either Mango Peach or Strawberry Kiwi) and a Four-Tune Box for $18.
The Burger King For-Tune Box (what a name) holds fries, chicken nuggets, cheesy potato tots and onion rings.
Burger King Mentaiko Double CHICK'N CRISP Burger Taste Test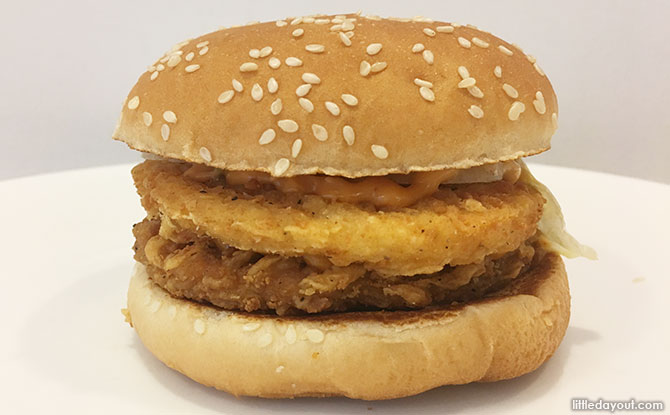 The first burger that we tried was the Mentaiko Double CHICK'N CRISP burger. The first thing that we noticed was the chicken patties were especially thin. As we bit into the burger, we also discovered that the consequence of the patties being thin was that the chicken patties were extremely "well-fried". Perhaps, that's why it is so "crisp".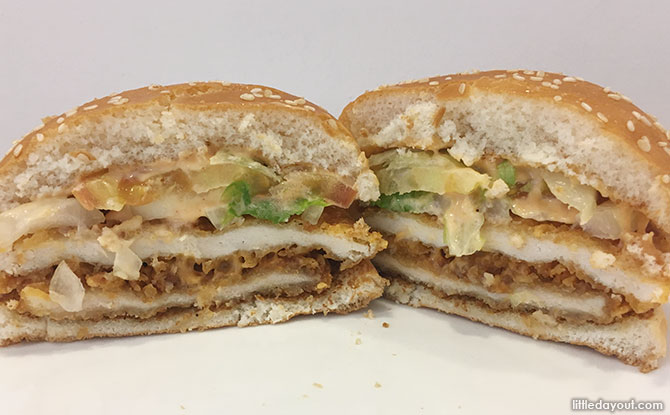 The Mentaiko sauce was rather mild. At first, our first reaction to it was "oh no, not again", a carry over from our taste test of the McDonald's Salted Egg Yolk Loaded Fries, however, after a few more bites, we found that the vegetables in the burger helped to balance off the taste. If anything, the fresh onions added to the flavour of the burger.
Burger King Mentaiko Salmon Burger Taste Test
Next, we moved on to the Mentaiko Salmon Burger. Thankfully, this time around, the salmon patty was thicker than those found in the Mentaiko Double CHICK'N CRISP Burger. We were hoping for the patty to have flaky texture (like the patties in Yoshinoya's Salmon Bowl) but sadly it was not to be.
What irritated us the most was that the bun on the burgers started to crumble as we handled it. Come on, it's just the bun… how could that go wrong?
We were looking forward to trying out the Mentaiko Burgers At Burger King and, in that respect, our curiosity had been satisfied even though our palate had not.