Spicy Chicken McNuggets, Curry Sauce Bottle, French Onion Shaker Fries, KIT KAT McFlurry and Purple Sweet Potato Waffle Cone have appeared at McDonald's Singapore stores, for a limited time only. We headed down to check them out.
McDonald's Spicy Chicken McNuggets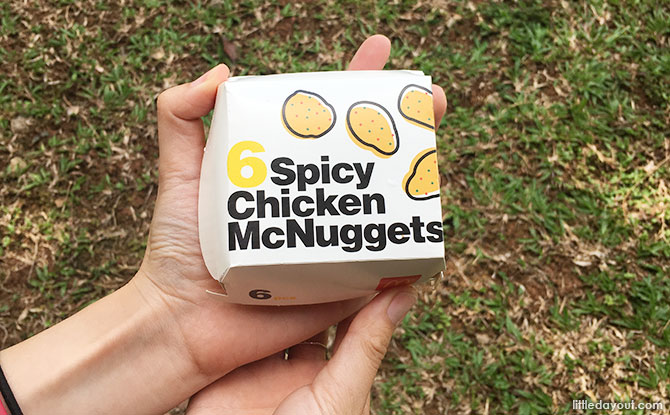 Almost matching the scorching heat over the last few days was the Spicy Chicken McNuggets. These are available in either six, nine or 20 piece servings ala carte at $4.85, $6.40 and $12.50 respectively. They are also available in a Happy Sharing Box where 12 pieces of the Spicy Chicken McNuggets and eight pieces of McWings come together for $12.85.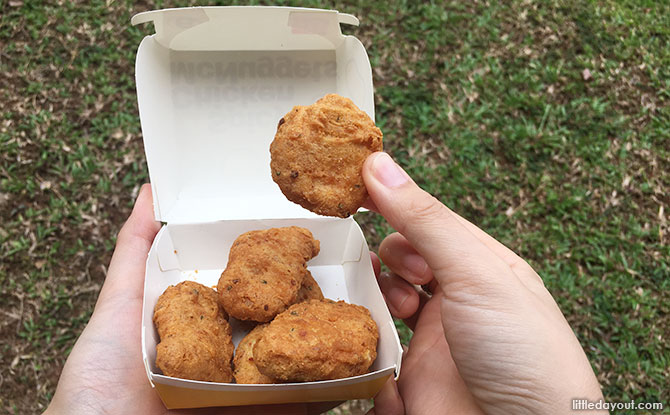 At the Little Day Out office, we tucked into them and got a mixed reaction. For those who don't like spice, it was a bit too much. For others, it was pure pleasure with the scintillating chilli making it almost good enough to munch on without any dipping sauce.
McDonald's Curry Sauce Bottle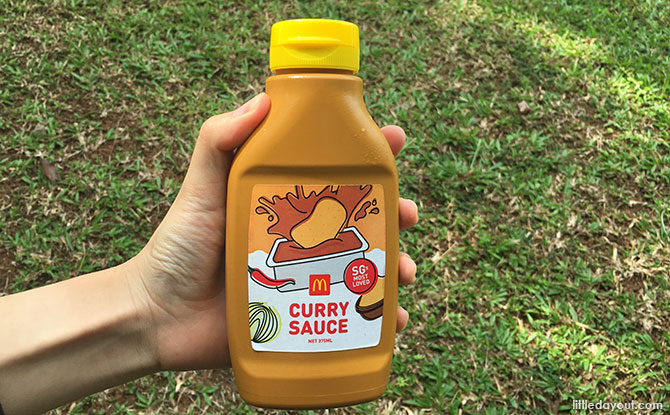 Speaking of dipping sauces, McDonald's Singapore is also offering its coveted (one more tub, please) Curry Sauce for sale in a bottle. The McDonald's Curry Sauce Bottle is available at $5.50 with any purchase of McNuggets (both original and spicy). However, it is not available for purchase with Chicken McNuggets Happy Meals.
---
-- Story continues below --
However, there is a quota on how McDonald's Curry Sauce Bottles you can purchase – a maximum of four bottles with every McNuggets purchase.
French Onion Shaker Fries are available with any upsized Extra Value Meal. We tried the French Onion Shaker Fries and once the fries were coated with the seasoning powder, it reminded us of a bag of potato crisps.
KIT KAT McFlurry
To round off the meal, we had the KIT KAT McFlurry, available from $3.10. It came in bright, red KIT KAT cup – part of the co-branding between McDonald's and KIT KAT.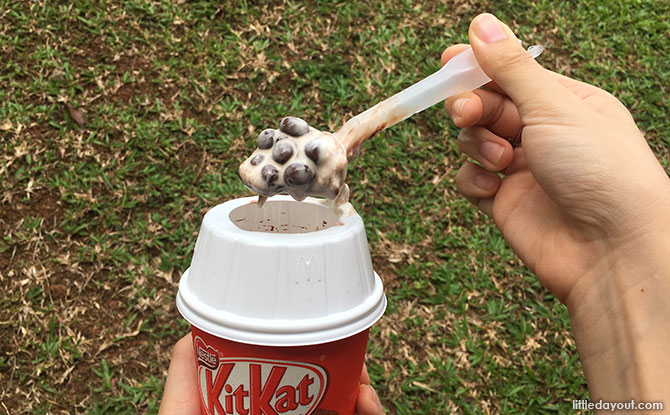 Inside the KIT KAT McFlurry was vanilla soft-serve "flurried" with chocolate sauce and KIT KAT Bites. This initially confused our taste buds as we were expecting wafer sticks. Overall, it was just alright.
McDonald's Singapore is also offering a Purple Sweet Potato Waffle Cone at its Dessert Kiosks from $2. We didn't have a chance to give that a taste test but, perhaps, sometime soon.