Also known as Takino Suzuran Hillside National Park, Takino Park is a large 400-hectare park and the only national park in Hokkaido. Just an hour's drive out of Sapporo, it can be reached by car or a combination of subway and bus.
If you enjoy nature, Takino Suzuran Hillside National Park is sure to delight. There are multiple zones within Takino Park with wide expanses of open spaces, flower fields, forests and waterfalls you can explore and take in. There is even a designated campsite in the park to experience the Hokkaido outdoors overnight.
Summertime Buzz At Takino Park
Being summertime when we visited and with our kids in tow, we spent our time at Takino Park's Chushin Zone where there are playgrounds and F&B outlets.
The play areas at Takino Park come in different, innovative forms.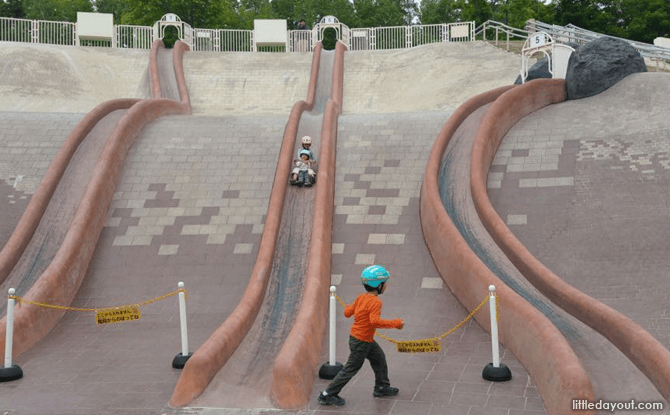 There are gentle slides built into the hillside slopes. Take note that kids will need to put on a helmet (free) before they go on to the slides.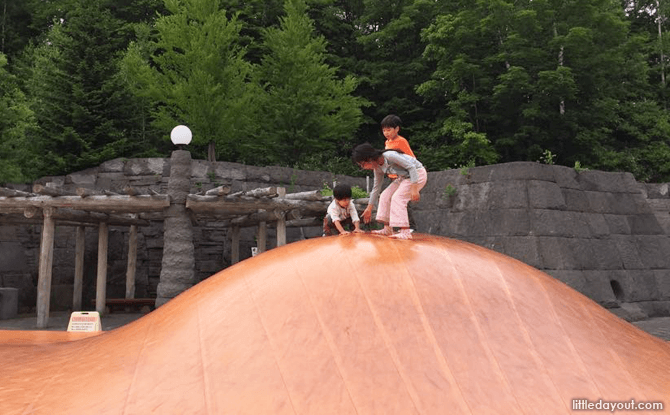 For a different take on a trampoline park, head over to the "ants nest". This is an area where there are springy miniature mounds where kids will have a whale of a time bouncing up and down on.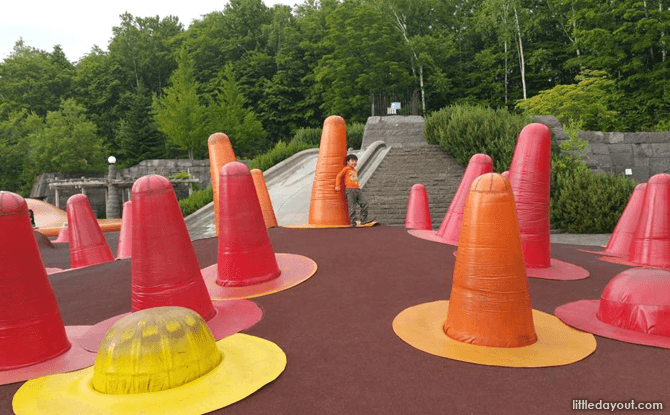 Another weird and whacky play area consists of red, air-filled plastic pylons protruding out of the ground. These provide a fun environment to play catch with the kids.
Other nature-inspired play structures around Takino Park invite exploration.
If the weather gets bad, there is also an indoor play area strung out with bouncy rainbow nets.
Rolling Fun
Back outdoors, a fun (for the kids) but tiring (for the adults) activity consists of a set of oversized, red, bouncy balls. Roll the balls up the hill and let gravity send them downhill. It is a simple but fun activity to do with the kids.
Takino Suzuran Hillside National Park offers wonderful playtime for families with young children. Activities at the park (along with the opening times) vary from season to season.
In winter time, Takino Park turns into Takino Snow World with skiing, snow-tubing and other winter activities.
There are also restaurants and other rest facilities within the park where you can get food and drink. There is a small admission fee to enter Takino Suzuran Hillside National Park.
Find out more information at the Takino Suzuran Hillside National Park website.
Takino Suzuran Hillside National Park
Address: 247 Takino, Minami Ward, Sapporo, Hokkaido 005-0862, Japan
Website