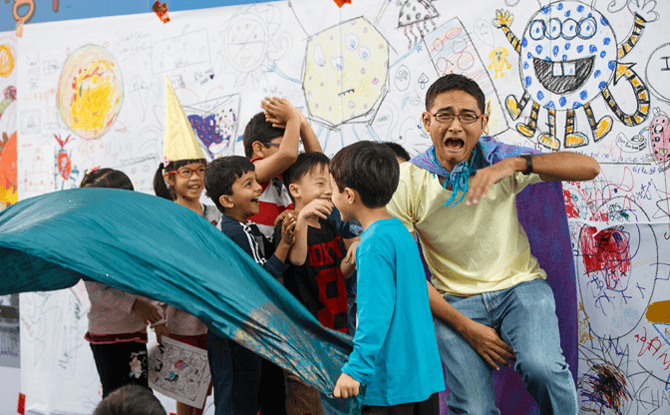 The annual children's programme at the Singapore Writers Festival (SWF), Little Lit!, takes on a new form at this year's edition as SWF3, or SWF For Families. This time, it's not just fun for the kids—there'll be family-friendly programmes for the little ones, teens, parents and guardians as well.
We speak to co-curator Roger Jenkins and discover five cool things to look forward to at this year's festival!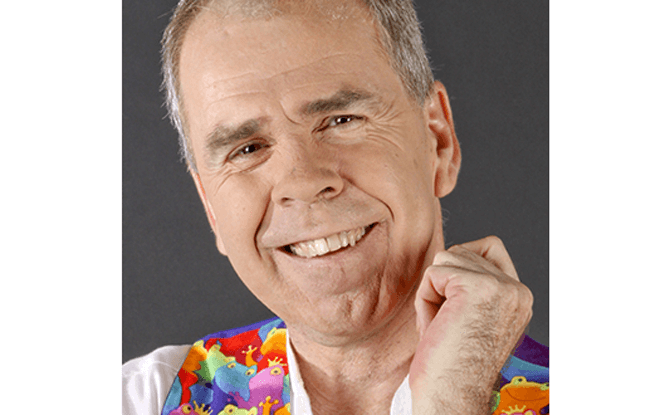 Roger Jenkins
1. Getting Up Close with Award-winning Authors
---
-- Story continues below --
This year, the littlest ones (4 to 6 years) get to meet award-winning authors such as Chris Haughton, Ah Guo, Sarah Mounsey and Emila Yusof, while older kids (7 to 12 years) hobnob with Rob Cowen, Paro Anand, Lianne Ong, AJ Low and more. There's even an event by the To S.I.R (Socially Inclusive Reads) With Love team, suitable for children with dyslexia or visual impairment.
"It's an almost completely different cast of people that I curated last year and it just shows the amount of diversity that we have in Singapore and the talent that the Festival is able to attract," says Roger Jenkins. "A lot of children have the fantasy that they'd like to be writers and here they get to meet the authors and there's a lot of excitement realising that authors are real people too!"
Chris Haughton
Sarah Mounsey
 2. Hands-on Fun as Books Come to Life
It's not just letters on a page when books take on the form of indoor jaunts, creative storytelling, workshops and crafting.
"It's a very varied programme that we have this year!" says Roger. "Parents should be able to find something for their kids, whether they're into fantasy or something more factual like dinosaurs or whatever, or whether they would rather do something more bookish, or hands-on like crafts."
Kids can look forward to lots of hands-on activities like a Drum Circle workshop with Ivan Harris, DIY dreamcatcher art and even an all-out Pirate Party!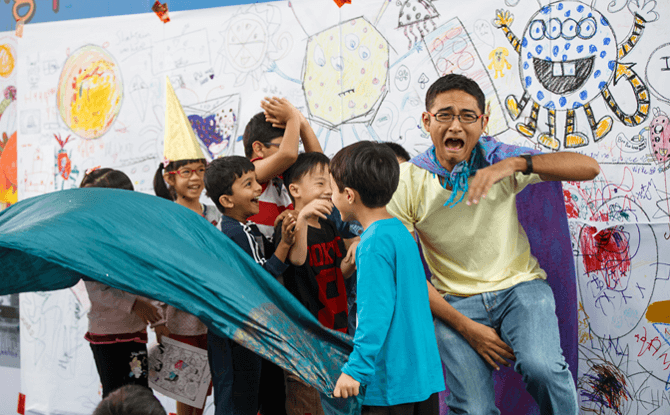 3. Falling in Love with Your Mother Tongue… or Someone Else's!
Storyteller Adib Kosnan will be reading three tales that make up the myths of Singapore in Malay; the story of Jalebis And Flying Trees will take flight with a reading in Tamil by Grace Kalai, while author and illustrator Ah Guo will take you on a Picture Book Picnic in Mandarin.
These special bilingual tellings are easy to understand and useful for engaging children in their mother tongues – join in even if you can't speak the language!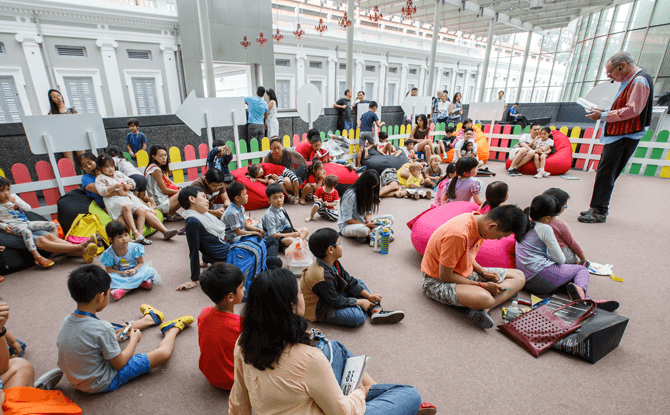 4. Fun for the Big Kids
Something brand new to this year's line-up are a slew of programmes for teens in the form of a cool new Young Adult track, starring the likes of Rachel Hartman, Whiti Hereaka, Joyce Chng and Joyce Chua. Provocative panel discussions will touch on anything from the romance trope in YA novels to the dark side of writing for young minds.
"We've expanded the programme to include activities for older kids as well. And as a parent of the thirteen year old myself, I think its important that we're doing something to bridge this gap into young adulthood," says Roger.
5. Fun for Mom & Dad Too!
"The parents are the ones who are gonna be bringing their children down to the festival, so this year we've made it so that there's something for them too," says Roger.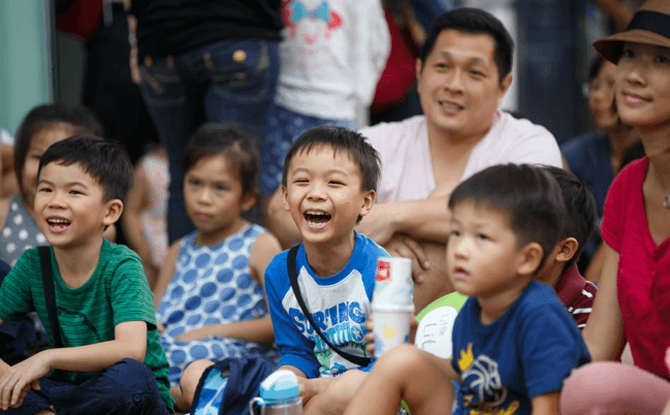 "I'm holding a workshop on reading aloud and how to make books come alive. It's not going to be just me talking, I'm going to get you to read aloud and basically drop some pebbles into the pond and let you think 'Oh! I can try this, or I can do that at home.' I'll get you to involve your child in the reading by getting them to supply details or respond or predict, and make it more interactive. It's special bonding time where you snuggle up with your child with a book, and we're going away from the idea that reading is a parental duty to something to look forward to and treasure."
What's more, when not joining their kids in the activities, parents can commiserate with one another in 'Help, My Son Doesn't Read', and learn how to broach tough issues with your children in 'Tell Them The Truth'.
Don't forget to find
time to grab books from the SWF3 bookstore, run by Closetful
of Books, and get first-hand information
on what's new and awesome in the children's books market at various book launches.
Want to find out more about the exciting programmes taking place for families? Get your FREE and handy Little Day Out's Guide to the Singapore Writers Festival for Families 2015 below.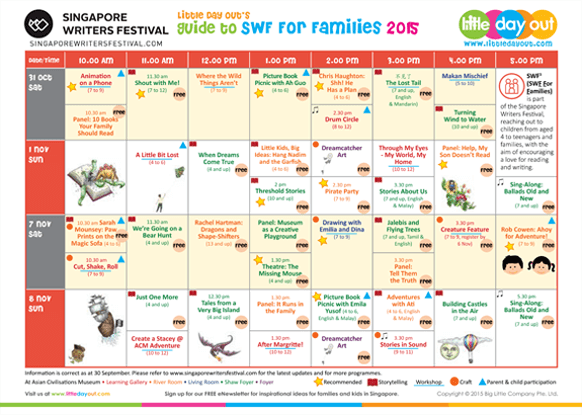 SWF For Families
30 October to 8 November
SWF3 events are mainly held at Asian Civilisations Museum. Other venues include The Arts House and Timbre Music Academy.
FREE to $20
Tickets available via SISTIC, www.sistic.com.sg.
Click here to view the Ticketing Guide.
Visit www.singaporewritersfestival.com for more details.
For a full list of SWF3 programmes, refer to the online SWF for Families programme guide.
With the exception of the ticketed workshops, SWF3 events are free admission, on a first-come, first-served basis. Tickets for the workshops can be purchased from www.sistic.com.sg or at all SISTIC outlets. Please purchase tickets/arrive early to ensure getting a seat as venue capacities are limited.
Registration is not required for free programmes, except for Creature Feature Workshop, which requires registration by 6 Nov at www.singaporewritersfestival.com.