There are plenty of reasons to visit the STAR WARS Identities exhibition at ArtScience Museum. Whether you are a decades-old, die-hard fan, or a family looking to discover something new together, the new blockbuster exhibition has you covered.
It was original intended to be staged in 2020, but put off till now thanks to you-know-what, Singapore is the last stop of the STAR WARS Identities exhibition. It has been touring around in North America, Europe, Australia and Japan.
And we are glad that ArtScience Museum and their partner Pico Pro has managed to stage it in Singapore.
---
Original Movie Props, Costumes & More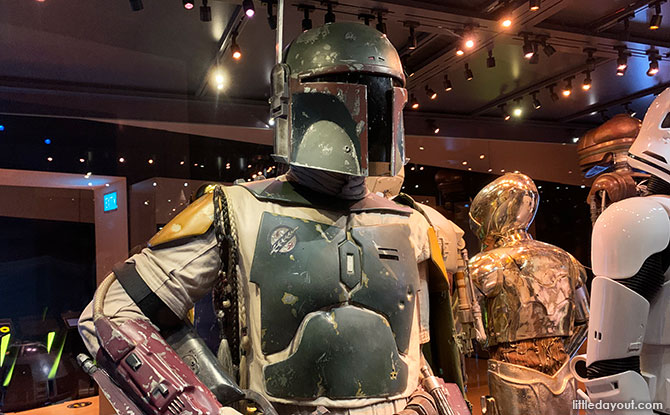 STAR WARS Identities features 200 props, costumes and artefacts. Items are drawn from the Lucas Museum of Narrative Art's collection of 200,000. These are not reproductions but the actual items which appeared on the big screen.
The items mainly come from the original three movies, Episodes IV, V and VI, and from the Lucas prequels Episode I, II and III. However, ardent fans will also recognise some items from 2015's The Force Awakens as well.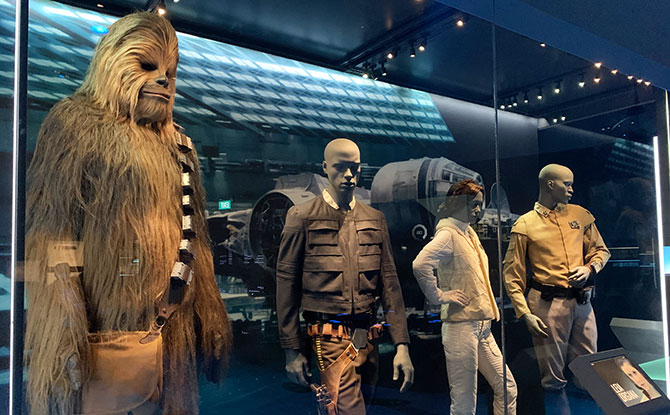 To say that the props and costumes on display at STAR WARS Identities are iconic would be an understatement. The majority of the principal characters – both good and bad – are represented.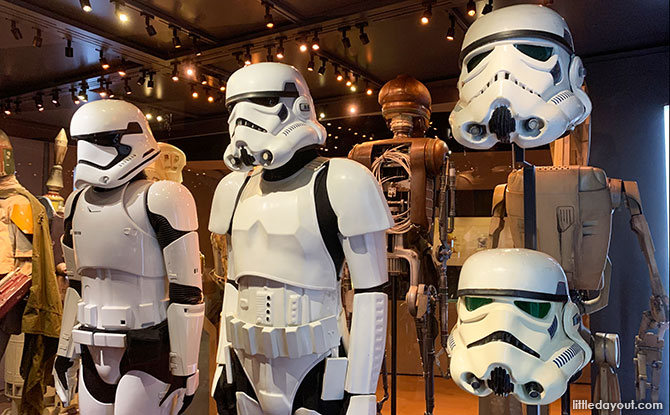 These include costumes worn by the stars and even versions of stormtrooper armour. Even the infamous golden bikini worn by Princess Leia is in a showcase!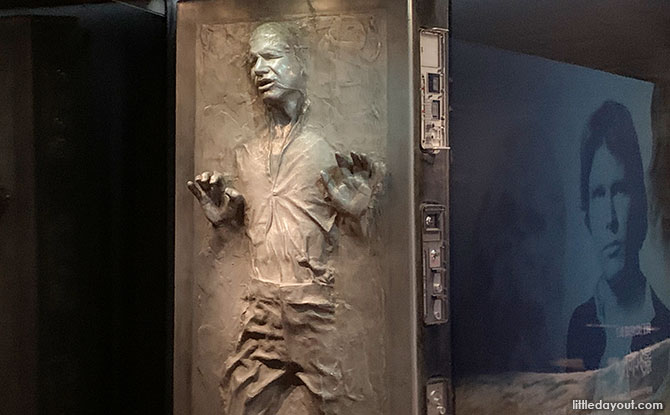 Among the props is Han Solo encased in carbonite after being betrayed by Lando Calrissian in The Empire Strikes Back. The life-sized prop was cast from Harrison Ford's face and hands while a stand-in was used for the body.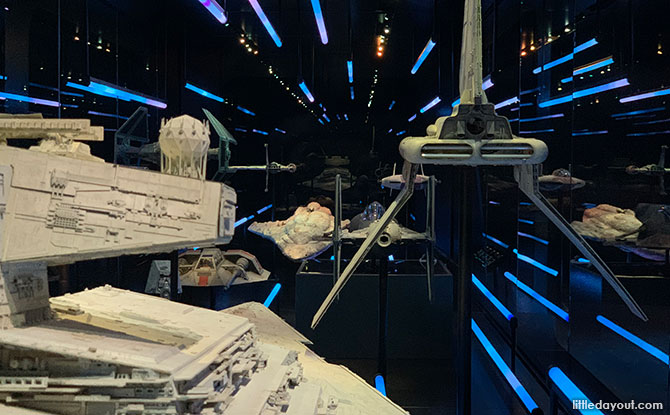 STAR WARS Fans will have a field day gawking at models of the ships from both the Empire and the rebels.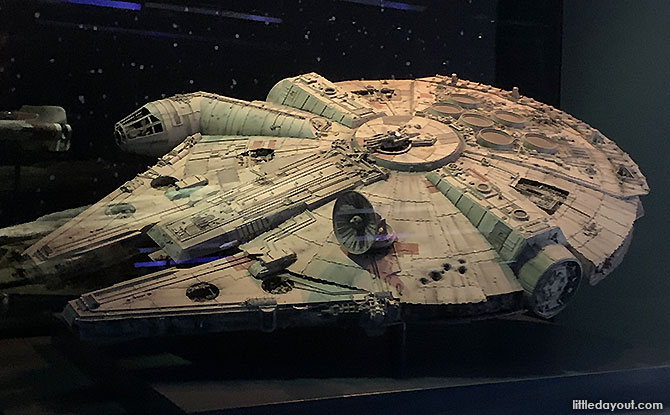 Among the 13 models is the Millennium Falcon model from 1980. Look closely at the cockpit and see if you can spot Han piloting it.
No less important is the concept art for Star Wars. These capture the genesis of the universe, development of characters and George Lucas' overall genius.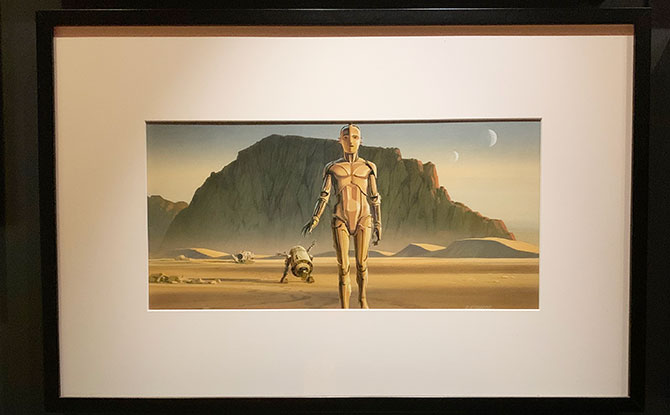 Among the priceless artefacts is an original artwork by Ralph McQuarrie which Lucas commissioned to sell the idea of Star Wars to studio executives. Without it, the Star Wars universe may never have gotten the green light for production.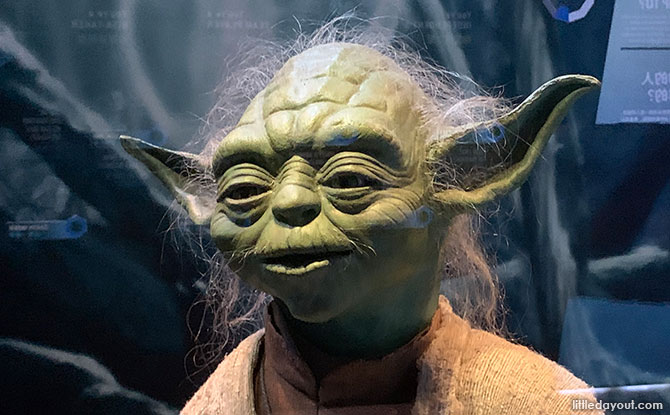 A Yoda prop from The Phantom Menace is sure to attract plenty of attention. Did you know that Yoda was originally conceived as a gnome-like character but eventually evolved to the wise Grand Master of the Jedi Order? Fun fact: the muppet maker who designed Yoda gave him wisps of grey hair in homage to Albert Einstein.
---
Interactive Character Building: Your Own Hero's Journey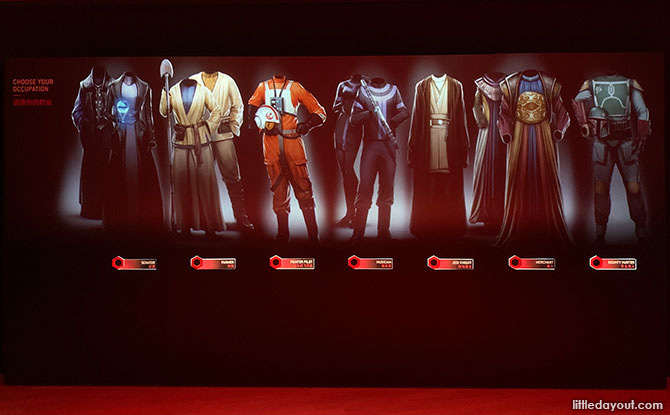 More than simply a collection of Star Wars artefacts, Star Wars Identities is really an interactive exhibition which deals human identity and how who we are as people is shaped over time. Its interactive nature makes it especially great for families with children.
The exhibition was created with inputs from scientists and experts in education. It places the visitor at the centre of the experience through the use of interactive stations where decisions and choices help to shape a final STAR WARS character. These interactive stations run in parallel to the hero's journey of Anakin Skywalker and Luke Skywalker.
The STAR WARS Identities exhibition explore on how our origins, influences and choices we make shape our personal identities. These are themes that will resonate with parents who have children in their formative years. There is even as an interactive station where choices on parenting style comes to the fore.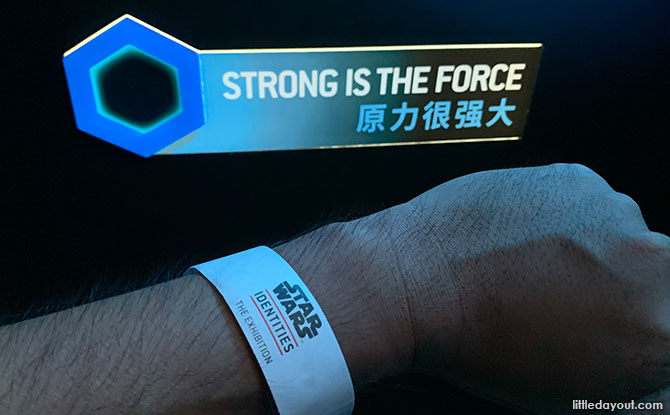 At the beginning of the exhibition, you are invited to create an original Star Wars character by selecting from 15 Star Wars races or ethnicities. These choices are captured in a RFID wristband that is used throughout the exhibition.
The choices made throughout the exhibition will eventually shape your final character. It is a study of nature, nurture and life choices, all within the context of the STAR WARS universe.
What you have become gets revealed at the end of your own hero's journey. Will you choose the Light side of the Force or succumb to the temptations of the Dark Side?
STAR WARS Identities at ArtScience Museum is a fascinating exhibition on many levels. It is a good chance for fans and soon-to-be-fans to experience a "galaxy far, far away". What's more, you can even make use of your SingapoRediscovers Vouchers to purchase tickets.
We think that Yoda would say, "Visit it, you must!"
---
STAR WARS Identities: The Exhibition at ArtScience Museum
When: 30 January to 13 June 2021
Where: ArtScience Museum, Marina Bay Sands
Book tickets to Star Wars Identities.
This story contains affiliate links. This means we earn a small fee if you purchase something through a link from our website. There is no additional cost to you and goes towards supporting Little Day Out's efforts to deliver the best news and reporting for families.