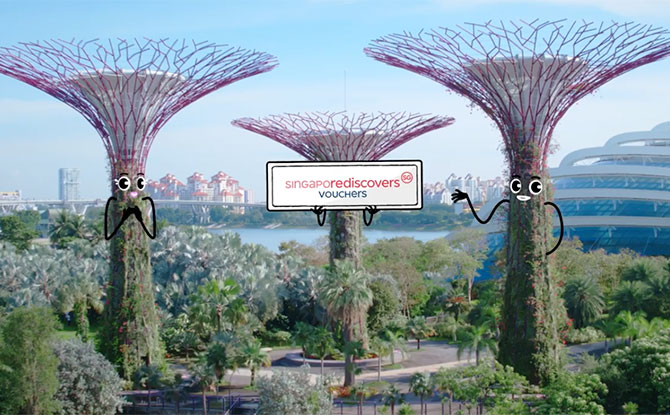 If you are like many Singaporeans, you are looking forward to rediscovering Singapore with the SingapoRediscover Vouchers. Here's a step-by-step guide on how you can make use of the SingapoRediscover Vouchers once they become available from 1 December 2020.
---
Rediscovering Singapore
The SingapoRediscover Vouchers will be available to all Singapore citizens aged 18 and above in 2020. You can redeem these vouchers between 1 December 2020 and 30 June 2021, covering three school holiday periods. However, you can also choose to use the SingaporeRediscover Vouchers during non-school holiday periods too – which could be better since there would be fewer crowds at the attractions around Singapore.
The SingapoRediscover vouchers will be worth a total of $100. These are available in denominations of $10.
Singaporeans who are above 18 years old will also be able to purchase up to six subsidised child or youth tickets – so that children and kids can enjoy our local, domestic tourism attractions too. There will be a $10 subsidy for each child or youth ticket.
Where To Redeem SingapoRediscover Vouchers Online: Authorised Booking Partners
Singapore Tourism Board has teamed up with five authorised booking partners for the online redemption of the SingapoRediscover vouchers. These are:
1. Changi Travel Sevices (also known as Changi Recommends)
2. GlobalTix
3. Klook & UOB Travel Planners
4. Traveloka
5. Trip.com
The use of the SingapoRediscover Vouchers will only be possible on these partner websites from 1 December 2020 onwards.
---
How to Use the SingapoRediscover Vouchers
In order to make use of the SingapoRediscover Vouchers, follow the steps below.
Step 1: Make sure you have your SingPass ready.
Online redemption of the SingapoRediscover Vouchers requires the use of SingPass. Those who do not have a SingPass account can register for one. Or, if you have forgotten your SingPass password, reset the password at singpass.gov.sg so that you can make use of it to redeem the vouchers.
Step 2: Visit a Booking Partner website and Look for Products with the SingapoRediscovers Vouchers icon
Head to one of the five authorised booking partner websites (listed above) and browse through the products available. Eligible products where the SingapoRediscover Vouchers can be used will be marked with a SingapoRediscover Vouchers icon.
Step 3: Add items to shopping cart & click "Use SingapoRediscovers Vouchers"
Select the experiences and dates and add them to shopping cart. When it comes time to pay, click "Use SingapoRediscover Vouchers" at the checkout page. This will send you to go.gov.sg/srvbalance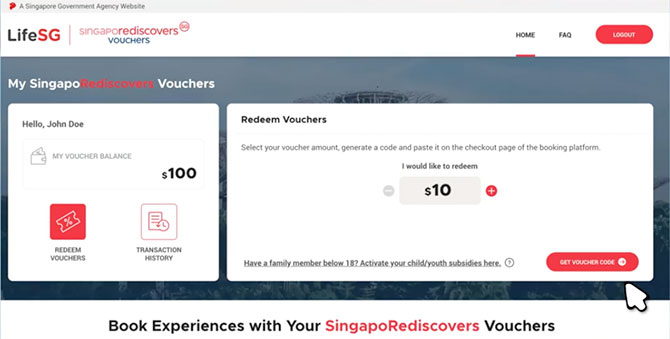 Step 4: Login using SingPass, Choose Amount of Vouchers to Use & Get Voucher Code
At the SingapoRediscover Vouchers website, you will need to log-in using your SingPass. You can choose the amount of SingapoRediscover Vouchers to use and to activate any child or youth subsidies, if applicable.
Take note that if you are purchasing child or youth tickets, you will need to details the details of family members under the age of 18. Any child or youth subsidies are automatically deducted from the checkout account.
You will then get a Voucher Code.
Step 5: Use the Voucher Code
Back at the authorised booking partner's website, you can then apply the Voucher code at the checkout page. If necessary, you will then need to pay any outstanding amount, if applicable. Be sure to complete the booking within 10 minutes and look out for your e-confirmation from the booking website.
---
Physical SingapoRediscover Vouchers Booking Counters
Authorised booking partners will also be providing assistance to those who need help in using their SingapoRediscover Vouchers at 69 locations across Singapore.
Most of these physical SingapoRediscover Voucher booking counters are located within Community Centres or within a 5-minute walk from Community Centres. Booking counters will also be available at selected malls and SingPost locations.
---
Getting More Help
An online guide on how to use the SingapoRediscover Vouchers is also available at go.gov.sg/srvouchers.
Eligible Singapore citizen will also receive a letter by 1 December 2020 with information on how to redeem the SingapoRediscover Vouchers.
Singaporean who need assistance can also call the SingapoRediscovers Vouchers hotline at 1800-2828-228 from 8 am to 10 pm daily.
---
Let's Rediscover Singapore
Singapore Tourism Board Chief Executive Mr Keith Tan said: "The SingapoRediscovers Vouchers aim to support Singapore's tourism sector by stimulating domestic consumption of hotels, attractions and tours. We have designed the redemption process to be safe, easy and inclusive for all Singaporeans, and we hope that they will take this opportunity to support tourism businesses, while rediscovering what they love about Singapore."