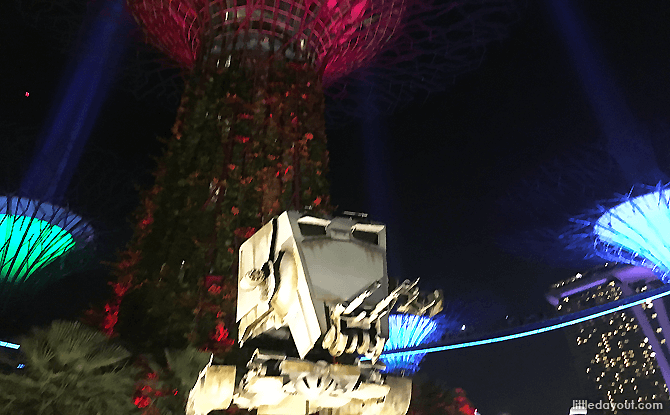 The space-age looking Supertrees at Gardens by the Bay is a perfect location for the Star Wars Day: May the 4th Be With You Festival.
This year, the Star War Day festivities in Singapore have taken on a much larger scale. Star Wars Day: May the 4th Be With You Festival celebrates not only the Star Wars universe but the 40th anniversary of the first Star Wars movie, A New Hope.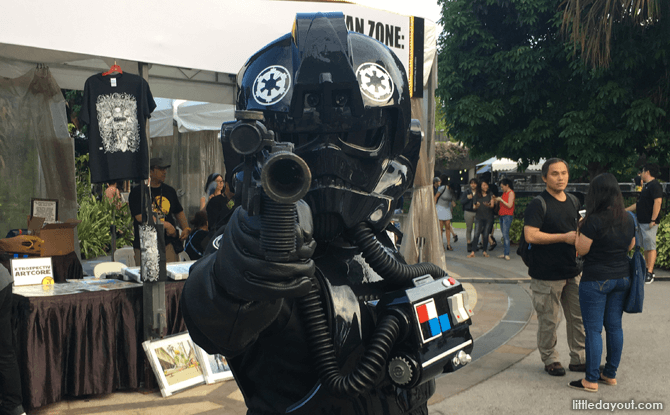 At the festival, you can mingle with stormtroopers, Jedi and other ilk from across the galaxy.
It seems all the Star Wars fans in Singapore have come out to soak in the Star Wars atmosphere at Gardens by the Bay's Supertree Grove.
Here are some highlights that Star Wars fans, both young and old, can look forward to at Star Wars Day: May the 4th Be With You Festival.
AT-ST Model
The All-Terrain Scout Trooper or AT-ST first made its appearance in The Empire Strikes Back in the Battle of Endor where it was seen chasing down cute Ewoks.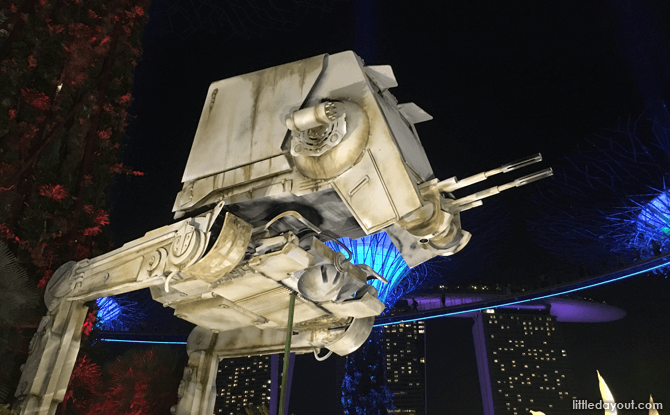 Now, you can view a towering 7-metre high model of the AT-ST at the Supertrees. Imagine what it would be like to be chased by the "chicken walker", as the AT-ST is colloquially known.
Meet-&-Greets
Sharing the spotlight for the Meet-&-Greet sessions are the villainous leader of the Knights of Ren, Kylo Ren, and Han Solo's first mate, Chewbacca. If you want to snap a pic with them, make plans to join the queue earlier as Meet-&-Greet passes are limited. You will also have to choose your allegiance as you can only join either the queue for Kylo Ren or Chewbacca at any given time slot.
Sabertrees and Garden Rhapsody: Star Wars Edition
Visit in the evenings and you will see the Supertrees transformed into giant lightsabers with beams of light piercing into the night sky. The SaberTrees installation took six months to realise and involved close to 40 lighting talents to pull off.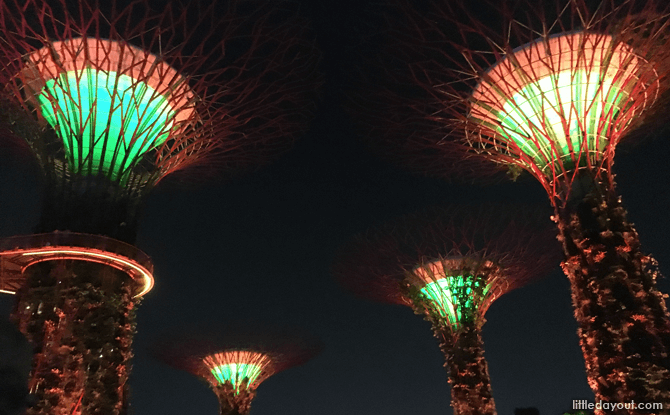 Until 2 June 2017, you can also watch a special Star Wars edition of the Garden Rhapsody light show at Supertree Grove. The Supertrees dance in lights to the stirring music from the Star Wars soundtrack, recalling scenes from the Star Wars movies.
Meet the Fans
Not only can you pose with fans dressed up as Star Wars characters, but many of them have also brought out their special collections to share with the public. Star Wars toys and precious collectibles are displayed under two categories, vintage toys and contemporary toys.
The former includes a display of toys action figures in tribute to Princess Leia.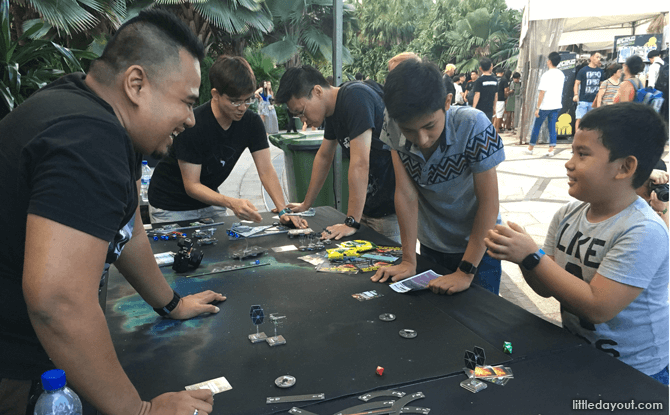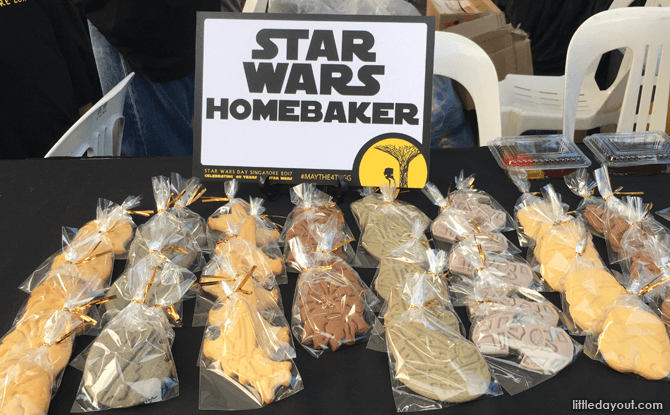 You can also try out Star Wars board games under the guidance of master gamers or even buy cookies in the shape of Star Wars characters.
Get a Doodle or Shoot a Baddie for a Good Cause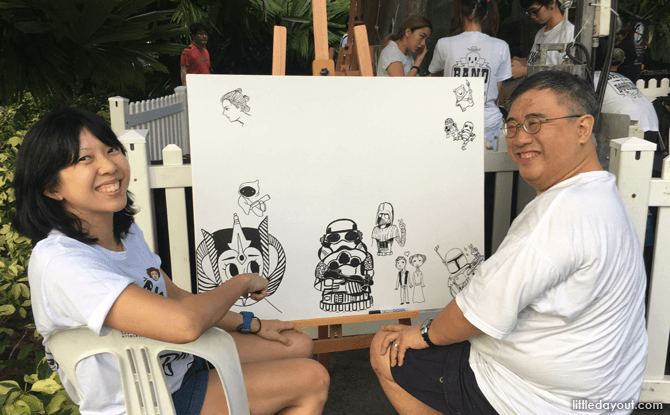 Watch the merry Band of Doodlers delightfully doing what they do best – doodling, of course!
For a $15 donation, you can get a caricature portrait done doodled. All proceeds go to the KKH Health Endowment Fund.
Alternatively, you can visit the Blast-a-Trooper station where a $5 donation lets you shoot a picture together with Star Wars characters. For $5 more, you get to shoot a nerf blaster at a stormtrooper.
Donations also go to the KKH Health Endowment Fund.
The KKH Health Endowment Fund raises money to make a difference in the lives of needy women and children who have been struck by illness. It also invests into research and education to better the health of women and children.
Make a Chewy Felt Toy
At the Singapore Toy and Comic Convention booth, you can make a Chewbacca out of felt in a simple craft activity. There is also a green screen where you can get a free photo taken to bring home as a souvenir.
Kids (and Kids-at-Heart) Zones
Young ones can engage in colouring activities at a kids colouring zone.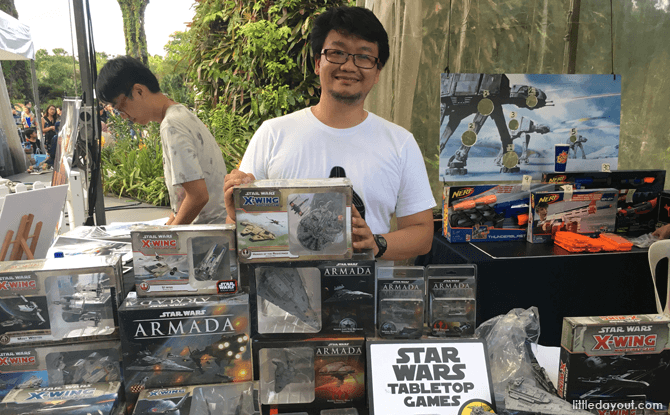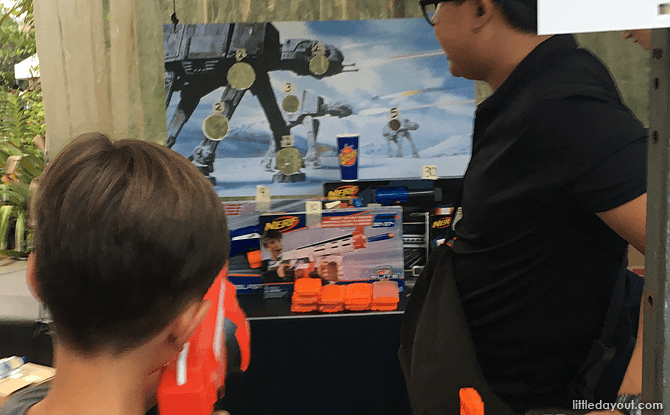 There are also stalls selling Star Wars merchandise and gaming areas.
Star Wars Silent Disco
On 5 and 6 May, indulge in a Star Wars themed Silent Disco on a grassy dance floor. There will be two DJs spinning hits interspersed with the Star Wars soundtrack. Pick up a set of headphones, close your eyes and pretend you have drifted away to the Mos Eisley cantina.
More to Come
The Star Wars Day: May the 4th Be With You Festival is organised by Esprimo and The Walt Disney Company Southeast Asia. It marks the start of a three-year collaboration between Singapore Tourism Board and The Walt Disney Company Southeast Asia.
Other Star Wars experiences fans can look forward to this year include Star Wars Force Friday II from August 31 to September 10, and Star Wars at the Singapore Toy, Game and Comic Convention from September 9 to 10.
In 2018 and 2019, the spotlight will shift to Marvel and Disney Animation/Disney Pixar respectively with more exciting events promised.
Star Wars Day: May the 4th Be With You Festival
4 to 6 May 2017
Supertree Grove, Gardens by the Bay
Free admission