Using a set of specially adapted syringes, a player manoeuvres a marble through a maze in A-maz-in Flower.
This toy, the creation of Joanna Chong, Primary 4 pupil from CHIJ Our Lady Queen of Peace, won first place at this year's Sony Creative Science Award's WhizKid category.
Along with Joanna, more than 7,000 other primary school students also took part in this annual toy-making contest, now into its 18th edition.

A-maze-in Flower, WhizKid 1st Place by Joanna Chong of CHIJ Our Lady Queen of Peace.
The competition was divided into two categories. In the ScizKid category, students were required to create a toy that demonstrated at least one scientific principle while the WhizKid category placed an additional requirement for them to incorporate a theme into their creation. This year's theme was 'Lift Me Up'.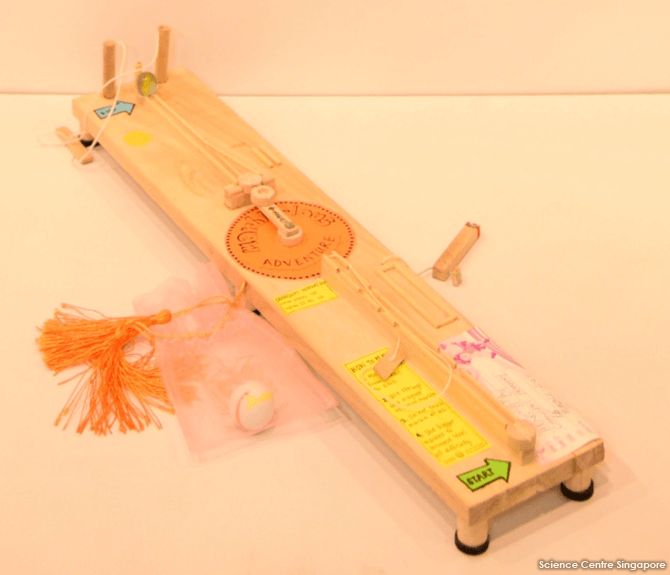 Marble-lous Adventure – WhizKid 2nd Place by Chua Jieyu and Heng Si Qi of Changkat Primary School.
In the ScizKid category (Primary 3 to 6 age group), Shakthee Sivakumar, Primary 4 from Compassvale Primary School, took the top honours for her toy, Lifting Game. The toy utilises bottle caps, syringes and styrofoam cups to create a course for players to navigate a ball through.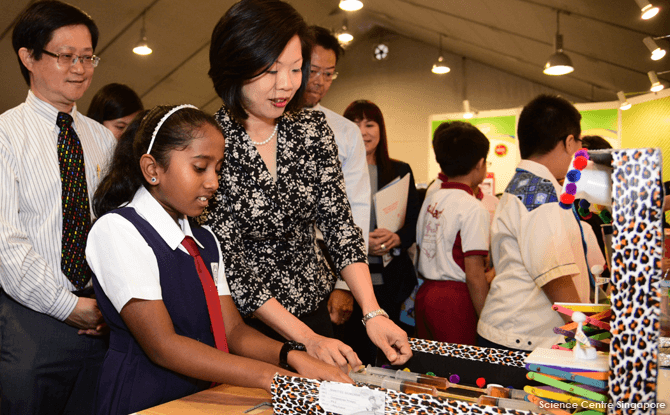 Ms Sim Ann receiving a hands-on demonstration from 1st Place ScizKid winner, Shakthee Sivakumar of Compassvale Primary School.
1st and 2nd runners up in the WhizKid category were Chua Jieyu and Heng Si Qi from Changkat Primary School, and Ng Rui Feng from Cedar Primary School. 2nd and 3rd prize winners in the ScizKid category (Primary 3 to 6 age group) were Kevin Lee from South View Primary School and Mikail S/O Faris Akbar from Zhangde Primary School.
Prizes were handed out in a ceremony on 29 July by Guest-of-Honour Ms Sim Ann, Minister of State, Ministry of Education and Ministry of Communications and Information.
The Sony Creative Science Award is an annual competition, jointly organised by Science Centre Singapore and Sony Group of Companies in Singapore, with the support of the Agency for Science, Technology and Research (A*STAR) and Ministry of Education.
A/Prof Lim Tit Meng, Chief Executive of Science Centre Singapore said, "Over the years, we have seen impressive entries and we are delighted to have been able to provide a platform to encourage innovativeness among primary school students. Beyond encouraging a love for all things science, the competition also urges students to think creatively and feed their curiosity through experimentation and perseverance. Competitions and collaborations such as this further Science Centre Singapore's desire to instil interest, learning and creativity for STEM."