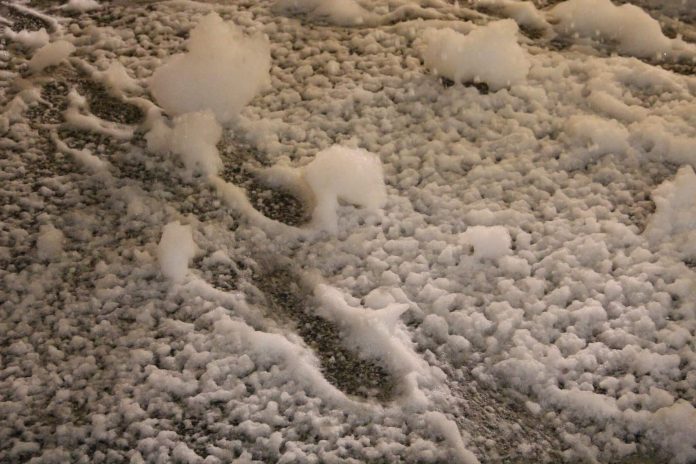 Does it really snow in Singapore? Apparently, it does and it happens not just during Christmas but all year round!
Little Day Out checked out the icy cold phenomenon that gets kids all excited and shovelled together the best places to let you beat the heat in sunny Singapore and enjoy snow and all things ice-cold.
1. Chill Out in a City of Snow
It's winter wonderland all year round in the tropics at Snow City, Singapore's first permanent indoor snow centre. Since 2001, Snow City has seen young and old gear up their winter wear and trudge around on manufactured snow. You can even link arms and whizz down their three-storey high, 60 metres long snow slope on snow tubes as a family.
During this period, Snow City has also introduced a new Ice Gallery filled with ice sculptures of dinosaurs where you can get whole new appreciation of the term Ice Age.
25 species of dinosaurs are frozen in time at the -12 degrees Dino World ice gallery.
2. Fall for Seasonal Snow at the Malls
For the longest time, it has been snowing every Christmas season at Tanglin Mall except on rainy evenings. And now, Singapore's first eco-mall – City Square Mall – has joined in the snowy fray too!
Frolick in the snow and get all wrapped up in the magical wonder of snowfall at Tanglin Mall! The evenings begin first with the puffy buildup of a snow-white avalanche followed by the fairytale moment when the snowflakes fall. Even if you're not watching from a sheltered distance at Starbucks, you'll know exactly when each segment begins – you'll hear the shrieks and shrills of the happy kids! Two machines, one on each side of the glittering Christmas tree, pump out waist-high foam and the children will waste no time diving in for some frolicking good fun.
When the time comes for snowfall, the snowy effects produced by six pumps all around are a glorious sight to behold! Just remember to keep your mouths somewhat shut as you laugh, smile and prance about! The mall assures us that the foam from their machines is safe.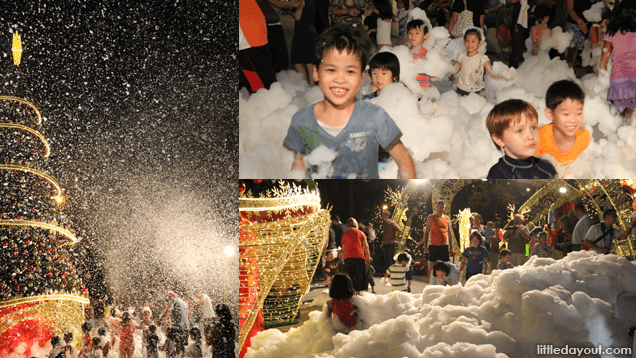 A Warmly Traditional Christmas at Tanglin Mall.
3. Dive into a Fishy and Thrilling Chiller
This is probably the coldest and one of the best places to go to with your kids for fun bonding time and sub-zero fish shopping at the same time! Fassler Gourmet Singapore is more than a salmon factory outlet in the Woodlands East Industrial Estate; it is an instant ice-cold escapade. Though it is a little way up in the north, making a trip to this arctic region is completely worth the while.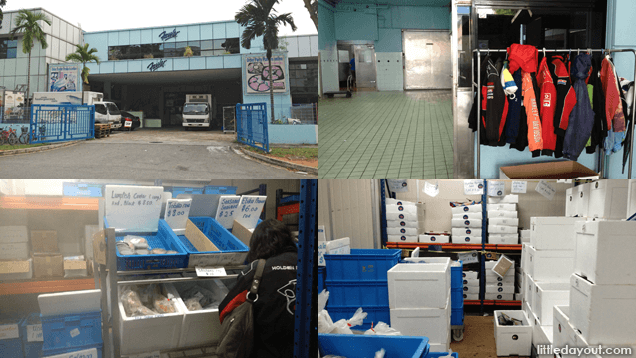 Fassler Factory Outlet at Woodlands Terrace.
First off, you get to step inside a freezing cold chiller maintained at -18 degrees Celsius, with winter jackets provided free of charge and there are sizes for kids too. Secondly, you get to introduce your kids to the super fresh seafood galore including sockeye salmon from Alaska, smoked salmon, tuna tataki, half shelled scallops, salmon satay, ready-made gourmet soups and more. Despite the blizzard and wintry conditions that seem to stop your brains from working, you should find the Fassler packaging familiar if you have seen them before at Cold Storage, NTUC supermarkets and the like. The good news is that they are now at factory outlet prices!
To us, the best part of the deal is having the freshest and cheapest salmon sashimi sliced before our very eyes. Just remember to bring a wad of cash as they do not accept any other forms of payment. However, they are kind enough to offer you a self-addressed envelope so you can send them a cheque if you get too caught up in the shopping frenzy and have more fish than cash to pay for it.
Besides snagging great bargains at the Fassler Factory Outlet, you can also shop at the other factories along the same stretch – ice cream and pastries from Foodedge, ginger and chilli paste from Boon Tong Kee and sausages from Wang Fong. It makes a fun and educational little day out for kids, mummies and tummies.
Fassler Gourmet Singapore 46 Woodlands Terrace Singapore 738459. Tel: +65 7257 5257. 
4. Peer at the Polar Bears in the Arctic [Editor's Note – Singapore no longer has any polar bears at the Singapore Zoo]

Besides indulging in Ice Age movies, how about seeing the polar bears right here in Singapore? We were sad to learn that Sheba, our beloved 35-year old mummy polar bear at the Singapore Zoo, died on 15 November 2012. We hope that Inuka, Singapore's only surviving polar bear, is doing fine and look forward to seeing him in early 2013 when the Frozen Tundra exhibit opens at the River Safari.
5. Skate on Ice
Skating on ice has certainly been catching on in Singapore. Besides the grand old dame at Kallang Ice World and Olympic-sized The Rink at JCube. We particularly love JCube because of the 'Penguins' at hand to help kids under 1.2 metres tall who are still learning the basics of ice skating. They can hang on to a 'Penguin' and grow in confidence to glide with grace.

Top and bottom right: Olympic-sized rink and 'penguin' on the ice at The Rink, JCube; bottom left: Marina Bay Sands Skating Rink.
If skating is not your cup of tea, just watch the kids do their thing from Kallang Seafood on the fifth floor that overlooks the fourth-storey Kallang Ice World, at the Rasapura food court situated right next to the Marina Bay Sands Skating Rink or at any of the many food outlets around The Rink at JCube.
Now that you have our mountaintop list of ideas for snow cold fun, don't just leave them in cold storage, but get out and about and have a super cool little day out with the kids!