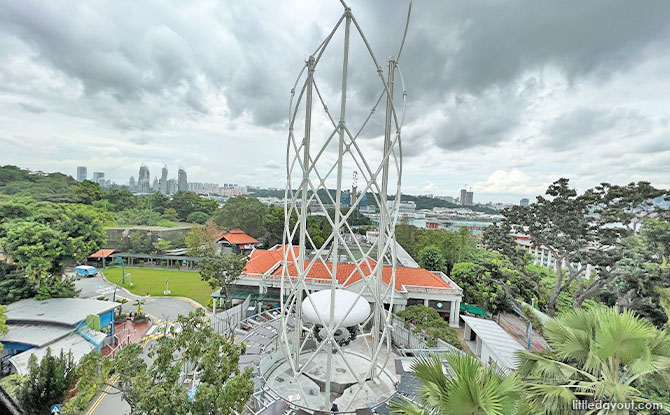 Opening 15 December 2021, guests can enjoy a great view, a cool drink and the sensation of flying with the wind in their hair and feet dangling in the air while riding on the SkyHelix Sentosa. Located a short stroll from the Singapore Cable Car's Sentosa station, this 40-metre tall helix-like structure will be the highest open-air panoramic ride in Singapore.
---
What to expect on a SkyHelix Sentosa ride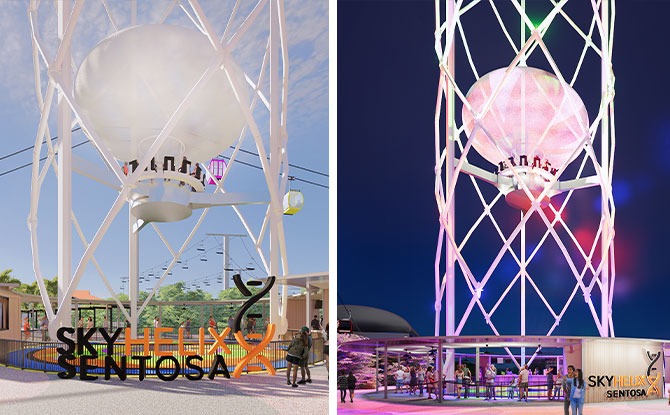 For each SkyHelix Sentosa ride, guests will be safely seated in an open-air gondola, which gently rotates as it ascends 35 metres above ground to a height of 79 metres above sea level. Each ride is approximately 12 minutes in total, including 10 minutes rotating at the peak.
This "flight" offers 360° views stretching from Sentosa to the Keppel Bay area and the developing Greater Southern Waterfront. There will also be a different view for guests who sit on the SkyHelix in the day and in the evening. After sundown, LED lights illuminate the attraction, making it an eye-catching new addition to the Singapore skyline.
Sentosa's "first carbon-neutral attraction"
The SkyHelix Sentosa will be the island's "first carbon-neutral attraction". It is fully electric and implementing more environmentally conscious choices such as using minimal electricity for operations and e-tickets. Environmentally-friendly packaging will be used for food and beverage.
---
How to get SkyHelix Sentosa tickets
Tickets for SkyHelix Sentosa are now available and priced at $18 for adults and $15 for children between the ages of four and 12. Guests must meet a minimum height requirement of 1.05 metres to enjoy the ride. Each ticket will be bundled with a choice of one standard non-alcoholic beverage or an exclusive SkyHelix Sentosa souvenir. Alcoholic beverages and snacks are available and subject to additional pricing.
To safeguard the health and safety of guests, SkyHelix Sentosa is available for vaccinated guests only, and accompanying children under 12 years old. Prevailing Safe Management Measures, such as group size limits and rigorous sanitising regimes, will be implemented.
Guests may reserve their visit date and time slot when purchasing tickets. Members of Mount Faber Leisure Group's Faber Licence annual membership programme will enjoy a 20% discount on tickets year-round.
More information on the SkyHelix Sentosa can be found at the site here or on Mount Faber Leisure Group's social media platforms.
View a teaser video of SkyHelix Sentosa below or at the link here.