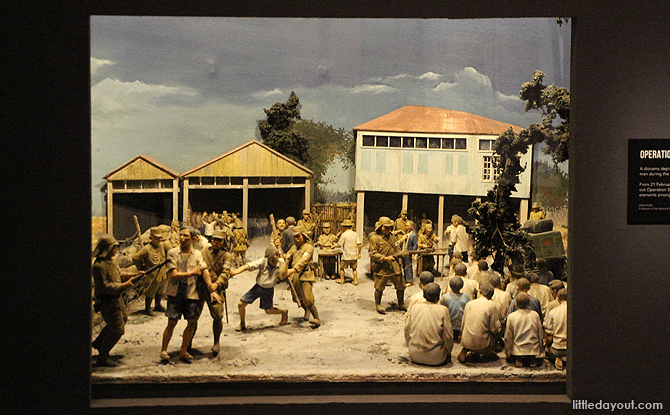 In case you didn't know, the National Museum of Singapore is closing its doors – ok, well some of its doors.
From 3 November 2014, the Museum's Singapore History Gallery (its main gallery) will be closed for a refresh. It will reopen in the third quarter of 2015.
It is therefore timely that the Museum has unveiled a new exhibition, SINGAPURA: 700 Years, at its basement galleries. Running from 28 October 2014 to 10 August 2015, the exhibition showcases Singapore's history from its days as a fishing village in the 14th century to 20thcentury, independent Singapore. SINGAPURA: 700 provides an interactive look into Singapore's past through easy-to-digest morsels of important events in Singapore's history.
Digging into the Past
Before entering the gallery proper, browse through Archaeology in Singapore, a section that provides a perspective of how the layers of time are peeled back through archaeological digs. Here, you get descriptions of the methods and discoveries at sites around Singapore, and can view some of the finds as well. Look out for a rare porcelain compass and ammunition left over from World War II.
Get a close-up look at the tools and implement used by archeologists at the far end of this section. There are also archaeology-related activities for hands-on exploration too.
Back to Temasek
If pre-1819 Singapore seems shrouded by the hanging roots of a banyan tree to you, Ancient Singapore sheds some light into this era. Information on Temasek's place as a trading post is presented alongside the legends of Singapore. Drawing on the Malay Annuals (Sejarah Melayu), information on the five kings of Singapura is presented in bite-sized nuggets. For example, did you know Sri Tri Buana, the legendary founder of Singapore was said to be a descendent of Alexander the Great?
Colonial Singapore
Raffles' arrival in 1819 is well known. You can view the treaty that was signed by the British with Malay ruler Sultan Hussein to set up a trading port in Singapore. In those days, much of the trade had to do with spices. You can a whiff of what money smelt like through the olfactory spice displays in this section.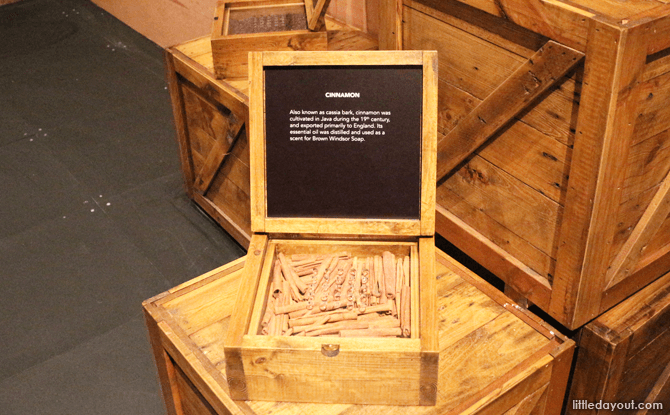 Keep a lookout for the black-and-white 1930s travel film about Singapore. This "Globe Trekker" video shows a Singapore where traffic policemen wore "wings", bullocks pulled carts through its streets, rickshaws ferried passengers and when the Singapore River was chockfull of lighters and workers.
Under Occupation
During World War II, the island traded one colonial master for another when the Japanese occupied Singapore. Syonan-To provides a look at life under Japanese Occupation. Edicts in the papers halt inflation and the populace is encouraged to learn Japanese.
A striking exhibit is a diorama of the Sook Ching investigations. During this dark episode in Singapore's history, Chinese sympathizers, or suspected sympathizers were rounded up by the Japanese for execution. For those who remember, this diorama, along with two others, were originally part of a set of twenty displayed at the National Museum in the 1980s and 1990s.
When Policemen Wore Shorts
Post-World War II, the people in Singapore struggled to come to grips with issues of the day. Some problems were basic, such as how to cope with housing and food, whereas others were more aspirational – what political future lay in store for Singapore.
A full-height, interactive display depicts Singapore's riotous 1950s when policemen not only wore shorts, but also carried batons and rattan shields. The more visitors there are in front of the screen, the more policemen appear! Gather a crowd of five or more and try it (only at this exhibit of course)!
Road to Independence
Visitors are transported back to 1963 in the next section and given a chance to vote in the referendum on whether to merge with Malaysia.

The last section of the exhibition deals with Singapore's nation building efforts after separation from Malaysia. Tidbits here include alternate versions of the National Pledge and a look into a HDB flat from the 1970s. Check out the retro living room, complete with rotary telephone and television set!

Kids can enjoy playing a fully-functioning merry-go-round here.
Come 2015, visitors to SINGAPURA: 700 Years will be able to use their smart devices to retrieve more information about the displays and share through social networks what they see on their devices. More details will be available in 2015.
SINGAPURA: 700 Years is located at the National Museum of Singapore's Exhibition Gallery 1 and 2. Open from 10 am to 6 pm daily, admission is free for Singapore Citizens and Permanent Residents. It costs $6 for foreign visitors and $3 for foreign students and senior citizens.