It's the time of the year again when the streets of Singapore's cultural district, Bras Basah. Bugis, awaken when the sun goes down for the Singapore Night Festival 2019. Happening from Friday, 23 August to 31 August 2019, the 12th edition of the Singapore Night Festival presents an exciting line-up of 17-night lights (between 7.30 pm to 12 midnight) and more than 40 performances.
This year, in line with the Singapore Bicentennial, festival-goers can also look forward to some performances that celebrate Southeast Asian culture during Singapore Night Festival 2019.
Here are some of the highlights and must-sees at this year's evening festival.
Night Lights
---
Keep Dreaming
Watch the façade of the National Museum spring to life in Keep Dreaming, a projection mapping show where three characters journey on an adventure through deep oceans and tropical jungles. Colourful and engaging, this will definitely appeal to the young and the young at heart as they watch the National Museum transform through different designs and lights.
Where: National Museum of Singapore facade
---
Whispers
A must-see at the Singapore Night Festival 2019 is Whispers. The dramatic work combines the power of the wind with light and sound to create a hypnotic and captivating work. Don't miss this experiential museum located in the basement of the National Museum of Singapore.
Where: National Museum of Singapore
---
The Legend of Ramayana
Singapore Night Festival 2019's The Legend of Ramayana is based on the Indian epic poem, The Ramayana. Cast on the National Museum's iconic banyan tree, watch the story inspired by one of the two major epic Indian poems. This is also the first time this story is being projected and told on the banyan tree, so make sure not to miss this illuminating story.
Where: Banyan Tree at National Museum of Singapore
---
Project: Dome
Located on the Singapore Management University's Campus Green is a new pop-up experiential dome. Inside, five new works by different artists are being showcased as part of Singapore Night Festival 2019. Step into a whole new world and witness the wonders of that light art and projection can achieve. These projects were the brainchild and masterpieces of Singapore Night Festival's first Creators' Masterclass where the participants learnt how to create light artworks using projection mapping.
Where: SMU Green
---
S.C.U.L.P.T
Combining lights with a soundscape, S.C.U.L.P.T makes use of the historic Armenian Church to create an ethereal setting where festival-goers can interact with form and appearance.
Where: Armenian Church
---
Skylight & Timeline
Presented by A*STAR in collaboration with Nanyang Academy of Fine Arts, Skylight & Timeline is a sculpture made up of light-emitting sheets that showcase the intersection between art and science. This special collaboration also reflects how both art and science can and should exist in harmony in society and is a meaningful exhibition that should not be missed.
Where: Queen Street
---
Sk(r)etch
Sk(r)etch is an interactive bus stop art installation presented by Ca Kway Teow in collaboration with 3M. Sk(r)etch is also a unique art exhibit that encourages festival-goers to participate in the artwork by scratching paint off the installation to reveal bright colours and an overall picture behind the black paint, offering an interesting perspective on destruction as a form of creation.
Where: Queen Street
---
Disco Walkway
Move to the disco beat at the walkway along Stamford Road.
It is the '70s again with psychedelic patterns alternating with boogie-ing dancers. Put on some imaginary platform shoes and dance like no one is watching!
Where: Walkway along Stamford Road
---
Glow Away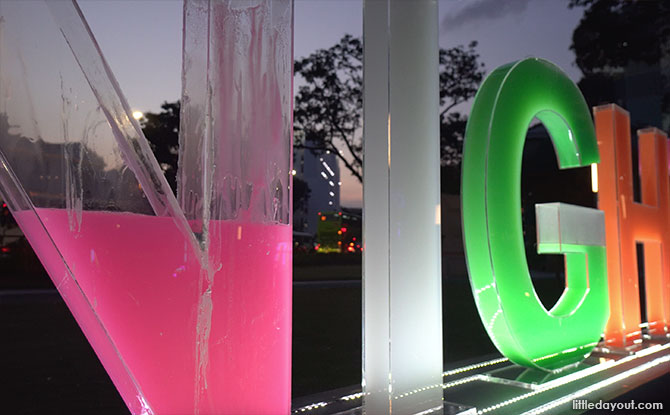 Created by members of the community as part of NHB's HeritageCares programme, the installation is made up of UV-lit slime. It is one spot which is great for a photo op!
Where: SMU Green
---
Wave of Time by Chips and Toon
The CHIJMES chapel hall becomes the canvas for a projection mapping inspired by the legend of Sang Nila Utama's journey across the waters to a new land. It also pay homage to Singapore's maritime roots and the importance of the sea to the country's heritage.
Where: CHIJMES
Singapore Night Festival 2019 Performances
Catch energetic and lively performances on the second weekend of the Singapore Night Festival 2019. Here are some highlights.
---
Fuerza Bruta
From 29 to 31 August, catch the Argentinean troupe Fuerza Bruta as they perform above the standing audience in a high-energy, aerial acrobatics show. This is a 30-mintue ticketed performance with tickets going at $15 and available from SISTIC.
Where: Cathay Green
When: 29 to 31 August, 8.30 pm, 9.45 pm and 11 pm
Ticketed performance
---
Sita's Magical Forest
This is a children-friendly production based on the Ramayana. In this story, Sita tells about her adventures with the animals from the magical forest, including an eagle, bear and sea monster, through storytelling and dance.
Where: Dhoby Ghaut Green
When: 29 to 31 August, 6.45 pm to 7.15 pm
---
Anjaneyam – Hanuman's Ramayana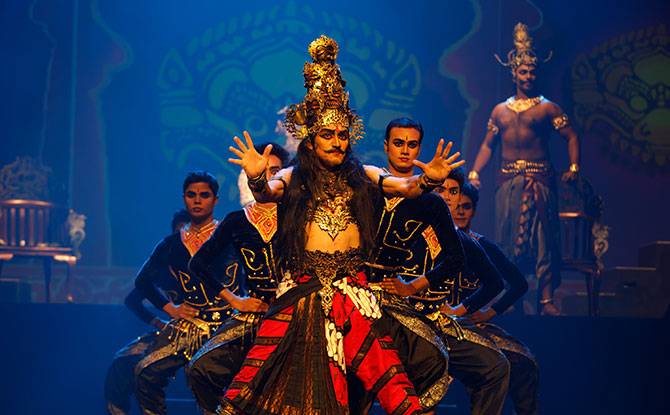 Apsaras Art presents this cross-cultural performance which incorporates Indian and Southeast Asian depictions of the ancient Indian epic The Ramayana and its universal themes of righteousness, love, loyalty and frailty.
Where: Dhoby Ghaut Green
When: 29 to 31 August, 8.30 pm to 9.30 pm
---
Lunisolar Beats
Featuring drummers aged 6 to 63, ZingO melds together drumming, martial arts and storytelling as they electrify the night with their made-in-Singapore LED drumsticks during the second weekend of Singapore Night Festival 2019.
Where: SMU Campus Green Amphitheatre
When: 29 to 31 August, 7.30 pm to 7.45pm, 9.30 pm to 9.45 pm
Get more details about the Singapore Night Festival 2019 here.