National Day is less than a month away. Have we hung up our flags? Dressed up our vehicles? And ready to add some red and white cheer in the home? The month of August has always been celebrated with much fanfare and one of the best ways to keep the up with the mood is with Singapore National Day decorations.
We have got the list of where to purchase Singapore flags, National Day decorations, themed memorabilia and party supplies. You can use them to create your own customised National Day funpack for your party.
Where to Purchase Singapore National Day Decorations and Goodie Bag Supplies
---
1. Fairprice Supermarkets for Stickers, Side Mirror Covers and Flags
Fairprice supermarkets and other selected supermarkets retail a good range of Singapore National Day themed stickers, flags, buntings, cloth bags, clappers and even child-sized t-shirts.
---
-- Story continues below --
We love the range of stickers retailed too. There are themed ones such as memorable playgrounds, military personnel and various people significant in our history. However, these stickers might require some hunting as they may not be easily available at every supermarket. We reckon these stickers are great to complement a huge backdrop drawn by parent and child to learn more about Singapore's past and present.
---
2. Petrol Stations for Side Mirror Covers and Flags
For drivers, it is easy to pick up side mirror covers and flags that can be placed on top of vehicles from petrol stations.
---
3. SKP
SKP has outlets all over the island, and stores can be easily found in the heartlands. It is well-stocked with party supplies, gift bag fillers and of course, Singapore-themed decorations. Items such as flags or country erasers are available in bigger quantities. These economical sizes are suitable for classrooms or distribution in neighbourhoods. Click here to see some of its offerings.
---
4. Wow Let's Party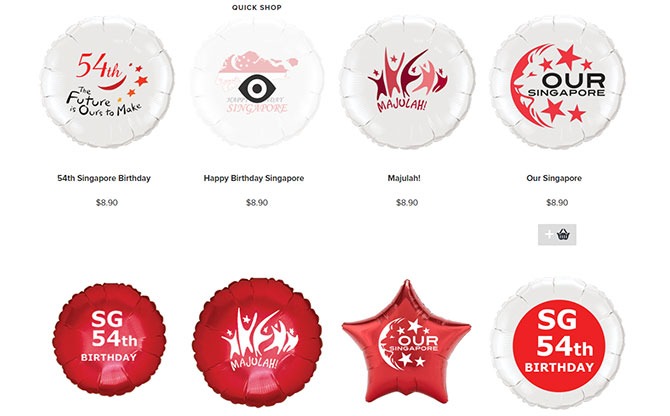 Balloons are one of the most fun ways to decorate a space. Wow Let's Party's online store has a great selection of foil balloons. It also retails flags, banners and party favours. More details here.
---
5. Shopee
The online retail world offers a huge range of choices at a glance. Shopee has a treasure cove of Singapore-themed decorations and memorabilia. From goodie bags, polo tees, car decals, cakes, you can find them on Shopee.
You can also get unique decorations that are less kitschy.
Some of my favourites include this "Danger, keep out" lightbox, stylish red and white cushion covers and this really adorable 3D puzzle of a shophouse.
---
6. Lazada
Lazada also offers many options to Singapore-themed décor and party supplies. Want a red tinsel backdrop for some photo opportunities or a dessert table backdrop? Try this.
Prefer some "tok kong" notebooks for National Day goodie bags? We think these are superb with Singlish phrases on them.
---
Décor, Party Supplies and Memorabilia for Your National Day Celebration or Party
Online and offline options aplenty mean parents can encourage the nationalistic fervour at home pretty easily. Apart from wearing red, hanging up the flags, singing songs, appreciating the culture and history of our nation, we can all celebrate Singapore's National Day with a sense of pride and uniting in our identity as Singaporeans.