Singapore Art Week 2018 takes place from 17 to 28 January 2018. A celebration of visual arts, the 12-day event encompasses various immersive art experiences at venues around the island.
These range from art exhibitions that include murals and outdoor sculptures to inclusive art works on display. With more than 100 events taking place, Singapore Art Week 2018 is an opportunity to explore and discover different aspects of the visual arts.
Wondering where to start? Here are six highlights of Singapore Art Week 2018 for you to take note of.
Six Highlights of Singapore Art Week 2018
---
#1. Is Anyone Home?
A free exhibition presented by the inclusive arts movement Superhero Me, Is Anyone Home? is an exhibition that will be presented at National Museum of Singapore's Stamford Gallery. It explores the world through the eyes of children using mixed media works.
---
-- Story continues below --
Is Anyone Home? will also feature blocks in various shapes based on Froebel Blocks, an educational toy for children to learn about interconnectedness. There will also be inclusive art workshops taking place on 20, 21, 27 and 28 January.
---
#2. Larger Than Life: The Unspoken Histories of Jurong Neighbourhood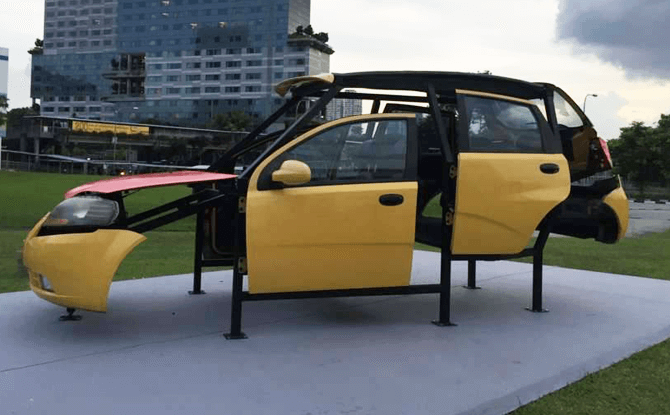 Located at the Canopy @ J Link and the open field beside Jurong Regional Library, Larger than Life is a public art showcase that explores the past and present of the Jurong neighbourhood through sculptures and installations. This exhibition, part of Singapore Art Week 2018, has been ongoing since November 2017 and will continue till 28 January 2018.
---
#3. Art After Dark
Pay a visit to Gillman Barrack's flagship night time open house on 26 January 2018. This event will see the galleries around Gillman Barracks opening their doors from 7 pm till late as part of Singapore Art Week 2018 as the arts cluster comes alive with live music and F&B pop-ups and more. There will also be a collaborative mural-making activity led by artist Merryn Trevethan and an exhibition of children's art in conjunction with our Art Link community programme.
---
#4. ARTWALK Little India
Discover long-lost tales in Little India as the historic precinct plays host to public art installations and free performances including an interactive puppetry programme inspired by the murals around Little India. ARTWALK Little India takes place from 18 to 27 January as part of Singapore Art Week 2018 with performances and activities on Thursdays to Saturdays from 6 pm to 9 pm.
---
#5. Singapore Art Week at SAM
The Singapore Art Museum or SAM will be organising two weekends worth of activities as part of Singapore Art Week 2018 between 20 to 28 January. These include art workshops, exhibition tours, an outdoor movie screening and an art market with merch and food. Also pay a visit to SAM's contemporary art exhibition, Cinerama: Art and the Moving Image in Southeast Asia, which features animated artworks by Southeast Asian artists.
---
#6. Open House @ Telok Kurau Studios & Fun with Colour Clay
On 21 January 2018, pay a visit to Telok Kurau Studios in the East to find out how artists work. From 11 am to 12 pm, you can also join artist Teo Huey Ling to learn how to pinch and roll clay into lovable creatures in a free workshop.